Sponsored content: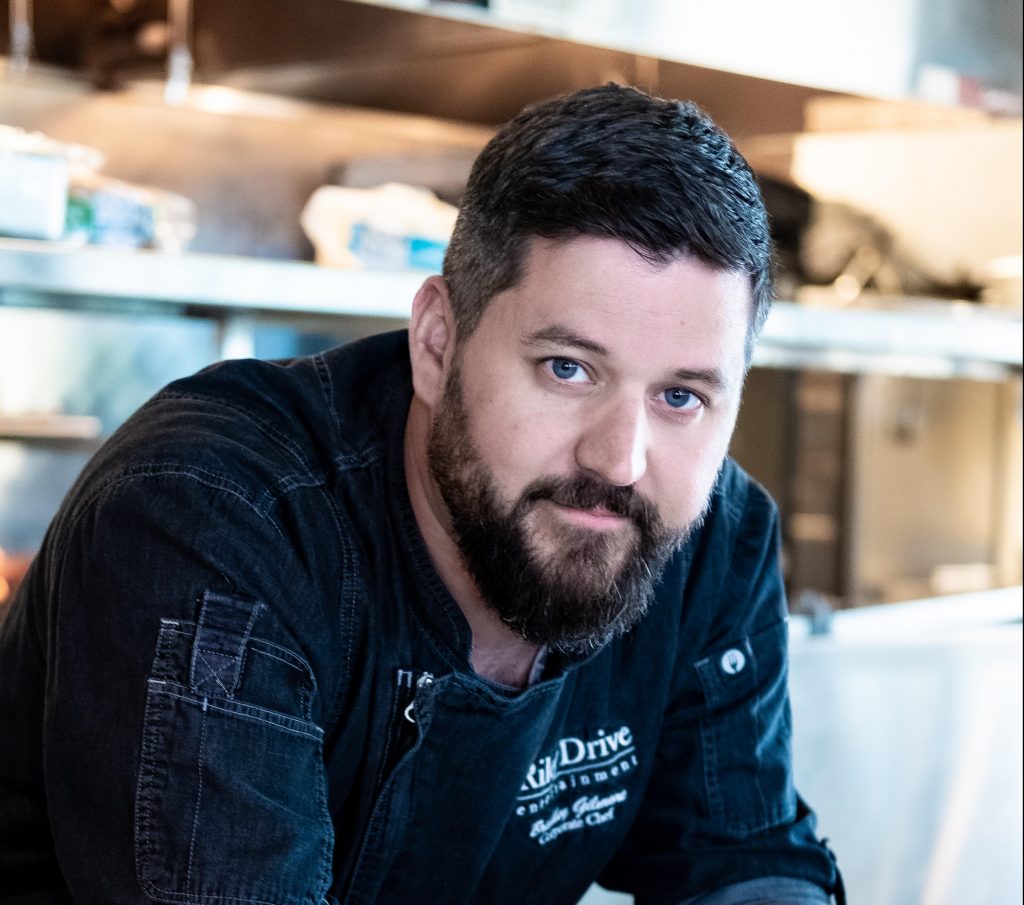 "Sexy."
Ignite Wood Fire Grill's executive chef Bradley Gilmore doesn't mince words when asked to describe his innovative menu. If you haven't tried Gilmore's fare—well, let's just say it's a carnivore's paradise. With a pedigree a mile long, Gilmore helped build the upscale Lenexa eatery from the ground up in 2017. His culinary prowess has bolstered the restaurant's reputation as a favorite with foodies looking to escape pedestrian fare. "What sets us apart? Simply put, it's the versatility of the restaurant and the menu," says Gilmore. "We're anything but 'beige.' Think of it as a Vegas-type experience; one you will not find on the Plaza. Lively, fun, edgy, colorful."

Patrons are quick to notice the restaurant's stunning design and painstaking attention to detail. Gilmore and the team at Riley Drive Entertainment spared no expense. It's no wonder it's quickly become the group's flagship dining mecca. "I'm proud of our menu, but even more proud of our décor. Owner Kemberlyn Anderson wanted to bring something new to the market," says Gilmore. "Well, goal achieved. It's inviting and open—you'll feel like you're absolutely not in Kansas anymore."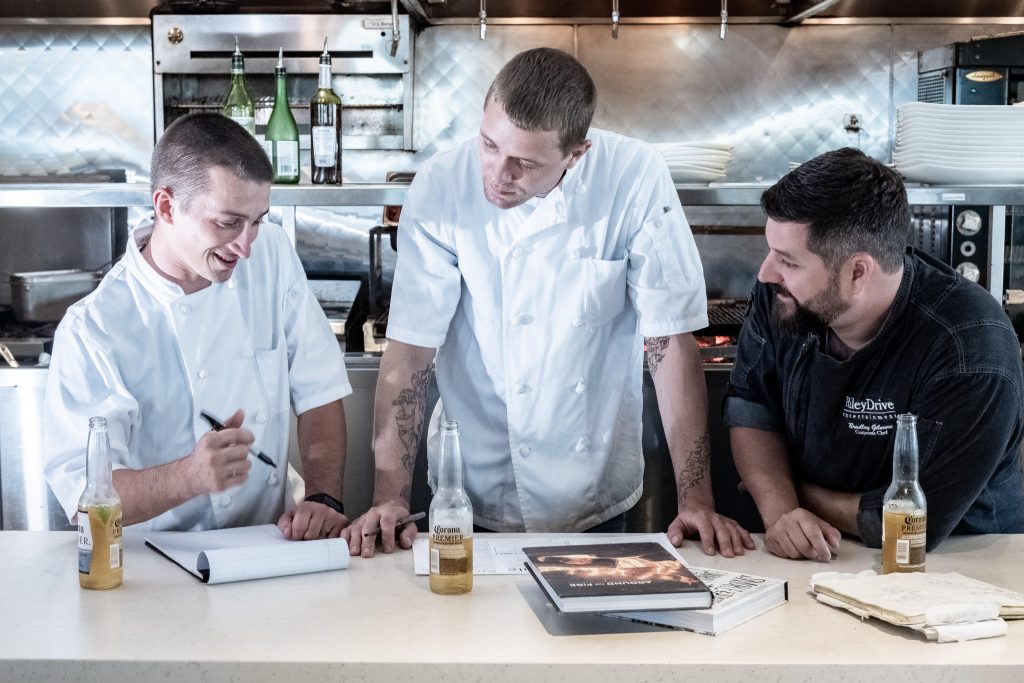 An Interactive Chef Counter
One of those design elements was a custom-made chef's counter where Gilmore and his team could unveil new recipes. It's the perfect venue for Gilmore to show off a bit of the swagger he's known for. "I wanted a stage to perform on," he says, laughing. "And I wanted people to have a different view of my kitchen. I wanted them to see a chef's life, a cook's life. Sitting at the counter, they'll interact with every single person in my kitchen."
The "interactive experience" of the chef's counter has quickly become a popular draw. "You're going to be able to taste new dishes, try new recipes firsthand," says Brittany Socha, general manager. "From the minute people sit down—foodies or newbies—they start asking questions. And they get to see every step along the way. Bradley loves getting to know the customers—and vice versa. And every experience will be different, depending on what the team is doing that night in the kitchen."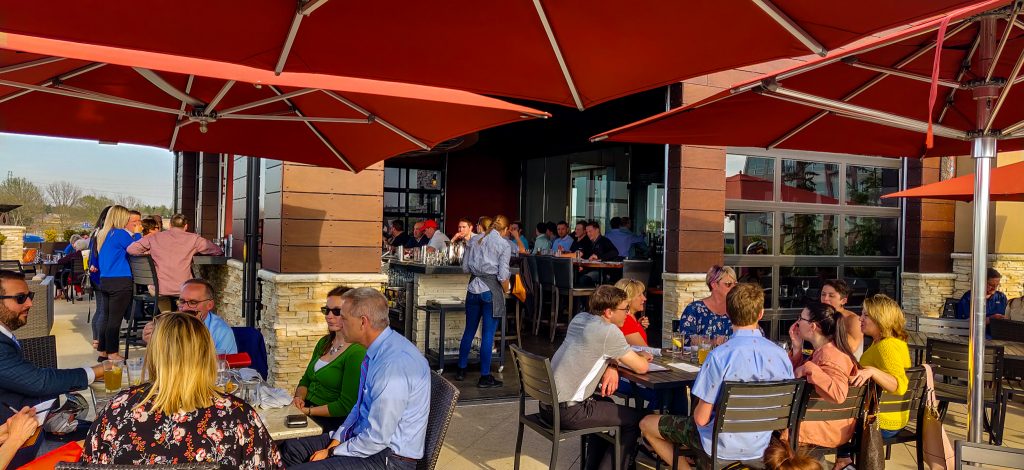 On a nickel tour of the restaurant, Gilmore and his team were quick to point out the restaurant's versatility. We spied several businessmen having a power lunch in the bar, a gaggle of ladies celebrating a birthday in one of the private, airy rooms, and an adoring couple toasting with wine on the spacious patio. "That's what I love most about this restaurant," Gilmore says. "We have families who sit on our patio and have a burger after baseball practice and couples who splurge for a memorable, romantic anniversary dinner. Our menu accommodates everyone—period." (Well, except for maybe vegans, but Gilmore says he's working on that.)
The Bird Is The Word
The most popular dish on the menu? "Anything with our famous rotisserie chicken," he says. "Our chicken enchiladas, our house-made chips and dip, and the Yardbird—it's all chicken, all the time. I get my chickens from Siler City, North Carolina, where my grandpa Meade was a chicken farmer."
Gilmore will be the first to tell you he's a chef who's not afraid to try anything. He likes the playfulness of trying out dishes—and keeping his savvy customers on their toes. "We're going to continue to push the menu in 2020," he says. "In fact, my first menu here was more Latin-themed, and then I dialed it back. Next year—more global flavors. Sure, we serve American wood-fire cuisine, but we're going to include foods from all across the world."

The one dish you simply must try? Brace yourself for the Tomato Pie—a vegetarian (!!!) option that has been such a hit it even caught Gilmore off guard. "Deep-dish, cheesy, pie crust layered with summer vegetables and heirloom tomatoes. It's a rich, gastronomical delight—in Italian, I guess, it's gastronomique," he says.
"A Culinary Force To Be Reckoned With"
Gilmore has spent his entire culinary career in Kansas City. "This is home. I want to be known in this town—a culinary force to be reckoned with," he says with a chuckle. Riley Drive Entertainment is poised to open two new concepts towards the beginning of 2020 and Gilmore will be helming both kitchens, just as he did with Ignite. First up, Joe-N-Hash, a breakfast/lunch nook with a modern diner theme. "I have to bring good Southern biscuits to this town," he says. "Think Country French. Think comfort food. I'm doing my grandmother's monkey bread and, heck, we'll even feature some blue-plate specials for lunch."
Next on the hit parade is Taco Hangover—an upbeat cantina that Gilmore promises "will give customers the best Mexican food they've ever had." Among other spicy dishes, the restaurant will serve up KC crunchy tacos and authentic California street tacos. "And don't even get me started on the margaritas," he says.

In addition to Gilmore's charm and charisma, he's one chef who believes sharing is caring. "There's not one recipe I have that's a secret," says Gilmore. "I don't want people to just enjoy my food. I want them to rave about it."
So far, so good, Chef.