We eat first with our eyes, as the age-old expression goes. But before you ever catch a glimpse of the main course, you're already enjoying an amuse-bouche in the form of your destination's décor and atmosphere. 
While nothing beats a truly tasty meal or drink, these coffee shops, bars, and restaurants serve up aesthetics that pique our appetites and artistic sensibilities alike. You might even call them masterpieces.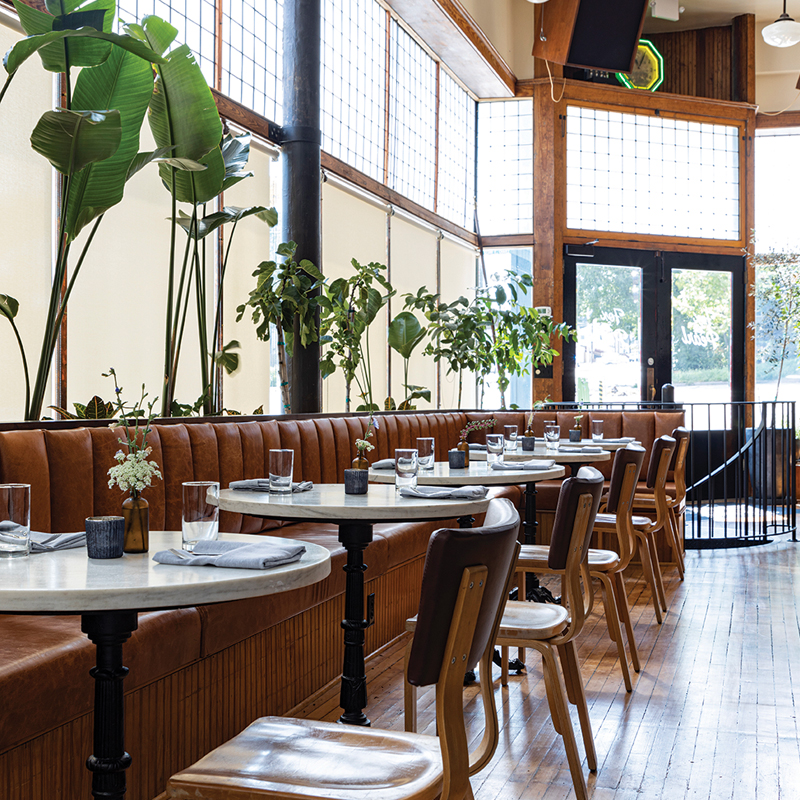 Fox and Pearl
2143 Summit Street
Chef Vaughn Good and partner Kristine Hull breathed new life into a more than 100-year-old building when they opened Fox and Pearl in 2019. Windows flood the main dining room with natural light, allowing plants placed throughout the dining area to flourish. Their vibrancy helps ground the more grandiose interior elements, which include high ceilings and a gorgeous central bar. The sense that you've stumbled into an urban garden continues outside to Fox and Pearl's brick patio, but Good and Hull also have something slinky up their sleeves. A spiral staircase from the main level of the restaurant takes you down to a speakeasy-style bar with green velvet booths and banquettes and stretches of exposed rock and brick.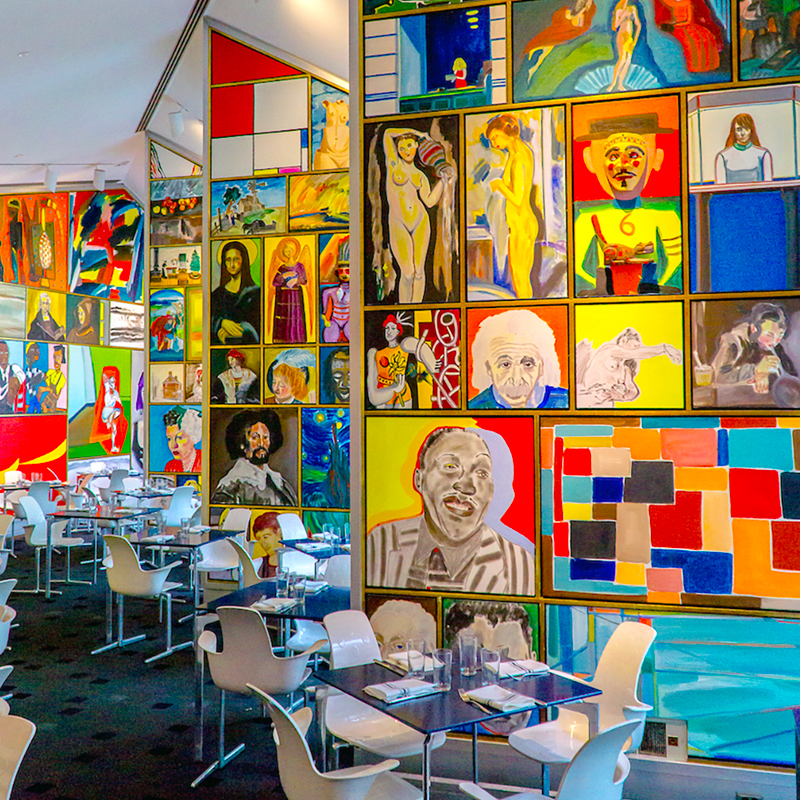 Café Sebastienne
4420 Warwick Boulevard
The Kemper Museum of Contemporary Art isn't just a spot to grab lunch between checking out exhibitions. Café Sebastienne is an art-viewing experience in and of itself, complete with a rotating selection of works and installations by artists from all over the world. The café features two unique spaces: an intimate dining room with a floor-to-ceiling installation of boldly colored paintings by Frederick James Brown, and an architectural, natural light-filled courtyard enclosed by a glass ceiling. The interplay of sunlight and structural elements is just as eye-catching as more conventional pieces of art.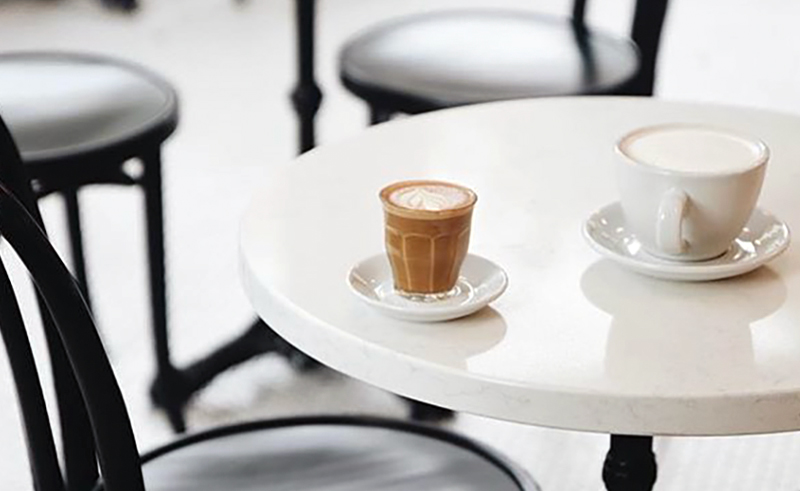 If you're curious as to why Monarch Coffee is so ridiculously chic, look to co-owner Jaime Rovenstine. As an artist, Rovenstine's work is candy colored and abstract, but in her role overseeing the brand's aesthetic vision as well as café design, she leans into black and white to create a style that's both modern and timeless on the ground floor of the historic Ambassador Hotel building in Midtown. Meanwhile, Monarch's Grand Boulevard coffee bar introduces more color in the form of muted blue-grays and plenty of houseplants. And the drinks are just as artfully crafted as the interiors.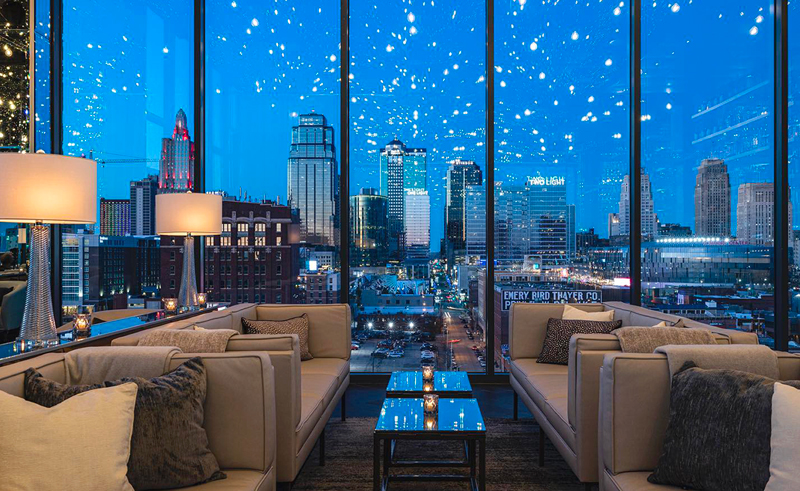 The Mercury Room
1800 Walnut Street
The cosmos seems well within reach at this much buzzed about cocktail bar at Reverb in the Crossroads, where thousands of LED lights, mirrors, and windows combine to give guests the sense they are floating among the stars. The sensation can be heady, but the rest of the bar smartly avoids competing—instead, clear chairs and swanky gray seating areas complete with comfy pillows and throws help ground the experience. The result is an experience that looks and feels unlike anything else in Kansas City.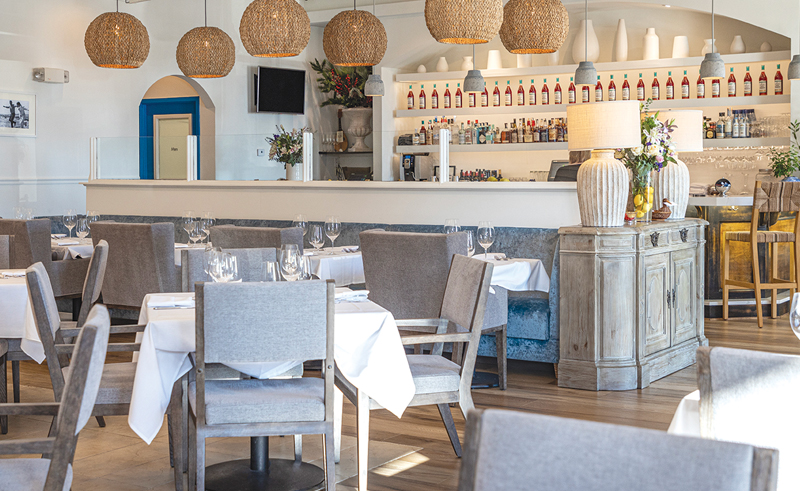 Paros Estiatorio
10561 Mission Road
Can't make it to Greece for your next date night? Paros Estiatorio provides a taste of the peninsula's sun and sea-soaked spirit (not to mention its seafood-heavy cuisine) to Leawood's Mission Farms. The dining room is a study in restrained elegance—white walls and tablecloths, cream booths and soft gray chairs provide a clean backdrop for elements like gold-ringed mirrors that call to mind portholes. Subtle cerulean renderings of seascapes bookend one wall, while the restaurant's simple but striking bar dominates on the opposite side of the restaurant which is also sprinkled with a few nods to Greek antiquities.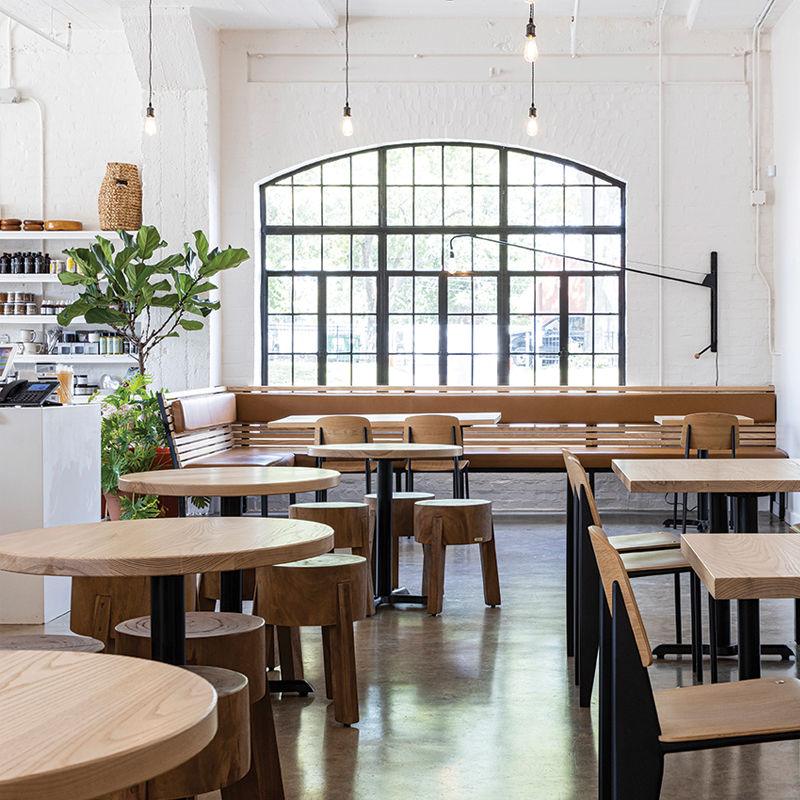 Billie's Grocery
3216 Gillham Plaza, Suite 100
Whether it's your first stop of the day or a lunch-date destination, walking into Billie's Grocery provides a respite. The large, open space is bathed in light thanks to an abundance of windows, and white walls and neutral furniture and accents throughout make the most of the natural brightness. Clean, modern lines also ensure that the focus goes to what matters most—the food. Bakery items are showcased in all their glory at the counter and in a wrap-around pastry case, and breakfast, brunch, and lunch dishes are often intensely colorful thanks to the kitchen's focus on organic, nutrient-dense ingredients. 
The Town Company
1228 Baltimore Avenue
The Town Company achieves an impressive feat—despite its location in downtown's Hotel Kansas City, it offers a stylish, sophisticated dining experience that is completely self-contained and a world away from the typical comings and goings of a hotel eatery. The effect is greatly aided by the dining room's design, which takes guests past an open, hickory-burning hearth into the main area featuring quilted caramel leather banquettes, wood floors, and walls broken up by swaths of steel blue and pops of gold. Just like the Town Co.'s food, the restaurant is an artful mix of soulful and sophisticated.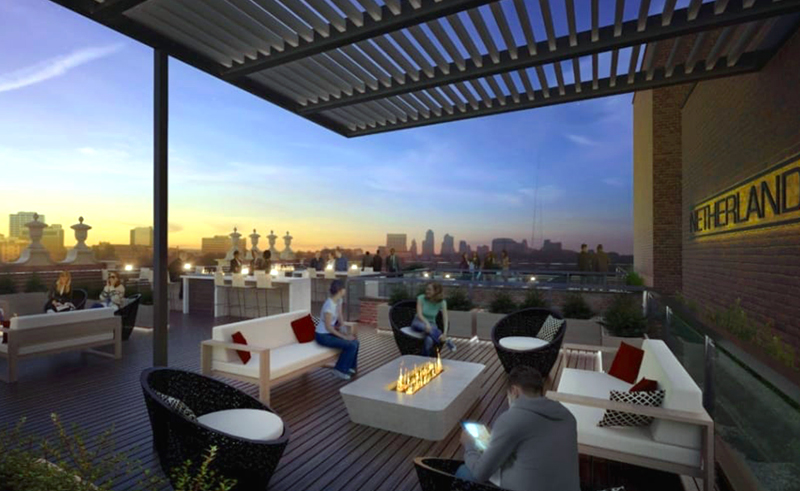 Canary Rooftop
3835 Main Street
It would be easy for Canary's rooftop bar to let its location atop Midtown's historic Netherland building do all the heavy lifting, but instead owners Keely Edgington and Beau Williams developed an en plein air experience with appeal all its own. Vibrant faux greenery surrounding the bar packs a visual punch that is referenced throughout the rooftop, with patches popping up to add color and texture to railing along the perimeter. Canary-yellow umbrellas provide reprieve from the sun during the day, while string lights offer ambience after dark, creating a vibe that feels both like a vacation and distinctly rooted in Kansas City—if you need a reminder, just look out to the sweeping views of the city skyline.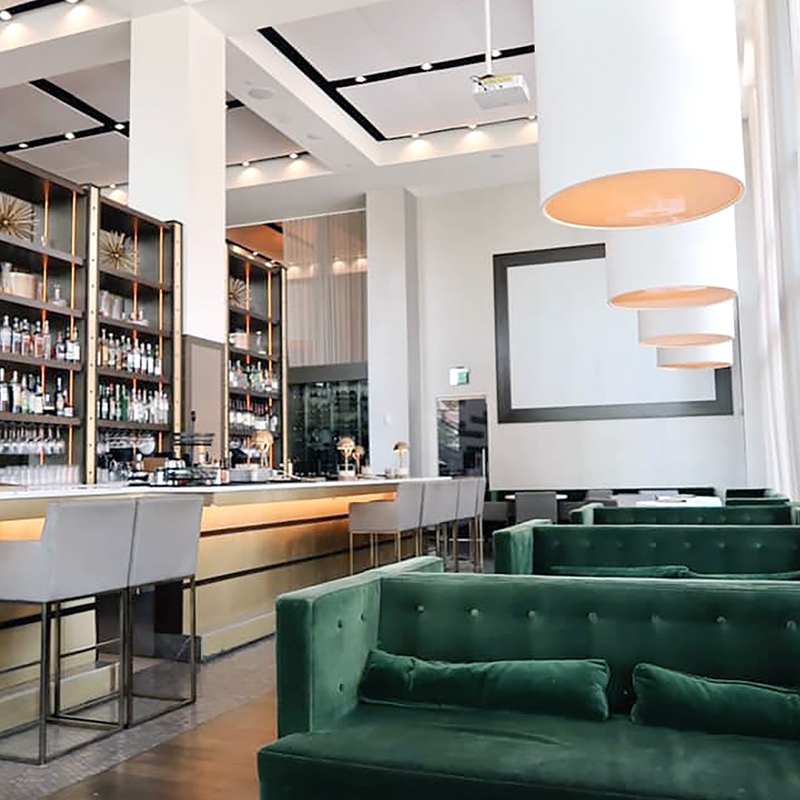 Stock Hill
4800 Main Street, Suite G-001
Dark hues and masculine materials have become almost as expected at steakhouses as their signature protein. Lucky for us, Stock Hill breaks with tradition. Instead of wood-paneled walls and leather booths, you'll find floor-to-ceiling windows and deep green-velvet lounge-style seating by the bar, just a few of the many elegant touches that make this modern take on a Kansas City tradition so special. Another? The well-appointed patio, the perfect place to take advantage of Stock Hill's daily social hour specials.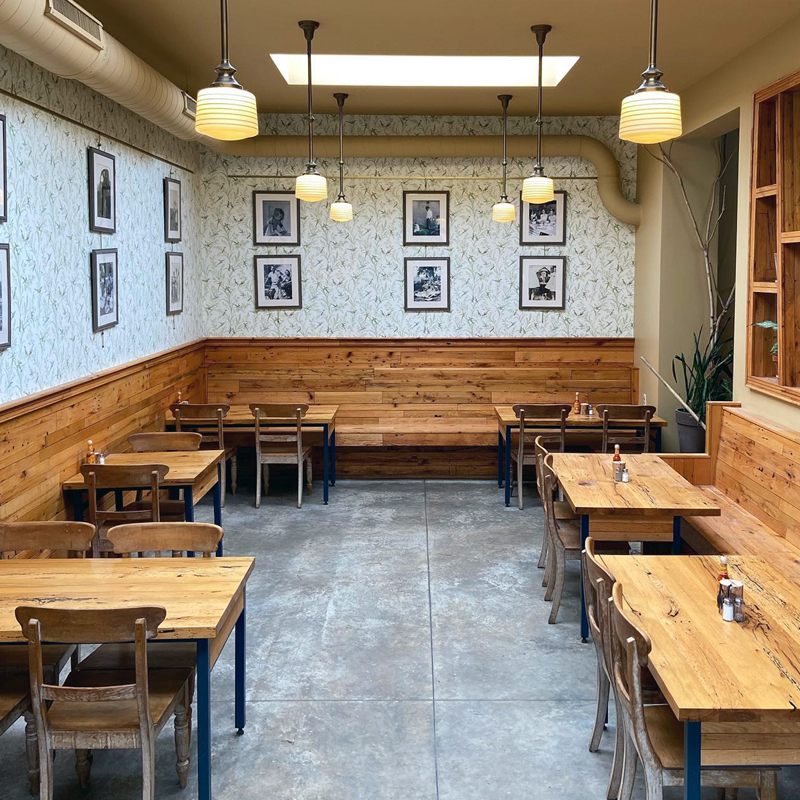 Heirloom Bakery & Hearth
401 E 63rd Street
On the outside, Heirloom Bakery & Hearth looks like a trendy, industrial-meet-rustic café. But inside, it sidesteps the increasingly trendy clean lines and modern finishes on display at so many local spots to remind us that lots of warm wood, patterned wallpaper, and black-and-white photos have familiar charms all their own. The cozy-cool space is tailor-made to encourage long, lingering conversations over cups of coffee and sweet and savory galettes that look just as inviting as the Brookside eatery that makes them.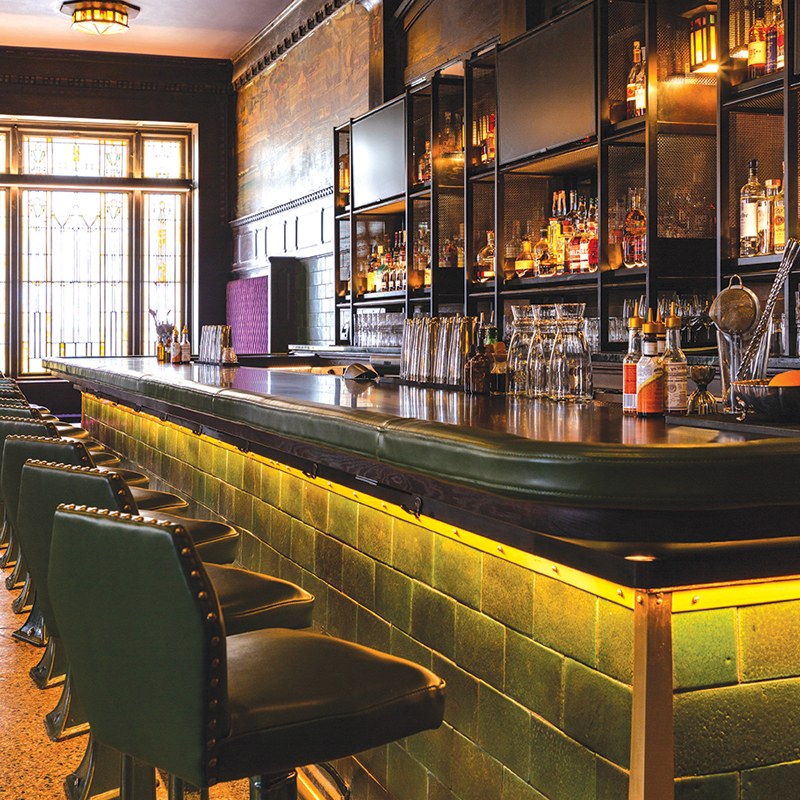 The Savoy at 21c
219 W 9th Street
Past meets present at The Savoy at 21c, which pays tribute to the Savoy's long history in Kansas City—the first iteration of the iconic Savoy Grill opened in 1903 and played host to a lengthy list of presidents, among other notable figures. Now owned and operated by 21c Museum Hotels, the restored and reimagined lounge space weaves in elements like the carved oak bar, stained-glass windows, muscular columns, and vintage tile, all a reminder of its impressive history.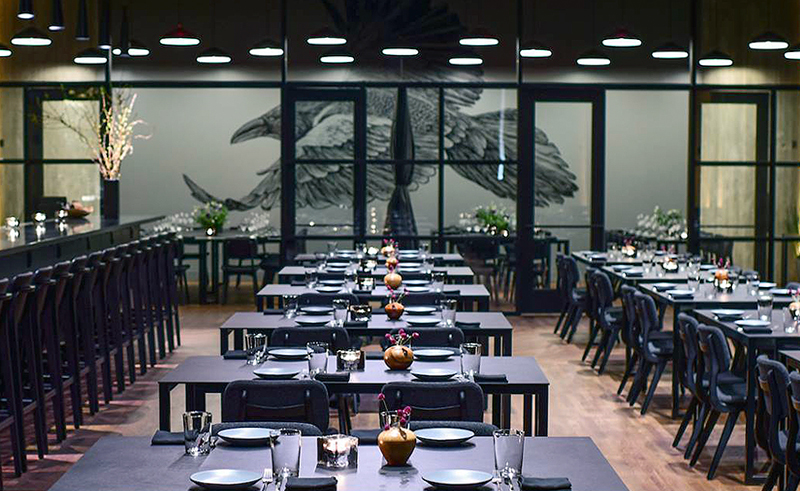 Corvino Supper Club & Tasting Room
1830 Walnut Street
This Crossroads spot has deservedly earned a host of accolades since it opened in 2017, not just for its modern American cuisine but also for the darkly glamorous atmosphere. Designed by Hufft, the restaurant features a subdued palette dominated by shades of gray as well as natural materials. Combined with arresting crow murals, sleek angles, and a stage for live music complete with a custom-fabricated feature wall, Corvino Supper Club & Tasting Room is a grown up goth's dream come true.