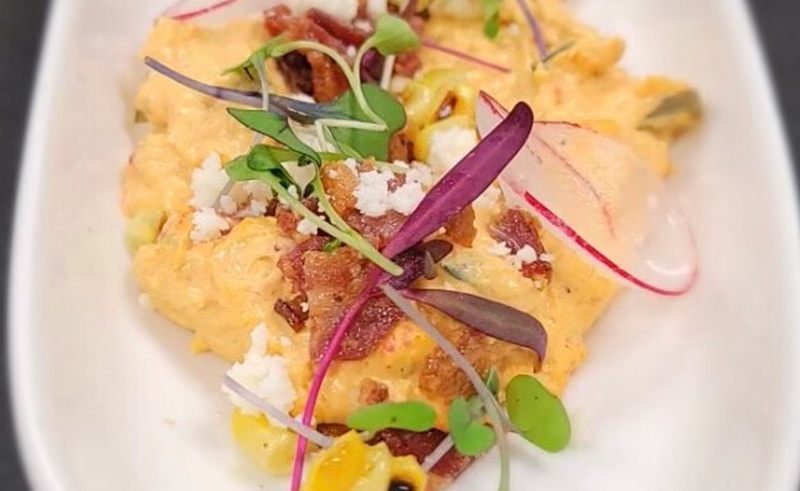 When Strang Hall's Strang Chef Collective ar Lightwell opens in downtown Kansas City's Lightwell Tower this November, Nicole Shute will be the head chef behind the collective's first concept, Verde.
The Kansas City native's concept will feature "bold flavors, vibrant colors, fresh ingredients, and mindfully made food interpreted in an approachable way." During her career, Shute has worked in fine dining and farm-to-table restaurants, most recently spending the past 15 years as chef de cuisine for the Marriott in downtown Kansas City.
Before she sets up shop in Strang Chef Collective, get to know her style with Shute's poblano pimento cheese recipe. Shute's version of the class Southern specialty uses gouda instead of cheddar and replaces the pimento with a poblano and roasted red-pepper blend.
Poblano Pimento Cheese
Makes 21 Servings (2-3 cups)
Ingredients
1 large poblano pepper, deseeded and diced
1/2 tablespoon canola oil
4 ounces roasted red peppers (store-bought)
2 cups shredded smoked gouda cheese
8 ounces cream cheese, softened
1/2 cup mayonnaise
1/2 teaspoon garlic powder
1/4 teaspoon onion powder
Garnish Options:
Corn, fresh off the cob, lightly roasted
Radishes, thinly sliced
Queso fresco
Crispy bacon, chopped
Cilantro and microgreens
Salt and pepper to taste
Serve with: 
Your choice of toasted pita, bread, chips, or fresh veggies 
Instructions:
Gently sauté poblano in oil until softened. Drain any excess oil.
Chop roasted red peppers fine, to almost a pulp.
In a mixing bowl, stir together cheese, cream cheese, mayonnaise, garlic powder, and onion powder. Add poblano and red pepper and stir until well combined. Season with salt and pepper.
Serve with toasted pita or bread, chips, or fresh veggies.
Chef's Note: The garnishes are the fun part of this recipe. Chef Shute likes to top the dip off with fresh and crunchy toppings. Garnish pimento cheese with fresh, grilled, or roasted corn, sliced radishes, crunchy bacon, or fresh cilantro or microgreens.