Now that it's finally autumn, it's time to break out those hearty recipes you've been squirreling away since February. But, hey—since we're givers, we'll do you one better! Every Sunday through November, we're bringing you one new, delightfully delicious soup recipe from some of our fave chefs in the metro. Souper—er, super, huh? We thought so too.
Second on the hit parade? We have a dee-lish, hearty gumbo courtesy of our friends at Pearl Tavern in Lee's Summit. Granted, there are a litany of ingredients, but good gumbo takes a lot of love and nuance. And this one promises to feed a small army. "The Tavern Gumbo is our take on the classic dish and follows our mission of bringing the freshest, most delicious seafood to Lee's Summit," says the executive chef, Kent Long.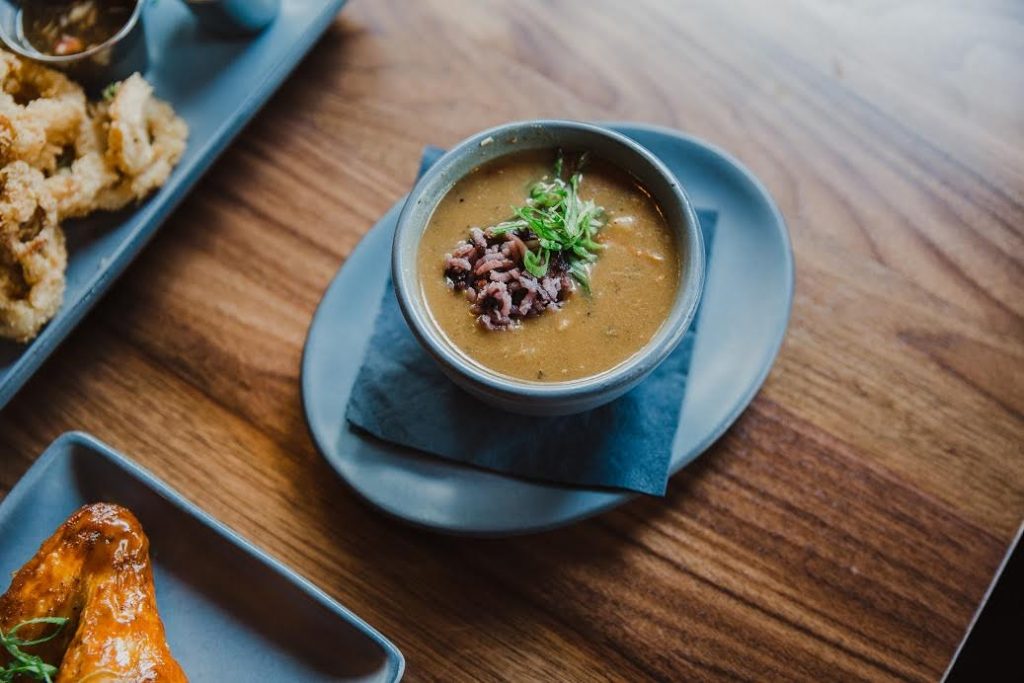 Tavern Gumbo
Ingredients:
1 1/2 pounds all-purpose flour
3/4 cup lard
¼ cup oil
½ pound bacon, diced ½ inch
½ cup celery, diced ¼ inch
2 cups yellow onions, diced ¼ inch
½ cup red bell peppers, diced
½ cup green bell peppers, diced
½ cup green onions, diced
1 teaspoon salt
1 teaspoon pepper
2 pounds chicken breast, diced
1 pound Andouille sausage, diced
6 ounces clam juice
1 gallon shrimp stock
1 pound okra, diced (chef note: frozen okra works great!)
1 six-ounce can of fire-roasted tomatoes
1 1/2 teaspoons curry powder
1 1/2 teaspoons Creole seasoning
1 1/2 teaspoons gumbo filé seasoning
1 tablespoon Worcestershire sauce
1 tablespoon Tabasco
1 pound shrimp (40-50 count, preferred)
Directions:
Bake flour on cooking sheet at 350 degrees for one hour, stirring occasionally while baking—the darker the flour, the darker the roux. Sift toasted flour into the melted lard to form a roux. Heat oil in a stockpot and add bacon until cooked down. Remove bacon pieces and set aside.
Add oil, celery, onions, and bell peppers to stockpot. Cook for eight minutes. Add the chicken breast and sausage, brown. Add shrimp stock and bring to a boil. Add okra, roasted tomatoes, clam juice, cooked bacon pieces, seasonings and bring back to a boil.
Add a little of the soup mixture to the roux and incorporate. Add mixture to the soup base slowly until you achieve the thickness you desire. Add in green onions. Add in shrimp and cook for five minutes.
Chef note: You can add as many vegetables and proteins as you like. Take your time baking the flour. The more you cook the flour, the stronger the flavor will be.