Now that we've finally stumbled into autumn, it's time to break out those hearty recipes you've been squirreling away since February. But, hey—since we're givers, we'll do you one better! Every Sunday in October, we're offering up one new, delightfully delicious soup recipe from some of our fave chefs in the metro. Souper—er, super, huh? We thought so too.
Next up? It's Café Trio's creamy and dreamy Salmon Chowder—a crowd favorite at the restaurant for sure. "With a hearty cream base and plenty of root veggies, this chowder is guaranteed to leave your belly full and heart warm on a cool fall day," says Trio's executive chef Logan Miller.
Ingredients
1/2 pound butter
4 large Idaho potatoes (roughly diced)
2 carrots (peeled and chopped)
2 large yellow onions (chopped)
1 red bell pepper (chopped)
1/2 bunch celery (chopped leaves included)
4 cloves garlic (smashed and chopped)
4 teaspoons white wine
1 quart heavy cream
1 gallon fish stock (or substitute chicken or vegetable)
1½ pounds salmon (rough chopped)
1½ teaspoons red pepper flakes
2 bay leaves
1/2 cup parsley (minced)
Salt (to taste)
Black pepper (to taste)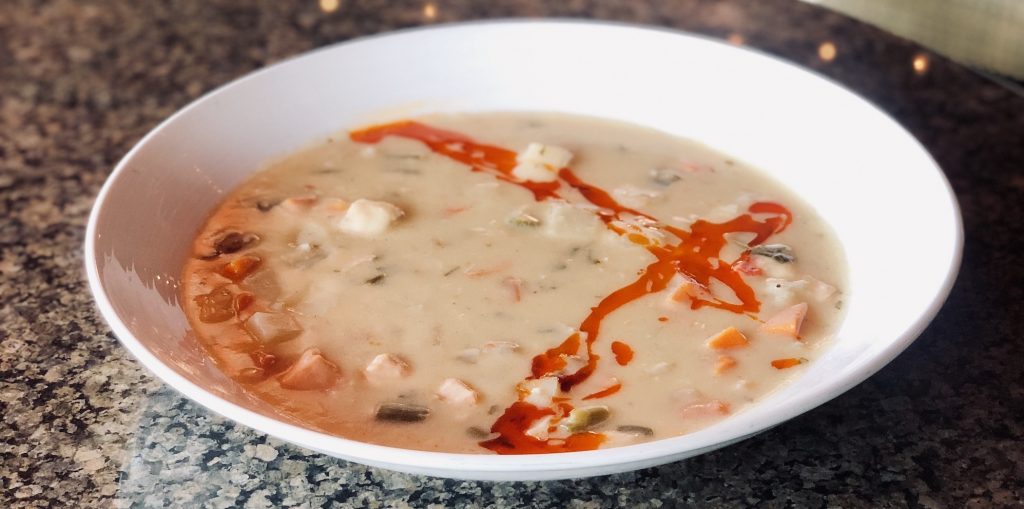 Directions
Melt butter in large stock pot, add in vegetables and garlic. Sauté until vegetables are aromatic. Add white wine, deglaze using wine to scrape any vegetables stuck to the bottom of the pan. Pour in heavy cream and fish stock carefully and bring to a simmer. Once simmering, add salmon, bay leaves, red pepper flakes, and parsley. Cooking until carrots are fork tender. Season your chowder to preferred taste—and enjoy while hot.