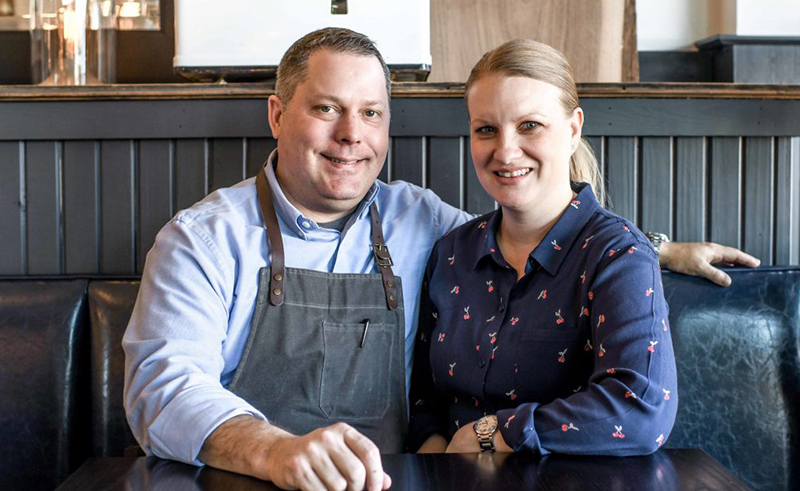 For a decade now, Kansas Citians have been enjoying some of the tastiest comfort food the Midwest has to offer at Rye. The local restaurant's first location in Leawood celebrates ten years of business on December 22, and Rye's Plaza location celebrated five years on November 27.
Founded by award-winning husband-and-wife chefs Colby and Megan Garrelts, Rye showcases the food they both grew up with in a relaxed, casual dining setting with an upscale flair.
"The food of the Midwest was the last untold tale of modern American cooking, but it's a central one," says Colby, who's part of the fifth generation of Garrelts living in Kansas. "The roots of our love for food and cooking—and each other, really—reach back to our own family tables."
Megan's family roots go back to Illinois, "Together, we share the same memories of fresh corn off the stalk in hot summers, slow-cooked meats, and handmade sweets that filled our grandmas' homes. We took all the foods that everybody loves in town and put them all under one roof," she says.
To celebrate the decade-long milestone, Rye's Leawood location is offering a special three-course anniversary menu priced at $100/person from December 21-23. Can't wait until then? The couple is sharing some of their favorite Rye recipes for "the perfect Rye dinner" at home: the Old Square cocktail, Garrelts's Fried Chicken, and lemon meringue pie. 
Find the three recipes below:
Old Square
Makes one serving
Ingredients:
Ice cubes
1 ounce Cognac, such as Hartley VSOP or H Hine VSOP
1 ounce rye whiskey, such as Union Horse Rye or Old Overholt Rye 
1 ounce sweet vermouth, such as Dolin Rouge
¼ ounce Benedictine
¼ teaspoon angostura bitters
¼ teaspoon Peychaud's bitters 
Flamed Orange, for garnish 
Directions:
Fill a rocks glass with ice cubes and chill in the refrigerator. Fill a cocktail shaker with ice cubes and add Cognac, whiskey, vermouth, Benedictine, and both bitters. Use a tall spoon to stir the ingredients together. Strain the mixture into the chilled rocks glass. Garnish with flamed orange and serve.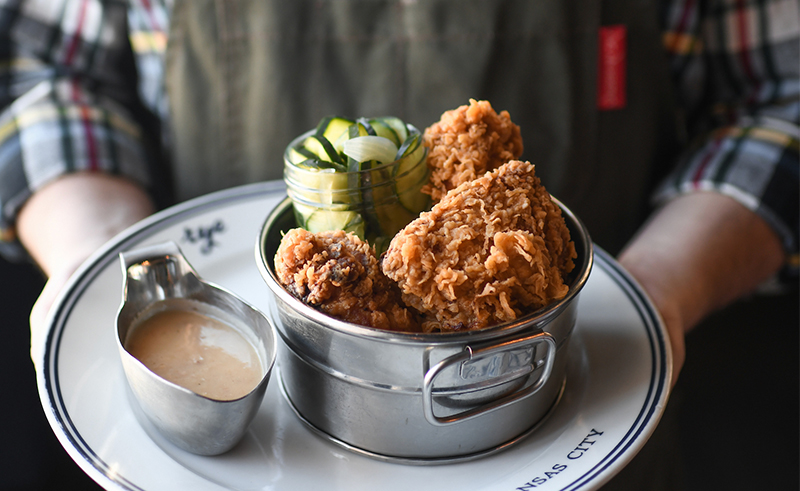 Garrelts's Fried Chicken
Makes enough for four hungry people
Ingredients for brine:
4 quarts water
¼ cup kosher salt
2 tablespoons freshly squeezed lemon juice
2 tablespoons sugar
2 tablespoons honey
2¼ teaspoons freshly ground black pepper
½ tablespoon finely grated lemon zest 
15 each whole cloves
4 each cloves garlic, smashed
4 each dried bay leaves
1 (3 to 4 pounds) chicken, cut into ten pieces
Ingredients for slurry:
4 cups water
4 cups buttermilk (full-fat if you can find it)
1 cup unbleached all-purpose flour
6 large egg whites 
2 tablespoons iodized salt
2 teaspoons freshly cracked black pepper 
1 teaspoon garlic powder
1 teaspoon cayenne pepper 
Ingredients for flour mix:
3 cups unbleached all-purpose flour 
3 tablespoons garlic powder
3 tablespoons onion powder 
3 teaspoons kosher salt
2 teaspoons paprika
2 teaspoons cayenne pepper
½ teaspoon freshly cracked black pepper 
Peanut or canola oil for frying 
Directions:
For the brine: combine water, salt, lemon juice, sugar, honey, pepper, lemon zest, cloves, garlic, and bay leaves in a large saucepan and bring to a simmer. Remove from the stove and chill uncovered for two to three hours, until the liquid is below 40ºF. 
Place the chicken in a large, deep casserole dish with a lid and pour the brine over it. Make sure the chicken is completely submerged. Refrigerate overnight. 
Remove the chicken from the brine and lightly rinse. Pat dry with paper towels. Set aside. 
For the slurry: place the water, buttermilk, flour, egg whites, salt, black pepper, garlic powder, and cayenne in a large bowl. Whisk well to incorporate. Set aside. 
For the flour mix: place flour, garlic powder, onion powder, salt, paprika, cayenne, and black pepper in a medium bowl. Mix well and set aside. Line a plate with paper towels or have a wire rack ready. 
To fry the chicken, add enough oil to two medium Dutch ovens or deep cast-iron pans to reach halfway up the sides. Heat one over medium-high heat until an instant-read thermometer  registers 375ºF; heat the other over medium heat until the thermometer registers 315°F. 
Working in batches, place the chicken in the slurry for 5-10 minutes. Working quickly with one piece at a time, dip the chicken in the flour mix and coat all sides—you must work quickly so the baking soda can react with the flour in the oil for a crispy crust. Do not let the chicken sit in the flour for more than 2 minutes. 
Using tongs, carefully put half of the chicken in the 375°F frying oil. Cook for three minutes, or until the chicken is golden brown. Using tongs, transfer the chicken pieces to the 315°F pot and cook for 15 to 18 minutes (do not allow the oil temperature to dip below 300°F) until the internal temperature of the chicken reaches 165ºF or above. 
Set the finished chicken on the plate lined with paper towels or on a wire rack and repeat with the rest of the chicken.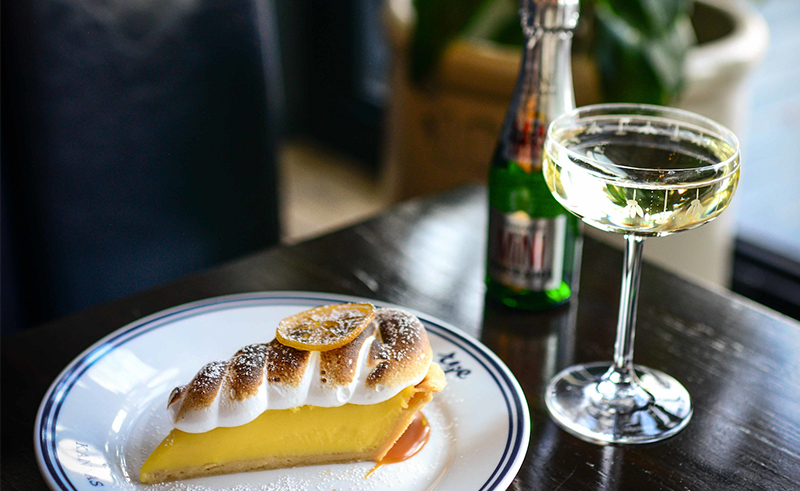 Lemon Meringue Pie
Makes a 9-inch pie
Ingredients for Swiss meringue:
1 ½ cups egg whites (10 large whites)
3 cups granulated sugar 
Directions:
In a double boiler, whip together egg whites and sugar until thoroughly combined.
Heat the mixture on medium until the sugar dissolves. You should not feel any sugar granules. This will take around 8-10 minutes. 
Remove the bowl from the heat, add to a stand mixer fitted with the whisk attachment, and whip the mixture on high until light and fluffy. (You could also do this with a hand mixer.)
Add the mixture to a piping bag with a plain tip to finish your pie.
Ingredients for the lemon filling:
6 lemons finely grated zest and juice
6 large eggs
10 large egg yolks
1 cup granulated sugar
1 teaspoon kosher salt
1 cup unsalted butter (two sticks) 
Directions:
Fill a medium saucepan 2/3 full with water. Bring to a light simmer on medium heat. 
In a glass or non-reactive bowl, combine all ingredients, except the butter, with a whisk until combined. 
Whisk this mixture constantly over the double boiler until it thickens and lightly boils. It should  be a similar consistency to pudding. 
Carefully take the mixture off the heat and add butter. Whisk butter into the hot curd until melted  and thoroughly combined. 
Strain the mixture through a fine mesh sieve. 
Pie Assembly:
Pour warm lemon curd into blind-baked pie crust, and bake at 300°F for 15-20 minutes until the filling is set. Let the pie cool completely before transferring it to the refrigerator to chill for at least three hours or, best-case scenario, overnight. Top the pie with the piped meringue and toast with a handheld torch. If you don't have one, place it under the broiler until brown. Please do not place a glass dish under the broiler to avoid breakage.