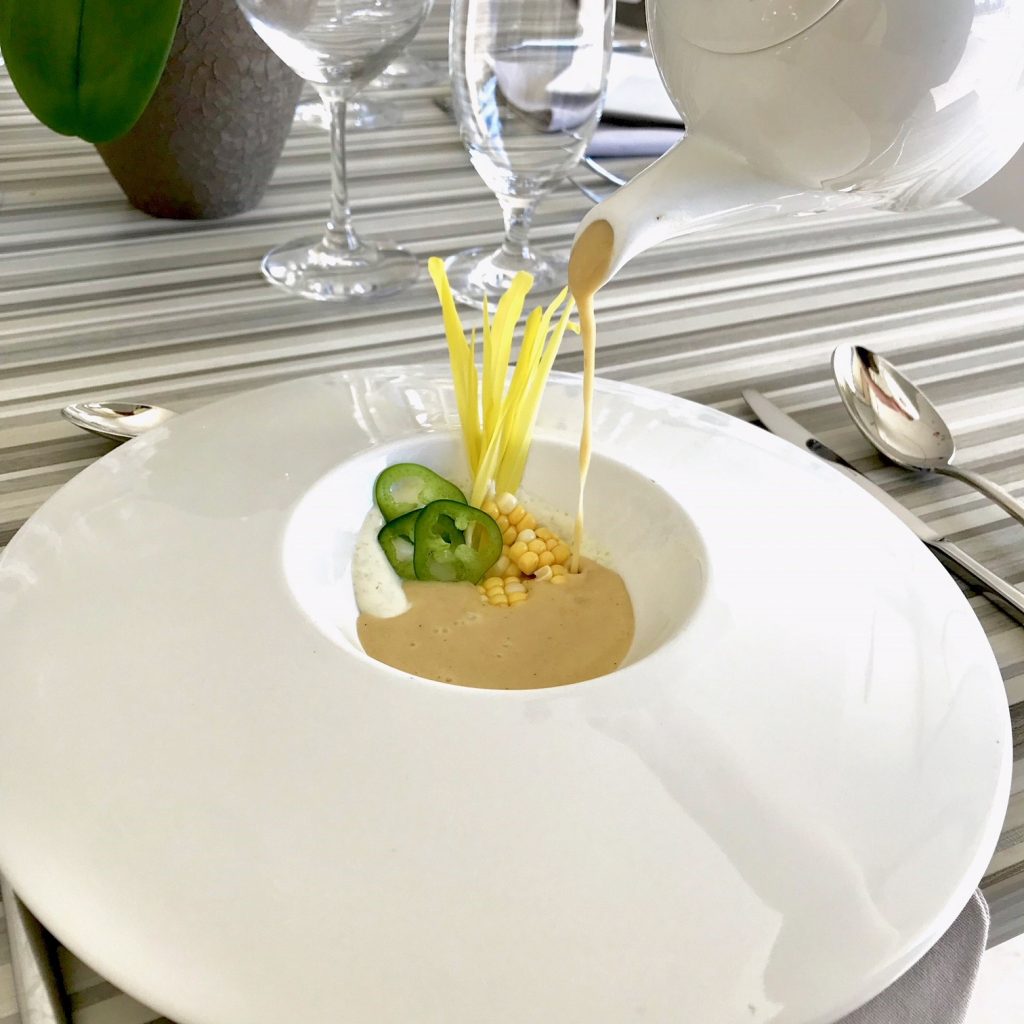 Have you been to the Dining Experience at Kauffman Center's scenic space? No? Wait, have you heard about the Dining Experience at Kauffman Center? No? It's been up and rolling for a while now, appeasing diners' finicky taste buds before evening shows at the Kauffman. But now they've ratcheted up their menu with the addition of Executive Chef Laura Comer who was named Chef of the Year by the Greater Kansas City Restaurant Association. It's hyper-local, hyper-seasonal fare served in three exquisite courses.
One of Comer's starters includes her hearty, delicious corn chowder. And if they say presentation is half the battle—well, looks like Comer is winning the war. Her colorful dish is just as gorgeous as it is tasty. Next time you're headed to Kauffman for a show, afford yourself a little extra time to try out Comer's culinary prowess.
Corn Chowder
Yields 10 Servings
1 quart fresh corn kernels (can substitute 2 ½ lbs. frozen corn
½ ounce butter
8 ounces bacon, chopped
2 ounces jalapeno bacon, chopped
2 ounces butter, unsalted
2 garlic cloves, minced
1 yellow onion, small diced
5 tablespoons AP flour
1 ½ cups chicken broth
1 quart heavy cream
20 ounces Yukon gold potatoes, small diced
2 sprigs of thyme
2 bay leaves
1 leek, white part only, julienned
Salt and finely ground pepper to taste
1 ounce lemon juice, fresh squeezed
Garnish: Cumin Lime Crème Fraiche, Fresh Corn, Thinly Sliced Fresh Jalapenos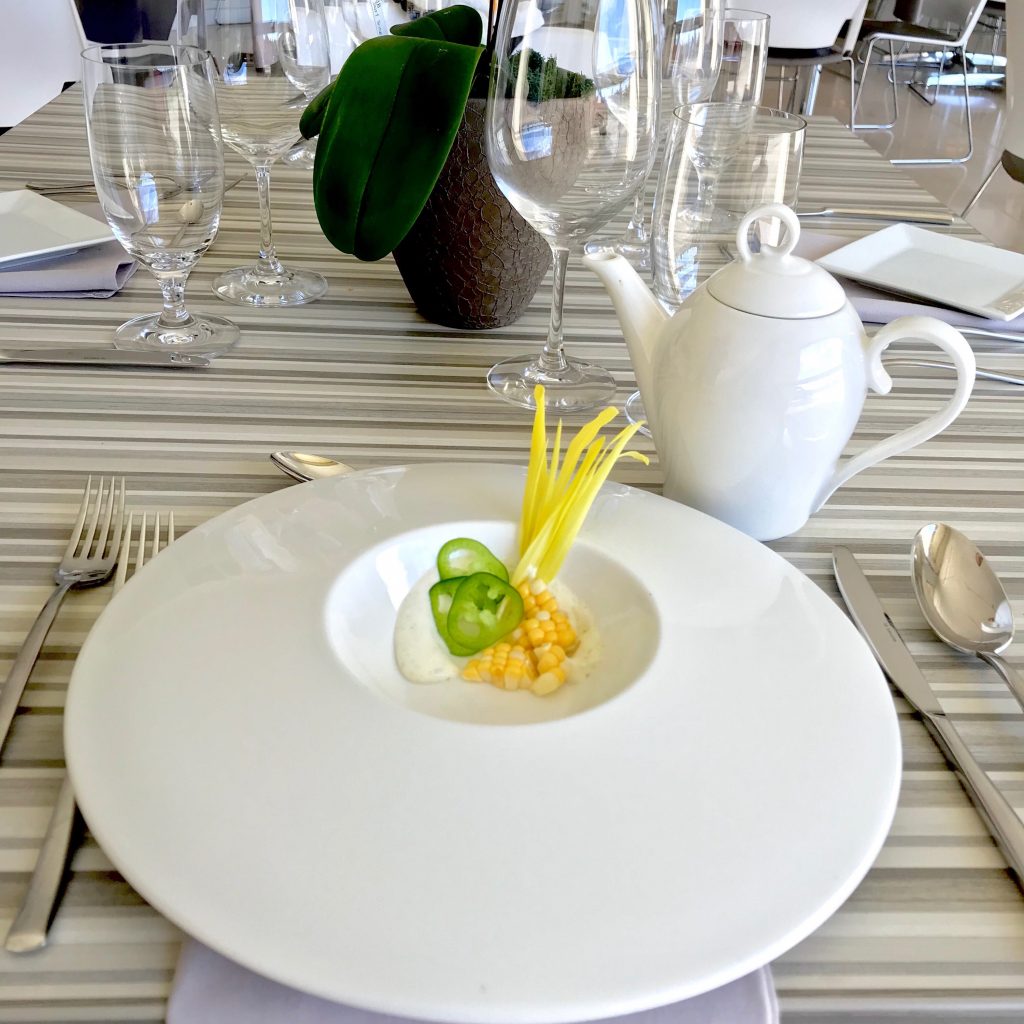 Place a large pot over medium high heat. Add both bacon and cook until fat is rendered (don't cook until crispy!).
Lower heat to medium. Add butter. Once melted and onion, garlic, and leek. Cook for 5-8 minutes until onion is translucent. Add potatoes and cook an additional 8 minutes.
Add flour and mix it in (making a roux). Cook, stirring for 3-5 minutes; do not go past blond color.
Add broth, cream, corn, thyme and bay leaf. Cook on medium heat and simmer for 30 minutes.
Adjust salt and pepper to taste. Add lemon juice.
Purée in a blender and strain. Serve hot with a dollop of cumin lime crème fraiche, a sprinkle of fresh corn cut off the cob, and a few paper-thin slices of jalapeno.
Cumin Lime Crème Fraiche
1 cup crème fraiche
1 lime, zested
1 teaspoon Cumin
½ teaspoon Kosher Salt
Stir salt, lime zest, and cumin into crème fraiche, mixing well. Cover and refrigerate until needed.