Elvis Presley, the King of Rock-n-Roll, would have turned 84-years-young this year if he were still alive. Not only is Presley still the best-selling music artist worldwide, his songs are still beloved by legions of fans. To celebrate his birthday on January 8th, our friends at Chuy's have whipped up a tasty, mouth-watering Elvis Green Chile Fried Chicken recipe in his honor. As the folks at Chuy's tell us, it's "just like the King would want!" Don't miss their Elvis birthday bash at participating restaurants too!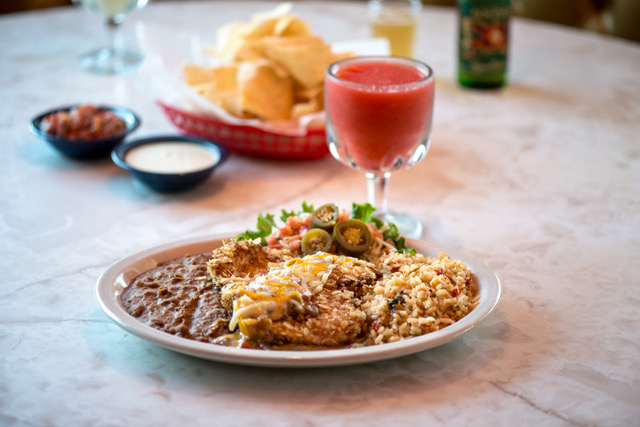 ELVIS FRIED CHICKEN
INGREDIENTS                                                            
4 6-ounce chicken breasts
1 large bag of plain potato chips
2 cups buttermilk
1½ cups of grated Cheddar/Monterey Jack cheese mixture
Wrap chicken breasts in plastic wrap and pound thin with a mallet or pot. Crush potato chips in the bag, then pour into shallow dish. Pour buttermilk in another shallow dish and dip each breast in the buttermilk to coat, and then dip into the potato chips, turning to coat completely. Add oil to a heavy frying pan to a depth of ¼-inch. Heat over medium-high heat until hot. Place the chicken breasts in the frying pan and cook until chicken is no longer pink (170 degrees when a meat thermometer is inserted) and potato chips appear golden brown. Remove cooked breasts from pan and drain on paper towels. Top chicken with Salsa Facil and cheese and serve with rice and refried beans.
CHUY'S GREEN CHILE SAUCE
Roux Ingredients
6 tablespoons butter
8 tablespoons flour
Melt butter in a small sauce pan on medium-low heat, then slowly sprinkle flour into melted butter, whisking constantly. When flour is fully incorporated and roux is smooth, reduce heat to low and cook roux for approximately 20 minutes. Stir frequently to avoid scorching. Roux is finished when it's developed a dark, rich color, similar to peanut butter. Remove from heat and keep warm.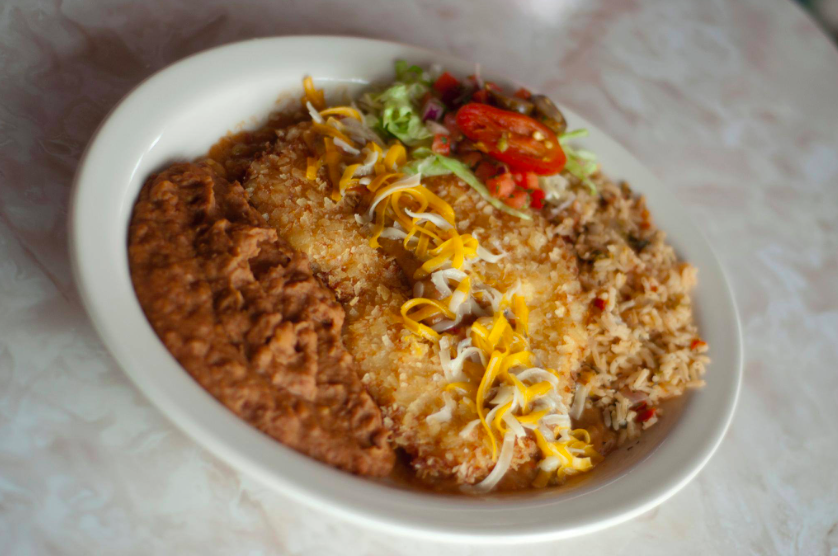 Green Chile Sauce

1 tablespoon butter
½ cup sweet onions, diced
1 quart chicken stock
1½ tablespoons ancho chile powder
2 teaspoons ground cumin
1 teaspoon cayenne pepper
Roux (from above)
2 pounds roasted green chiles, with juice
1 14½-ounce can Hunts petite diced tomatoes
Melt butter in heavy bottomed sauce pan. Add onions and sauté until lightly brown.
Add chicken stock and spices. Bring to a boil, then reduce to light simmer.  While the sauce is simmering, slowly add roux, whisking to blend. Simmer mixture for 15 minutes, until thickened. Add the roasted green chiles and tomatoes and simmer for an additional 15 minutes.* Have fun and enjoy! That's what the King would want!
*Feel free to adjust the consistency of the sauce by adding a little chicken stock to thin it down or making additional roux to thicken it up.