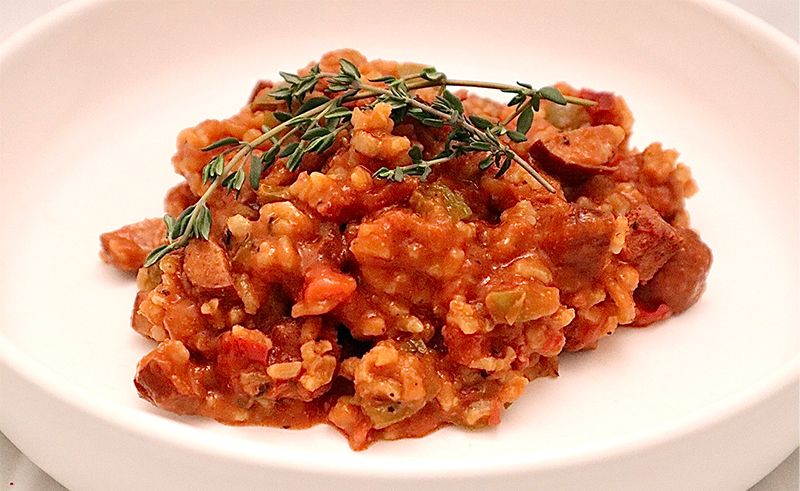 When Shanita Bryant-McAfee opens The Spot in early 2023, Prospect KC's signature gathering space complete with a café and coffee shop, chances are you'll see her jambalaya on the menu. 
Bryant-McAfee's Prospect KC jambalaya is the chef's go-to recipe when she's cooking for a crowd, which she'll often be doing at The Spot. She founded the organization to promote food security and nutritional literacy through job training and community building in Kansas City's 18th and Vine District. Bryant-McAfee's jambalaya is an easy-to-make comfort food recipe that's full of flavor.
She's sharing the recipe so you can get a taste of what Prospect KC's The Spot will be serving when it opens.
The Prospect KC Jambalaya
Makes 8 servings
Ingredients:
2 tablespoons grapeseed oil
1 green bell pepper, diced
1 red bell pepper, diced
1 yellow or orange bell pepper, diced
1 white onion, chopped
1 rib of celery, diced
1 jalapeño, minced
2 cups long-grain rice
4 cloves of garlic, minced
1 (14-ounce) can crushed tomatoes
1 (32-ounce) carton low-sodium chicken stock
2 tablespoons Creole/Cajun seasoning
2 sprigs of fresh thyme, removed from the stem, plus more whole sprigs for garnish
1 bay leaf
Kosher salt and black pepper
Directions:
Heat grapeseed oil in a 10-inch skillet, and add bell peppers, onion, celery, and jalapeño. Sauté until the vegetables soften, 5-6 minutes.
Add the rice and garlic and sauté for about a minute until the rice is well-coated, 1-2 minutes.
Add crushed tomatoes, chicken stock, Creole/Cajun seasoning, thyme, and bay leaf, and season with salt and pepper. Bring the jambalaya to a boil, then turn the heat down to low and simmer, cover and cook for 25-30 minutes, stirring occasionally, so the rice doesn't burn.
Garnish with fresh sprigs of thyme and serve!
Pro tip from the chef: Grapeseed oil is sometimes found in the specialty section of the grocery store. Why seek it out? Grapeseed oil, a by-product of winemaking, is low in saturated fat and offers a clean, light taste with a moderately high smoke point, making it versatile in cooking.