Sponsored content:
The Raphael Hotel on the Country Club Plaza has concocted the perfect recipe for the ultimate spring staycation. They take a generous serving of hospitality, throw in some European flair, then add some spot-on service, blissful amenities, and a sprinkle of live jazz. And before you know it, you've found the perfect place for a fun, relaxing weekend and a renewed sense of self.

On the Saturday I visited, it was a beehive of activity. Two wedding parties were simultaneously checking in. Jazz musicians were setting up on the outdoor patio near the lobby. People were dressed in their finest attire ready to head out to various Derby parties around the metro. And the culinary team was bustling as they perfected some inspired Cinco de Mayo specials for the following day. All in all, it was just another busy day for the team at The Raphael.
From the minute you walk in the door, it's all hands on deck from The Raphael's attentive staff. Their goal? To provide unparalleled service and give you a guest experience that's both personal and inspired. Finding your favorite bottle of wine? Booking a reservation at its award-winning restaurant? Scheduling an in-house his-and-her's massage? Done and done. It's those little, subtle touches in which The Raphael takes pride. "Our associates are well-known for being friendly and caring," said Steve Miller, Director of Operations. "We offer personalized service that's memorable." My friend snagged a couple fresh-baked cookies when we checked in—always a nice touch. Fresh fruit was sprinkled around the lobby for guests to enjoy.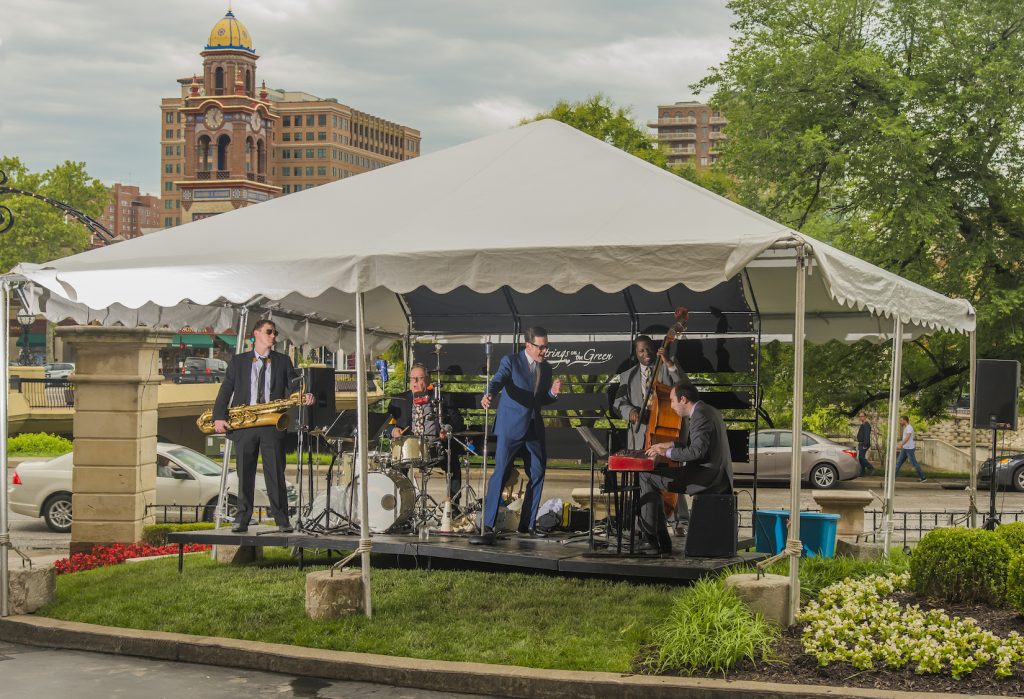 Before heading out to traipse around the Plaza, I took a minute to sit outside on the veranda and enjoy the perfect weather. The Raphael's attentive waitstaff served guests frosty adult beverages while folks listened to the Strings on the Green live music series The Raphael offers up each weekend. To celebrate Cinco de Mayo, the local musicians peppered in some Latin-themed jazz music that had everyone on the patio tapping their toes.
Plenty of couples were checking in for a lovely weekend of lazy decompression. The front desk clerk mentioned not a week goes by at The Raphael without someone celebrating a marriage proposal, anniversary, or birthday—or sometimes all three. They offer a wide assortment of themed packages—everything from a romantic rendezvous with your better half to an elaborate three-course tasting menu at Chaz, the restaurant's fine-dining restaurant. The restaurant features live jazz performances nightly. The front desk was quick to point out we should order a glass of wine and settle in for some lively jazz music at Chaz before retiring for the evening. "Everyone knows it's the perfect nightcap around here," the valet mentions.
Speaking of Chaz, guests who stay at The Raphael can expect a delectable culinary experience of fresh, seasonal fare. Think of it as regional American cuisine with French-forward nuances. Executive Chef Shawn Hartwig has cultivated only the finest, locally sourced ingredients for his menu. And—as Hartwig will tell you—since breakfast is the most important meal of the day, he's recently revamped his brunch/breakfast offerings.
In fact, the hotel has become one of only a handful of fine dining restaurants on the Plaza serving upscale, full-service breakfast fare, Monday through Friday. It's become the perfect locale for savvy businessmen and women to meet for early morning breakfast meetings. I just sat down as our waiter arrived with a glass of freshly squeezed orange juice. Plus, if you're of fan of excellent coffee, The Raphael's blend is the perfect wake-up call before you tackle your day.
Hartwig's new breakfast menu features classic American options with a few playful favorites for posterity. As an extra treat, Hartwig sent out a heaping portion of his gourmet biscuits and gravy to try. It was hearty—and as they say in the South—stick-to-your-ribs-good. I tried the build-your-own omelet—always a crowd favorite. I threw in some extra goat cheese for good measure—along with generous amounts of bacon, spinach and sautéed onions. The perfectly executed chicken and waffles came highly recommended and just so happens to be a top choice among the hotel staff.
Looking to appease your early morning sweet tooth? Our server was a fan of the strawberry French toast made with cinnamon brioche and laden with fresh strawberries. And my favorite, unexpected bonus? The restaurant serves breakfast until 10:30 a.m. and brunch on the weekends until 2 p.m. for all you not-so-early risers. A jazz duo was serenading me when I walked in for brunch on Sunday—always a welcome addition. This is part of Chaz's Sunday jazz brunch, featuring live music from 10 a.m. to 1 p.m. (Oh, and room service is conveniently available 24 hours a day.)

With "126 rooms and suites," The Raphael is always looking "to keep the guest experience fresh," says Miller. "The Raphael is constantly updating our suites." Linens, furniture and accoutrements are always being refreshed. By the time I got checked in to my room, the valet had already delivered my luggage. A luxurious bathrobe and slippers had already been laid out for me to enjoy. It's those subtle nuances that makes all the difference.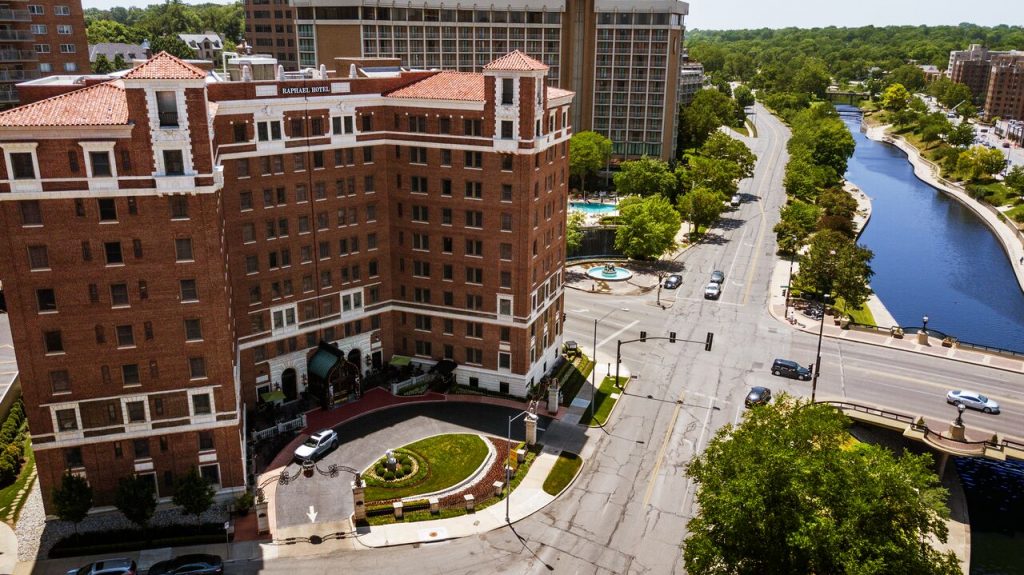 If you're overdue for some thoughtful hospitality and top-notch service, the team at The Raphael wants you to know they're at your beck and call. Whether you're clamoring for a fun-tastic mini-rendezvous this spring or just want a respite from the everyday grind, The Raphael is perfect reprieve for you to put your feet up and say, "Aaaaaah."