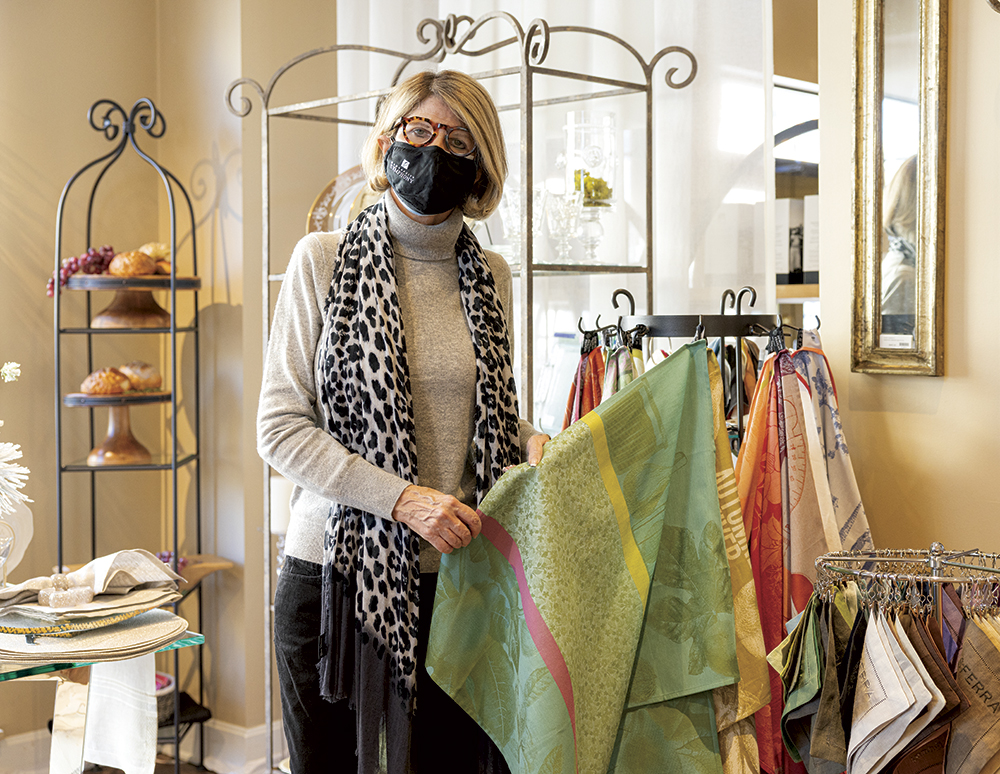 How were your holidays? Weird, right? The hubs and I have been hibernating from the virus; I hope you've been able to do that, too. I'm not sure I will know how to act around people once we can get back to having a social life, but I'm ever so keen to try it. In the meanwhile, let's spend our January—always a month of planning, reorganizing, beginning anew—preparing ourselves and our homes for cozy gatherings, when the happy day comes that we are able to have people over again.
Eating Healthier—Or Not.
Normally in January we all try to cut way back on alcohol and carbs after the excesses of the holiday party season. Some of us even engage in draconian cleanse regimes. But we've been at our battle stations, haven't we? Who knows what we've all been doing to get by, and you'll have no judgment from me if you've chosen to keep it up.
Perhaps you've decided you need the renewed vigor you'll get from eating healthier. Yay for you! It's definitely easier to do this when we're not socializing, a tiny bonus of the pandemic. I've been cooking from Gina Homolka's Skinny Taste: One and Done, which offers no-fuss dinner recipes for your instant pot, slow cooker, air fryer, sheet pan, and skillet. A reader wrote to me a couple of years ago, singing the book's praises, so I ordered it, a solid purchase. (Email me for a few of my favorite recipes.) When we do healthy takeout, I can't get enough of The Mixx's salads, especially the "Main Street Chop Chop"—it's also a great keto diet option, if that is your thing.
Get Your Kitchen Squared Away
An orderly kitchen begets easy entertaining. If your cabinets and drawers have become unruly, take some time in January to reorganize your kitchen so you can find things more easily and actually be proud to have a future dinner guest open your kitchen junk drawer.
Professional organizers say you should empty a drawer completely, give it a scrub, then eliminate the tools and gadgets you haven't used in a year, especially those that perform only one function. Back into the drawer go only the tools you actually use.
Oxo makes an expandable utensil organizer with adjustable dividers that shift to accommodate all sizes of tools. I bought mine at Pryde's Kitchen and Necessities. Shop local!
Speaking of shopping local—and utensils—in January, I always have my knives sharpened at Ambrosi Brothers Cutlery, 3023 Main Street in Kansas City. They charge $6 a knife, $7 a knife to sharpen while you wait. They'll do curbside service, but, as with all the shops I mention herein, they are very respectful of CDC guidelines, and I feel safe in the store.
Out with the Stale
Organization experts also say we should, once a year, pull all the foodstuffs out of our cabinet, toss everything old or stale, scrub-a-dub-dub the empty shelves, then restock. This will give you lots of added space, so you can actually see what you have.
I recently moved my spices from a cabinet, where they were crammed together higgledy-piggledy, to two pull-out drawers. They are in alpha order (duh!), so I can look down—rather than reaching up—and quickly find exactly what I need. Looking for the spices I need for a recipe is actually a soothing, rather than vexing, exercise. I wish I had decided decades ago to commit this much space to my spices.
Whip That Bar Into Shape
There is something so hospitable-looking and genteel about a well-stocked bar.  Use January to stock up and replenish.
If you don't have room for a full bar, build a drinks tray. All you really need is: a sturdy, flat surface—an empty bookshelf or two, the top of a chest-of-drawers—practically anything will do; a wicker, wooden, or silver galley tray topped with shiny booze bottles in varying shapes, colors, and sizes; a handsome ice bucket and some gleaming glassware at the ready. In addition to the hooch, I like to see elegant, single-serving bottles of Coke, soda, and tonic water and a small cutting board for lemons and limes. A high-functioning drinks tray also has small bottles of bitters, Worcestershire sauce, Tabasco, and Rose's lime juice.
White Sales are Wonderful!
Take advantage of January white sales to refresh your table linens. Terrasi Living & Scandia Home on the Plaza has the most sumptuous table linens; you can order them in literally a hundred colors. They always have a sale in January; my friend Ursula Terrasi tells me 2021 is no exception. (They have chic-looking, well-constructed face masks, too!)
Maybe you don't have a budget this year for high-quality table linens, even marked-down ones. Fresh, new, inexpensive flat sheets are my favorite tablecloth hack. Go to Amazon and do a search for "flat sheets only." The assortment is staggering, lots of cheap ones. Say what you will about Amazon; it is all kinds of practical.
And Finally, Set Yourself Up for Comfortable Cooking
I love to spend hours cooking in the kitchen, the telly keeping me company. But when my "dogs are barkin'," cooking is no fun at all. When your feet hurt, everything hurts. James Beard award-winning restaurateur Michael Smith is on his feet cooking, all day every day. I asked him once what footwear he uses. "Old man shoes," he joked. He told me he gets his shoes at Comfort Plus, and he always wears custom-made orthotic inserts. "I couldn't live without them," he said.
I have some ugly cooking shoes, too, in which I drop inserts made by a company called Pedag; they cost about 40 bucks and you can find them online. The first time I put them in my shoes and spent an afternoon cooking, I was pleased at how not only did my feet feel better, so did my back and neck.
For added foot comfort, I bought some thick floor mats—again from wicked Amazon—to go in front of my sink and stove. They make me feel like I am standing on cushy little clouds. The mats are absolutely heinous-looking, though, and my plan is to whisk them into the basement before respectable company arrives. I hope I remember to do so—I'll be so excited to have people over again, I just might forget.
---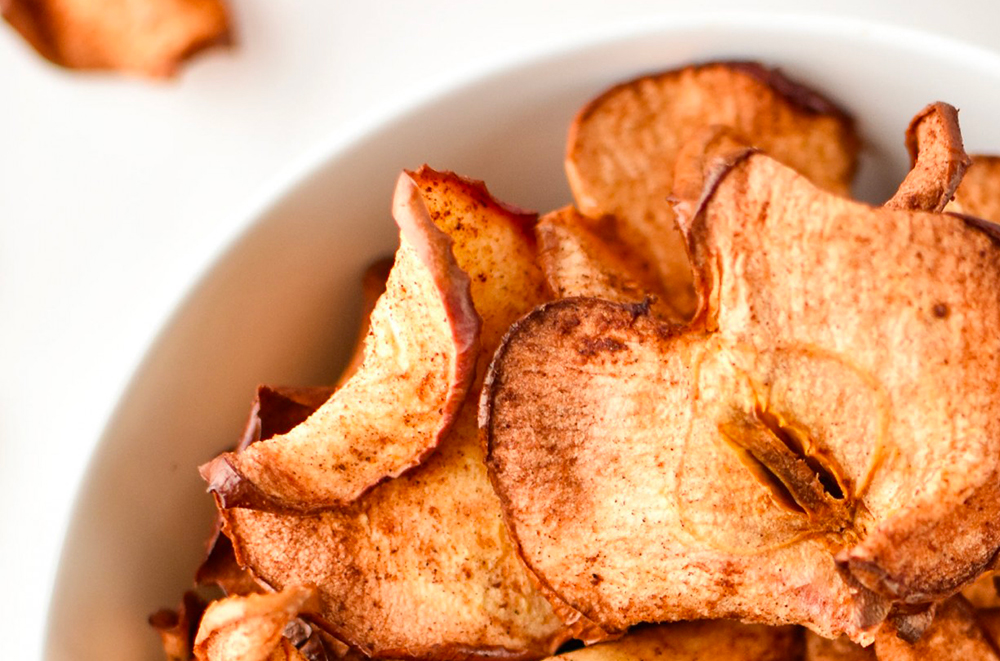 A Healthy Snack for a January Day
This is from Giada's Feel Good Food: My Healthy Recipes and Secrets by the annoyingly thin and gorgeous Giada de Laurentiis. At 53 calories a serving, it's a melt-in-your mouth snack, using apples available year-round. You'll need a V-slicer or a mandoline.
Spiced Apple Chips |  Serves four
Vegetable oil cooking spray
¼ cup sugar
1 teaspoon ground cinnamon
¼ teaspoon salt
2 (6-7 oz) tart apples, such as Granny Smith
Place one rack at the top and one at the bottom position and preheat the oven to 300 degrees F. Line 2 large heavy baking sheets with parchment paper. Lightly coat the parchment with nonstick spray.
In a small bowl, stir the sugar, cinnamon and salt until blended.
Stand each apple upright. Cut 1/4 inch vertically off the right and left sides of each apple. Set the mandoline or v-slicer for cutting 1/16-inch-thick slices. Place 1 apple, cut-side down, on the slicer. Cut slices until the apple core is exposed. Turn the apple over and cut slices off the remaining side until the core is exposed. Arrange the apple slices in a single layer on one of the baking sheets. Repeat with the second apple.
Using your fingertips, sprinkle the apple slices generously with the topping. Bake until the edges curl and the chips are golden and feel crisp, 30 to 45 minutes. Reverse the sheets from top to bottom, and also rotate them front to back. Pull the parchment with the apples onto the work surface and cool completely, 20 to 30 minutes (the chips will crisp more as they cool).
---
Email me with your entertaining questions, dilemmas, or triumphs at mjackson@inkansascity.com