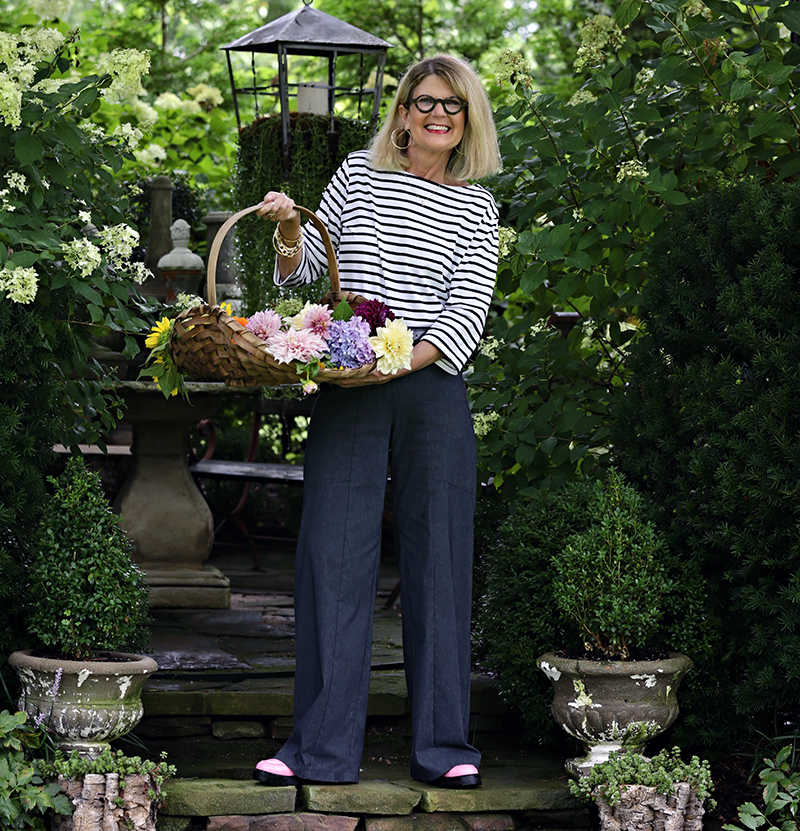 I was so sure we—those of us who were vaccinated, anyway—were done with the masks. But now we're told we are to wear them again, in stores and restaurants. I still feel comfortable socializing unmasked with friends who've been vaccinated, especially outdoors. How convenient, then, that it's now September, one of KC's best months to entertain alfresco. It's still summer, but it's cooled off a bit, and that makes everything in our gardens happy. And since the evenings of temperate weather are numbered, being able to have drinks and/or dinner outside seems more precious to us. 
So, Speaking of Garden
My friends Cindy and Greg Barnhill have, at their home in Old Leawood, built a truly enchanting, completely organic garden, or should I say gardenzzzz because they have a series of impeccable garden "rooms" featuring parterre knot gardens; an enormous vegetable garden; a French-inspired herb garden; a cutting garden; sumptuous beds of hydrangeas and ornamental boxwoods; an orchard with pear, giant quince, medlar, chestnut, pecan and dozens of varieties of apple trees; a weeping spruce arbor; a living fence of hornbeams; a dining terrace with grilling station, fridge and fire pit; and a gorgeously landscaped pool. Oh, and a working greenhouse where Greg, a bona fide orchardist, grafts and propagates plantings when he is not being an orthopedic surgeon. Did I mention they keep bees? And that they're on close to three acres? 
 Cindy and Greg love to entertain, especially in late summer and early fall. Even though few of us have their backdrop for entertaining—I certainly don't—we can learn from their style and steal some of their great ideas.
Partying Green
One of the reasons Cindy likes to entertain in September is that the mosquitos, for the most part, are gone. But to keep the flies away, she burns lots of candles, unscented at table, scented in non-eating areas. 
"I only use scented candles that smell like they would come from a garden," she says. Her favorites are Blood Orange & Lime Agav from the Forget-Me-Not Candle Company and Verbena Thyme from Leif. Procuring them is easy, since she carries both lines in her fabulous shop, Pear Tree Design and Antiques in the Crestwood Shops.
Environmentally thoughtful through and through, The Barnhills never use disposable or non-sustainable anything. "For a dinner party, I haul out my white ironstone plates and jute chargers, and haul them back in again," she says. For a big, buffet-style gathering she uses sustainable bamboo plates.
Soft linen and cotton napkins add to the dining experience. Cindy's favorites are from Couleur Nature and June & December. Both lines are available at Pear Tree Design and Antiques, natch.
Eat Where It's Pretty
Cindy advises us to not get in a rut when it comes to outdoor dining locations. "We try to shake things up, and move the table around," she says, adding that sometimes, when feeding company, they carry a table out to the orchard, or next to where something is in spectacular bloom. "Even if you have a smaller garden, or no garden at all, you can do this," she says. "Move the table to the driveway, if the view is pretty, or next to the flowerbeds in your yard. Play 'Aretha's Jazz' on Spotify. Your guests will love it." 
"Hatch" a Plan for Grilled Chicken (yukyukyuk)
In late summer and early fall, the Barnhills grill almost every night, whether entertaining friends, family, or dining a deux. Email me for their brined, grilled chicken recipe. You could use it as the basis for a casual get-together with friends. You make the grilled chicken and ask friends to bring seasonal sides, like ratatouille, fresh corn pudding, or watermelon feta salad. Email me—I have recipes!
Another Idea for a September Supper
It's easy to overlook the fact that we don't have a bounteous garden like the Barnhills when we remember our local farmers market, a captivating place to be this time of year. There are great markets all over the metro. My favorite is in the River Market where on Saturday mornings you will find, fresh from the farmers' trucks, everything you need for an exquisite late summer/early fall feast: locally raised meats and poultry; all manner of luscious and exotic vegetables and fruits; verdant fresh herbs; just-baked artisanal breads and pies, gorgeous fresh flowers for your table. Go with no particular menu in mind (remember to mask up!); choose what looks good to you. Remember any vegetable is delicious oven-roasted at 400 degrees with olive oil and sea salt, as is almost any fruit when it is sliced or chopped, dusted cut-side-up with sugar, popped into a 450 degree oven until caramelized, then spritzed with a little orange juice. 
Cindy likes to pull whatever veggies are fresh in her garden, toss it all together in a bowl with a chopped avocado, and drizzle it with "a little herb olive oil and lemon." You could do the same with your treasures from the farmers market. 
Not Inclined to Cook?
Give yourself permission to serve carryout. Your friends won't mind; they just want to see you. Cindy freely admits that in a pinch she goes to Aixois, the venerated French bistro next door to her shop, and picks up a to-go dinner made by chef Emmanuel Langlade. I've had many great meals at Aixois, but it never occurred to me to use them for a dinner party. Turns out they have an extensive takeout menu and will even deliver through ChowNow.
Or set your table prettily and serve pan-fried chicken, a swell entrée for a casual dinner. I was heartbroken when Stroud's in Fairway closed. Good news, they have opened two Stroud's Express shops—in Mission and Lee's Summit—that offer only curbside pick-up and delivery. For multiple orders, the food is packed in bulk, so you can transfer it to your prettiest serving dishes—you'll want to tag them in advance with sticky notes—the chicken, tossed salad, green beans, mashed potatoes, gravy, and those decadent cinnamon rolls. For a group of six, order three regular chicken dinners (each serves two very generously). I did this recently for a small dinner party and they delivered the meal right on time, halfway through the drinks hour, so I could scamper into the kitchen and get the buffet ready. I took care of it all online—no need to mask up.  
---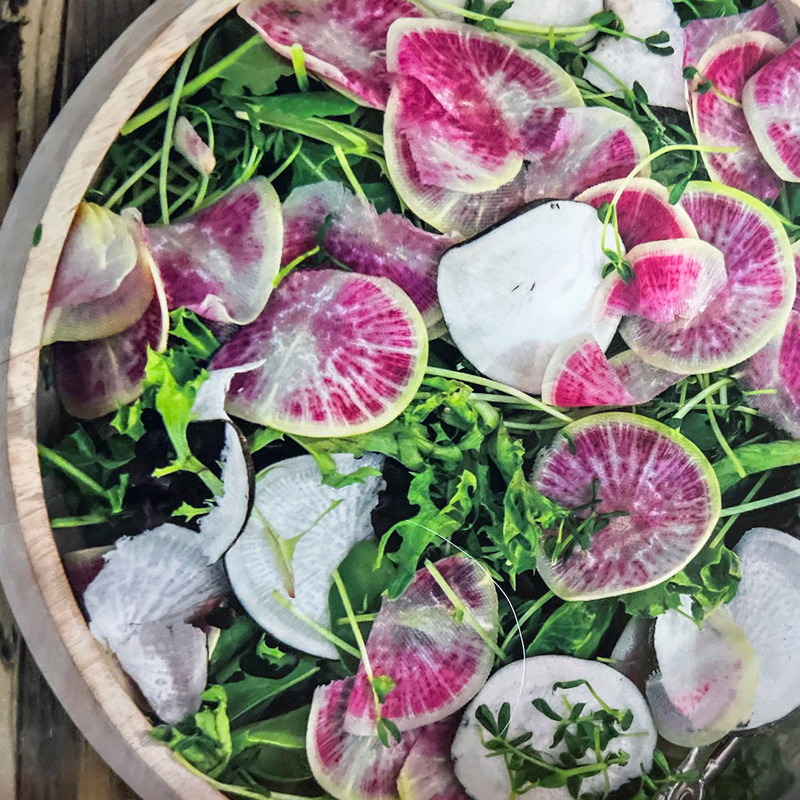 Cindy's Simple Radish Sala
d
Radishes are sweet and earthy and spicy and delightfully crunchy—not to mention beautiful—in a salad. Cindy Barnhill likes to use her fall crop of radishes for this easy salad.
Radish Salad
8 cups assorted fresh baby greens
2 cups pea shoots
3–4 cups assorted radishes (such as watermelon or black), very thinly sliced

¼

cup extra-virgin olive oil

¼

cup champagne vinegar
1 teaspoon Dijon-style mustard
Fleur de sel or sel gris
Freshly ground black pepper
In a salad bowl or individual bowls, arrange greens, pea shoots, and radishes. For dressing, in a bowl whisk together olive oil, vinegar, and mustard. Drizzle over salad just before serving. Season with fleur de sel and pepper. 
---
Email me with your entertaining questions, dilemmas, or triumphs at mjackson@inkansascity.com