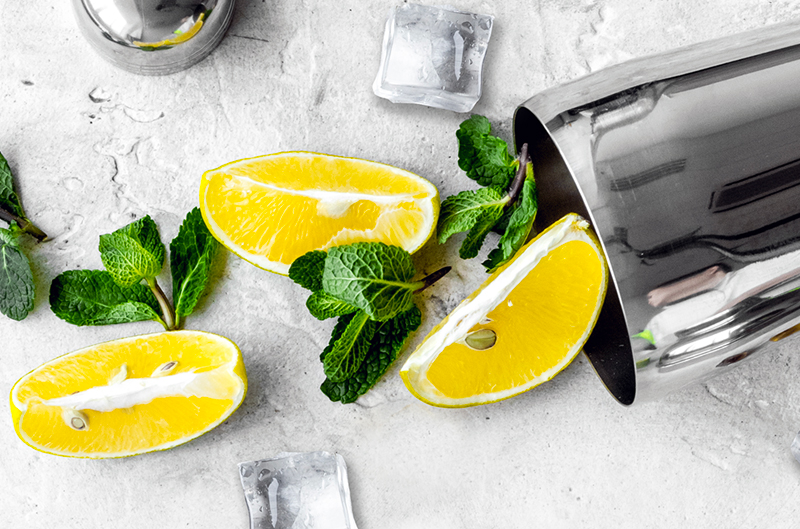 Spring in Kansas City isn't just the arrival of new blossoms and pitchers and catchers reporting. It's the beginning of our long and languid patio season, where imbibing is a team sport, especially now that more Kansas Citians are vaccinated. There's certainly plenty to celebrate, and bubbly is in order.
But what if those effervescent spheres danced with fruit or flavored vinegar instead of booze? Nationwide, one of the biggest trends in the spirit world is a lack of spirits. Non-alcoholic cocktails are making a splash, and few of them resemble Shirley Temples.
Although many tried their hands at backyard mixology last year, globally, the spirit-free trend was already in full swing when the pandemic hit. According to the Bacardi 2021 Cocktails Trend Report released in February, the NoLo (no alcohol or low alcohol) trend is still growing, with 55 percent of consumers opting for low-abv drinks.
Kansas City's drinks scene is no exception. As early as 2018, many restaurants were incorporating spirit-free options on their cocktail menus, whether in the form of house-made sodas, vibrant shrubs, or the suggestion of a custom cocktail for the teetotaler who still wants to enjoy a special treat.
Same Approach, Different Tools
So how do you create a showstopping spirit-free cocktail? Three of the top mixologists in the city agree—you do it precisely the same way you would if using alcohol.
Brock Schulte, bar manager at the city's swankiest watering holes, The Monarch Bar, Verdigris, and the Mercury Room, says that he starts the same way that he would any other cocktail—with a balance of flavors.
"I do the same thing. I try to layer flavors just the way I would in a normal cocktail. I like using dual acids like malic acid and lemon juice to create a green apple flavor. I really dig verjus, which is green grape juice. And any type of shrub [a flavored vinegar] is great," he says.
Arturo Vera-Felicie, bar manager at the Restaurant at 1900, who has harbored a long-time love for custom sodas, views spirit-free classic cocktails as an almost academic pursuit.
"It's easy to lean on sweet-and-sour combinations since so many cocktails are mixed with sugar and citrus. So I challenge the team to come up with ideas for savory drinks. Making a spirit-free daiquiri is easy, but can you make something that emulates a Manhattan?" asks Vera-Felicie.
His staff has been particularly inspired by Zero: A New Approach to Non-Alcoholic Drinks by the cocktail masters at Chicago's The Aviary. They use their culinary approach to making mock spirits using savory elements like tea, soup stocks, and mushrooms.
For Kevin Caraway, bar manager at Canary, a background in coffee influences his creations. The move toward offering spirit-free cocktails as a standard option was new to him as well.
"In the past, not all, but an overwhelming number of non-alcoholic drink orders would be for pregnant women that were out with friends and still wanted a nice drink. Generally, we would slap something together behind the bar. This is the first time I've worked at a bar that had these options on the menu," he says.
To realize that inclusive experience, Caraway has simulated two of the Canary's signature cocktails as spirit-free versions. The Final Approach, which emulates the Canary, and the Hangar Queen, which uses Seedlip non-alcoholic spirits in place of the vodka used in the Ice Queen. Both pack all the flavor of their alcoholic counterparts with none of the punch.
Just A Tipple
Of course, some drinkers are just trying to turn it down a notch, seeking out low ABV cocktails. Schulte says that shims (low-alcohol cocktails) are moving out of brunch land and into the mainstream.
"I really like lengthening cocktails with wine. Using a half-ounce of gin and an ounce of riesling is great because you still get the flavors, but you lower the proof by almost two-thirds," says Schulte.
Schulte says that using kombucha, which can be lightly fermented, or flavored soda water to bulk up a cocktail can add texture and flavor. Using soju, a Korean rice spirit that clocks in at a much lower ABV than nearly all vodkas, can be an excellent alternative to clear spirits. Sherry and aperitifs have long been bartender favorites for low ABV options. Aperol spritz, anyone?
So who is serving up the best of the NoLo trend in Kansas City? Here are eight spots that you shouldn't miss.
Vera-Felicie always offers at least two spirit-free options on the menu, but a constant is a self-fizzing soda. Think of your grade school volcano science project that just missed first place, but in a glass. He makes a fruit-based syrup using whatever is fresh in the kitchen and a bit of citric acid. The syrup is poured over ice and presented with a bottle of rice 'tea' or rice water infused with baking soda. Mixed tableside, the concoction fizzes with flavor for drinks and a show. Definitely worth it for the youngsters.
---
Canary KC | 3835 Main Street
Sometimes a flavor profile is so good you have to do it twice. The Canary is Canary's best-selling cocktail, a tropical blend of vodka, pineapple, coconut, turmeric, ginger, lemon, and egg white. The Final Approach takes out the vodka and replaces it with coconut water for the same feeling. And to go one better, the Final Approach uses aquafaba in place of egg white, making this tipple vegan friendly and oh, so creamy.
For those who prefer the savory side of life, try the Hangar Queen, Canary's take on a dirty martini. Seedlip non-alcoholic spirits offers many iterations, with this one evoking garden herbs. A healthy hit of lemon juice and olive brine brighten it up, and blue-cheese stuffed Castelvetrano olives make it seem almost James Bond-worthy.
---
Novel | 1927 McGee Street
Jonathan "Tex" Bush has a full menu of options, including low and no-alcohol beverages. The teetotaler who enjoys a bit of fire can choose the Thai chili and calamansi ginger soda, a blend of Thai chilis and calamansi juice, which lands somewhere in the delightful territory between an orange and lime. Add a dash of ginger, and you've got a tangy and spicy treat.
For those who want just a bit more kick, try the Evergreen, a riff on the Bamboo. In Bush's version, he keeps the basic ingredients—Manzanilla sherry and blanc vermouth, but adds green tea, cucumber, and soju for a refreshingly green cocktail that clocks in under 20 percent ABV.
---
Kate Shipman, bar manager at Fox and Pearl, knows that sometimes you need little relaxation even if you're not into booze. The Metanoia eases the mind and the body with freshly squeezed carrot and lime juice, sweetened with a bit of agave, and topped with Queen City CBD lemon lavender seltzer. Getting your fruits and veggies in your cocktail has never been easier.
---
Parlor | 1707 Locust Street
The cocktail team at Parlor is always coming up with new concoctions, but the Island Time hits the spot for tiki lovers. Pineapple juice, black tea, and cinnamon syrup mingle with tiki bitters for a drink that would be altogether at home in a fierce Polynesian ceramic cup. The blend of cinnamon and black tea grounds this in a wholly satisfying way. Pro-tip: ask for it with crushed ice for the full tiki experience.
---
Few people wander into the Monarch Bar for their spirit-free cocktails, but that doesn't mean that the staff puts any less thought or effort into their execution. While Schulte says that they can create a bespoke cocktail based on the customer's likes and dislikes, they also offer elixirs.
The elixir menu takes the spirit-free trend one step further by using ingredients that actively help you feel better, like oxygenated water and vitamin-infused tinctures. The Morning Glory is our favorite, with a spicy kick from JJ's masala-chai kombucha, honey, L-cysteine (known for its detoxification qualities), and carbonated Oxigen O4 water. Tasty and healthy? Sign us up.
---
Affäre | 1911 Main Street
Cocktails may get more menu space, but dealcoholized wine is also a growing trend. At Affäre, Chase Ihde blends a NA sparkling wine with one of the pleasant byproducts of their pretzel bread plate—sweet-pickled butternut squash, which is brined with lemon zest, ginger, sweet onions, cloves, cinnamon, and other spices. The Pickle Power Fizz combines the juice of the pickled squash with lemon juice, Fee Brothers Cocktail Bitters, egg white for foam, and a hit of bubbles from Leitz Eins Zwei Zero N/A sparkling rosé. Think a Ramos Gin Fizz with a pickle-y punch.
---
Even drinking water in the gorgeous environs of the Mercury Room feels special. Still, if you're sober-curious and want something with a bit more pizazz, Schulte recommends a bespoke cocktail based on one of their intermezzos, the small non-alcoholic sips served between courses.
For an exotic sip, choose a cocktail based on the Sea Buckthorn amuse-bouche. Chamomile tea is combined with sea buckthorn and Mirabelle plum, with just a touch of citric acid for pop. The tropically acidic concoction is unlike any other recognizable flavor—piquant and tart with an undercurrent of floral sweetness.
---
Sometimes simple is best. The shady patio of the Farmhouse would be so relaxing with Taylor Anderson's hibiscus lemonade. House-made hibiscus syrup gives this classic lemonade an unexpected hit of floral flavor and a gorgeous ruby hue. With a sprig of mint for garnish and not a drop of booze in sight, you can have more than one. We won't tell.