After a decade of a Kansas City without the Sheraton Hotel's historic Skies restaurant, we'll soon be able to enjoy the up-in-the-air experience again. 
This time around the restaurant won't rotate, but it will be transformed into Winter Skies, a cocktail bar for guests to enjoy this holiday season.
"We see posts on our social media all the time from folks reminiscing about their visits to Skies. It's really our pleasure to bring it back to life for a bit," says Kaitlyn Mueller, the marketing manager for Sheraton Crown Center. "We're excited to welcome back previous customers and for those who've never been up there to experience it for the very first time—the best views of the city in the city!"
Located 42 floors up, Skies offers a panoramic view of the Kansas City skyline with a rounded exterior wall made from 72 plate-glass windows. Enjoy a special menu of holiday cocktails while surrounded by lights, trees, and plenty of tinsel.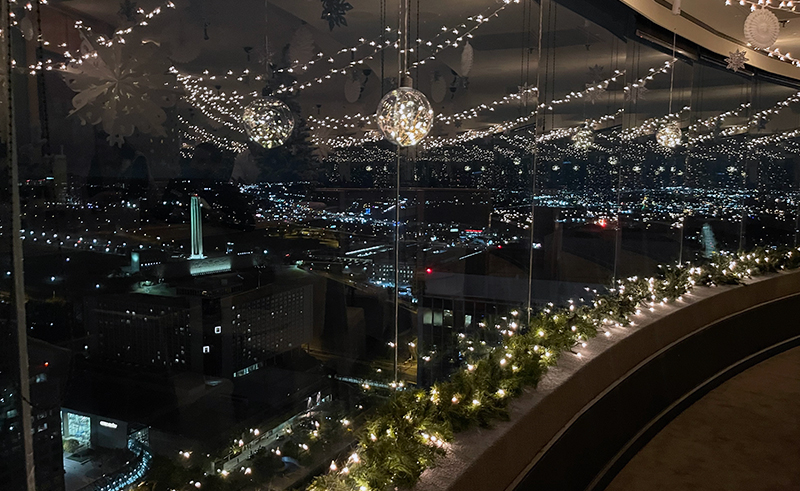 Designed by J. Rieger and Co., the holiday cocktail menu will feature cocktails including:
Up on the Rooftop: Rieger's vodka, hibiscus, cinnamon, and orange

Fireplace Old Fashioned: smoked Rieger's bourbon, Cynar, Peychaud's bitters, and maple syrup

Kansas City Ice Water: gin, vodka, lime, and cranberries
Not a cocktail drinker? No worries—beer, wine, and a small menu of sweet and savory bites will also be available. 
Reservations for December 1 and 2 will open on November 11 at 11 a.m. here. Each $35 ticket includes a two-hour reservation and complimentary parking, and $5 of each ticket will be donated to the Children's Miracle Network. Additional dates will be announced soon!