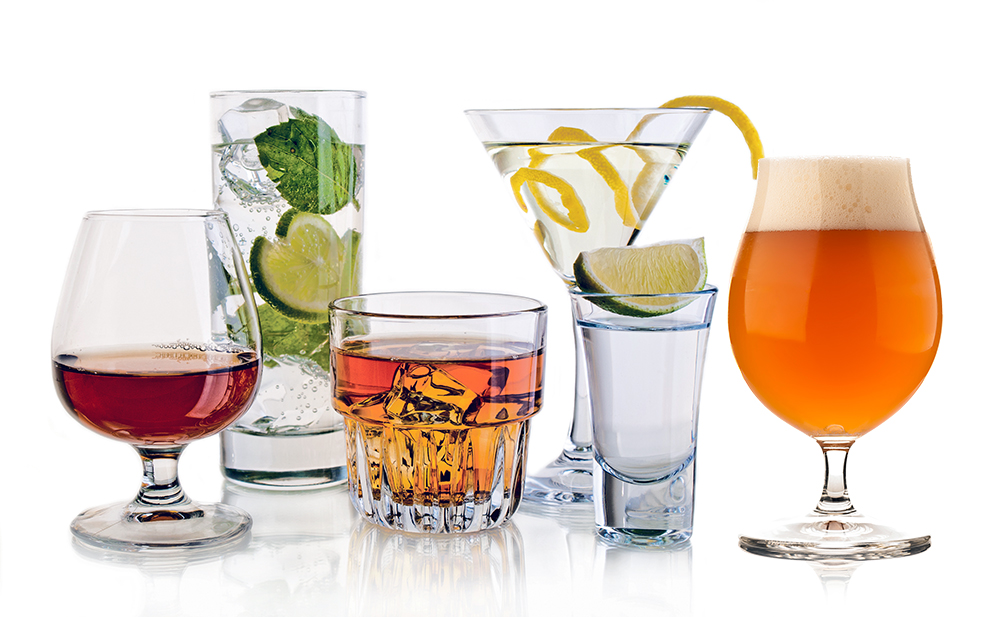 When Omaha World Herald journalist Edward Morrow wrote "If you want to see some sin, forget about Paris and go to Kansas City" in 1938, did he mean it as a dig or high praise? No matter; locals laughed and continued to imbibe with abandon. 
They had a head start. In 1887, the West Bottoms area, home to whisky and beer loving immigrants from Ireland, Germany, and Belgium, was known as "the wettest block in the world." Local breweries and distilleries flourished until Prohibition became law on January 16, 1920. 
Some say that was the best day in political boss Tom Pendergast's life. Under his control, bootleggers kept the booze pouring, jazz playing and good times rolling. At the height of our town's heyday in the 1930s, there were more than 100 jazz clubs and nightspots, many clustered around the 18th & Vine district. When asked why he was ignoring federal law, Pendergast quipped, "The people are thirsty."
That phrase appears on Tom's Town Distilling Co.'s brick building a few blocks from Boss Tom's former offices. Fun fact: the great-uncle of Steve Revare, who opened Tom's Town in 2016 with David Epstein, was the attorney who sent Pendergast to prison. 
Patrons sip award-winning gin, vodka, and bourbon in a masculine tasting room that looks like Boss Tom never left. The menu includes a steak dinner with a flight of three spirits. Tours are on tap as well, and fans who want to be a bottler for a day can sign up to affix labels on Tuesdays from 6 to 9 p.m.
Two more in Boss Tom's backyard
"From seed to sip" is the romantic notion at the heart of Lifted Spirits Distillery. The team behind the name buys soft red wheat for its vodka from a small family farm less than a mile away. It's no mistake the distillery and tasting room is located in the Crossroads, known for creativity and a sense of communal gatherings. Even the website is welcoming; find histories of famous drinks, tips on the correct ice shape and glassware to use and recipes to try. 
The space itself displays original beams and a hayloft from its days as a stable, while a handsome carved wooden bar holds bottles of its vodka and Bright Gin, distilled with 11 different botanicals including juniper, coriander, and hibiscus. The result is a floral aroma that you'll wish you could bathe in. And there's no mistaking Absinthe Verte's bright-green hue; its sweet and herbal taste is a unique addition to any cocktail. 
Mean Mule Distilling Co. has a legacy that started five generations ago when a bootlegger used a cantankerous farm animal to hide the illegal still from federal agents. Hence the name, but today's product isn't whiskey but agave, a spirit close in taste to tequila. After hosting pop-up tastings for four years to build a fan base, Mean Mule opened a distillery and tasting room in the Crossroads in 2019. The Silver Agave American Spirit offers a clean and smooth drinkability while the Gold label has a sweet aroma and notes of vanilla bean. Both are superb sipped straight or mixed into cocktails.
Go west, young distiller. And south. And north.
Holladay Distillery's history began when the Lewis and Clark expedition discovered a limestone spring near Weston in 1804. Stagecoach magnate Ben Holladay knew that good water makes great bourbon, so 50 years later he bought land surrounding the spring and established a business that is now the country's oldest continuously running distillery. Chances are, folks heading west from Weston were drinking Ben's whiskey, which was healthier than the water at most stops.
Today, under the McCormick's Holladay label, the distillery releases a 4-year-old bourbon based on its original 160-year old recipe with 6-, 8- and 10-year-old varieties to come. 
Far from downtown but one of the first in the post-Prohibition booze game, Union Horse Distilling Co., broke ground in Lenexa in 2010 and released its first bourbon and rye whiskey three years later. Early success encouraged experimenting with mixing grains; for instance, its Rolling Stand Midwestern Whiskey includes barley, wheat, corn, and rye aged in Missouri oak barrels. Each bottle is hand numbered to represent the distiller's artisanal pride. 
Like so many other distilleries, Union Horse co-founders Damien and Patrick Garcia knew they needed a revenue stream while awaiting the barrel aging process. Their event space with luxurious furnishings is a popular pick for weddings and business events. 
Restless Spirits Distilling Co.'s Benay Shannon is the only female master distiller in Missouri. In fact, she's only one of six in the entire nation. Would-be whiskey makers can take classes at the company's academy. 
Shannon's built quite the following since Restless opened in 2016 in an up-and-coming North Kansas City neighborhood; her Builder's Gin is distinctive for its layers of flavors distilled from botanicals, orange peel, and lavender. "It made a gin drinker out of me," she likes to say. Her GulleyTown single-malt whiskey owes its name to the rugged beginnings of our town and its smooth taste to time in charred oak barrels and oak bourbon casks. 
But let's back up for a wee look at the company's Irish heritage. When her husband Michael's family moved to Kansas City in 1867, the Shannons were part of the "rabbits" group, fierce rivals of Tom Pendergast's "goats." That explains the rabbit you'll see on each handsome label designed by local firm Whiskey Design. 
Success is O! So Good!
But when it comes to a destination to drink, dine, or host an event, J. Rieger & Co. tops the list with its three-story brick building in the East Bottoms that was originally the bottling house for Heim's Brewery, once the largest beer producer west of the Mississippi. 
Rieger has a fascinating history of hooch; Jacob Rieger founded the venture in 1887 and thanks to his son Alexander's marketing smarts, the company became the country's largest mail-order liquor purveyor offering over 100 different products including gin, whiskey, and rum. 
Alexander also built the Rieger Hotel in 1915 at 1924 Main Street. That address is now home to The Rieger restaurant, where co-owner Ryan Maybee opened Manifesto, an honest-to-goodness speakeasy with a secret entrance to its dark, underground confines. 
Clientele learned patience while waiting for their cocktails featuring house-made shrubs and tinctures in hand-labeled jars; the place looked more like an apothecary than a bar. This style of creative mixology was at the heart of the Paris of the Plains Festival Maybee co-founded in 2012 (check out this year's schedule of activities, lead by bartenders Berto Santoro and Scott Tipton, at popfestkc.com). 
When Andy Rieger—the great-great-great grandson of Jacob—met Maybee, it wasn't long before they began dreaming of bringing back the company brand. 
J. Rieger & Co.'s first release was Kansas City Whiskey in 2014, blending corn, malt, and rye with a trace amount of 15-year-old Spanish sherry. The result was a smooth, drinkable, and slightly sweet golden pour that quickly won national attention and awards. 
Other products began rolling off the production line including Premium Wheat Vodka and Midwestern Dry Gin. Each label includes the "O! So Good!" slogan Alexander Rieger created more than a century ago. 
J. Rieger & Co's new home opened in 2019 and now houses restaurants and bars, event spaces, an exhibit of more than 100 items from the company's past, and the Hey! Hey! Club lounge with an entrance marked by the movie prop from Robert Altman's 1996 film, Kansas City. 
A boozy bonanza
These local leaders are joined by several other distilleries of various sizes and stages throughout the region. What's the reason for this boom in Kansas City? Ryan Maybee bases it on national trends for small-batch, handcrafted products. 
But he adds another element: Kansas City pride. "More than any other city I've visited, Kansas City encourages local endeavors and supports people who are passionate about their brands," he says.
So they visit tasting rooms and tour distilleries to watch the process first hand. They buy bottles for their home bars. And they request local products when they're out at restaurants and bars. 
There's a well-known collaborative nature within Kansas City's chef community that extends to the spirits and beer businesses as well. Maybee praised several other distilleries turning out top-drawer products including S. D. Strong and suggested checking out the apple brandy from Of the Earth Farms and Distillery and fruit brandies made at Edlebrand. 
Heading into beer territory
Celebrating local pride and passion for small production come into play with Kansas City's breweries as well, helping Kansas City brewmasters hold their own against national beer companies. 
It started in 1989 when beer enthusiast John McDonald hoisted a keg of his Boulevard Pale Ale into his truck and drove it a few blocks to Ponak's. Within a few years, Kansas City was on its way to returning to its pre-Prohibition status. 
By 2004 Boulevard Brewing Company was producing 100,000 barrels a year. And today there are few Kansas Citians who haven't experienced some element of this brand by quaffing a Pale Ale, cult-favorite Tank 7 or any one of its dozens of other products, inhaled the aroma of hops during a tour or hung out on the Rec Deck it added last year. 
Like so many others, KC Bier Company was founded by a home brewer. Steve Holle fell in love with traditional German-style biers while in Hamburg during his college years. Fast forward to 2014 and the brewery has 12 products on tap including its best seller, Dunkel, a Munich-style brown lager. And where better to down a fresh ale but at KC Bier's biergarten on Waldo's Trolley Trail? There's even a dog-friendly zone. Do the pups require a photo ID?
Crane Brewing's taproom in Raytown is the place to mingle with true beer nerds eager to try the latest experiments based on the rustic beers of Europe including sour ales, crisp saisons, and a Berliner-style weiss. 
But it's the combo of a sour German wheat beer and an unlikely vegetable that put Crane on the map. The Beet Weiss is an earthy, magenta brew that is surprisingly easy to love. 
Matt Moore and Chance Adams, founders of Martin City Brewing Company, are poised to take over the beer business in Kansas City if not the nation. In 2014, the duo opened a brewery in the south Kansas City neighborhood and now offers 20 different beers including its popular Hard Way IPA and Yoga Pants, a gluten-free golden ale. Along with its original location, MCBC has a Pizza & Taproom in Lee's Summit and Mission Farms. 
Ask ten people in Kansas City to name a favorite barbecue restaurant and you'll get ten different answers. It's the same with breweries. Other excellent choices include Torn Label, Cinder Block, Big Rip and Brewery Emperial. Lucky then that beer enthusiasts can make up their own minds during upcoming events including Kansas City Summer Beer Fest at Arrowhead Stadium on May 16 and the suds soiree, Boulevardia, June 19 and 20 at its new home in Crown Center.  
Ryan Maybee is right: we're a town that embraces a buy-local attitude. And with dozens of distilleries and breweries on both sides of the state line, it's easy to drink local as well.