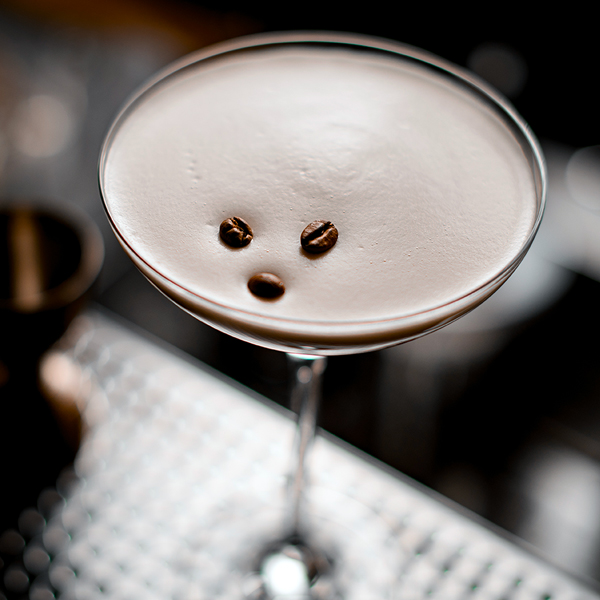 Although it quietly opened last fall, word is already out about The Primrose, the cozy, tiny new bar serving up seasonal craft cocktails in downtown Mission. Starting at 4 p.m. Wednesday through Saturday, guests quickly fill every available couch, barstool, table and chair in the house to watch a team of three bartenders shake and stir drinks all evening long.  
The Primrose is owned by Julie and Jason Hans and their children, who also own and manage Urban Prairie Coffee and Mission Board Games. All three family-run businesses are located only a few doors down from each other on the same block of Johnson Drive. 
When the new space first became available, the Hans family knew they could do something with it, and a small cocktail bar came to mind—something serving quality cocktails in an intimate setting.  
They worked part of last year taking a former bakery and transforming it into a moody clubhouse vibe with olive-green walls, brass accents, a fireplace, artwork on the walls, rugs on the floor, and soft living room furniture that makes it feel more like a study or library in someone's home. The bartenders will serve as your host for the evening and will point you to an open chair or ask you to check back later to see if a seat has opened. The sidewalk out front has some outdoor seating and a small fire pit, but with winter weather here, inside seats are in demand. 
Surrounded by neighborhoods in every direction and with few places to enjoy a craft cocktail close by, The Primrose has quickly developed a loyal following by all who relish walking or making a short drive to order a quality drink and catch up with friends after work or on weekends.
There are currently 15 cocktails on the menu, which fall into three categories: signature, seasonal, and classic. A current favorite on the signature list has been the Primrose, a flip that comes in a smoked cocktail glass and consists of Tom's Town Gin, vermouth, Campari, rosemary simple syrup, lemon, orange, and an egg white. It is bright and balanced with a rosy, pink hue. The cocktails are well crafted with a nice selection of spirits available. You'll find everything from an Oktoberfest Old Fashioned made with Jägermeister, rye, maple syrup, bitters, and an orange twist on a big ice cube to a Paloma made with Espolòn Tequila, grapefruit juice, club soda, simple syrup, and lime juice.  
Brunch is served on the weekends featuring breakfast items from their coffeeshop a few doors down. Guests can order quiche, avocado toast, and a variety of pastries in addition to mimosas on Saturdays and Sundays from 10 a.m. until 2 p.m. There are clearly synergies between the three family-owned businesses, including this coffee cocktail featuring cold-brew coffee from their sister business, Urban Prairie Coffee.
---
Urban Prairie Cold Brew Martini
1.5 ounces J. Rieger Premium Wheat Vodka
1.5 ounces Kahlua

 

.25 ounce vanilla simple syrup
.75 ounce cold brew (They use cold brew from Urban Prairie Coffee)
.5 ounce cream

 
Add ingredients to a shaker and shake vigorously. Strain into martini glass and garnish with three coffee beans.