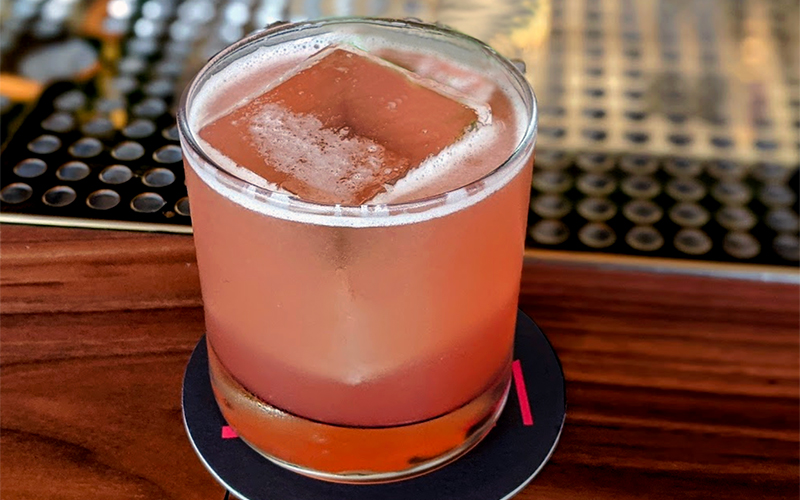 Let me introduce you to Jim's Alley Bar, the new 36-seat tiny bar in the East Crossroads that is opening soon. With a sneaky front door that opens onto Art Alley and an old-school esthetic, Jim's Alley Bar fills the final connect-the-dot spot in owner Eric Flanagan's bar and restaurant empire, which includes both King G bar and deli, all located within the same building.
The bar is a personal homage to Flanagan's late grandfather, James, but everyone just called him Jim.
"Jim is a family name," Flanagan says. "My father and both grandfathers are named James; my brother and I both have the middle name James. While all of these 'Jim's' are featured within the bar, the logo and heart of the bar is named after my maternal grandfather, Jim. He was an important man in my life—a WWII vet, blue-collar worker who was a rock in our family. He was a man of few words, and family always came first. He was someone I looked up to deeply. He passed on December 12, 2016, and I wanted to create a space where he would want to sit back and enjoy a Sunday football game."
With the opening of this 1,000-square-foot nostalgic new neighborhood bar came a brand-new prep kitchen with a stove, oven hood, and a bar prep area that will serve both Jim's and King G bar and deli. Why mention the new kitchen? Because it means the popular New Jersey specialty sandwich known as Taylor Ham—which was originally introduced on the King G menu but soon removed—is now back on the menu at Jim's Alley Bar. Hard to find outside the east coast, the Taylor Ham sandwich is a "must-do," after a few drinks or a few drinks too many. 
"I wanted to put a New Jersey staple on the menu," says Flanagan. "We threw the Taylor Ham on the King G menu as kind of an aside, but it ended up being very popular. We had to stop cooking it because we didn't have proper ventilation, and with Jim's, we now have a hood system to cook that item and many more." 
He is right. The menu at Jim's Alley Bar leans into his grandfather's Italian roots with several comforting and familiar favorites prepared by Zac Sachs, the kitchen manager at King G deli. You'll find Italian beef, made with 12-hour slow-cooked flat-iron steak, shaved thin, served with au jus and a choice of giardiniera, sweet peppers, provolone, or Italian sausage known simply as the "combo." You can also get a Scimeca's famous Italian sausage grilled and served with sweet peppers and sautéed onions on a hoagie roll.
The drink menu feels nostalgic with old-school cocktails, including the Cuba Libre, a classic rum and Coke with house-made Cola and a twist of lime, and a number of time-honored beers in cans and on draft. 
Gus Cobb is the bar manager for both King G and Jim's Alley Bar, and both he and Flanagan love the Italian Greyhound cocktail that Cobb designed specifically for Jim's Alley Bar. 
With elements of both a classic Greyhound cocktail and a Sbagliato, an Italian cocktail whose name means "mistake," because a bartender grabbed a bottle of sparkling wine instead of the gin when he was making it, this one is clearly a tribute to Jim's Italian heritage that you can now taste for yourself at home. 
---
Italian Greyhound
.5 ounce Lifted Spirits Brilliant Vodka

 

.5 ounce Cappelletti

 

1 ounce sweet vermouth
4 ounces Blanc de Blanc
1 ounce grapefruit cordial*
Put all ingredients in a glass, add ice, and drink quickly. No garnish needed. 
*To make the grapefruit cordial: make a syrup using one part grapefruit juice and one part sugar and cook together with the grapefruit peels.