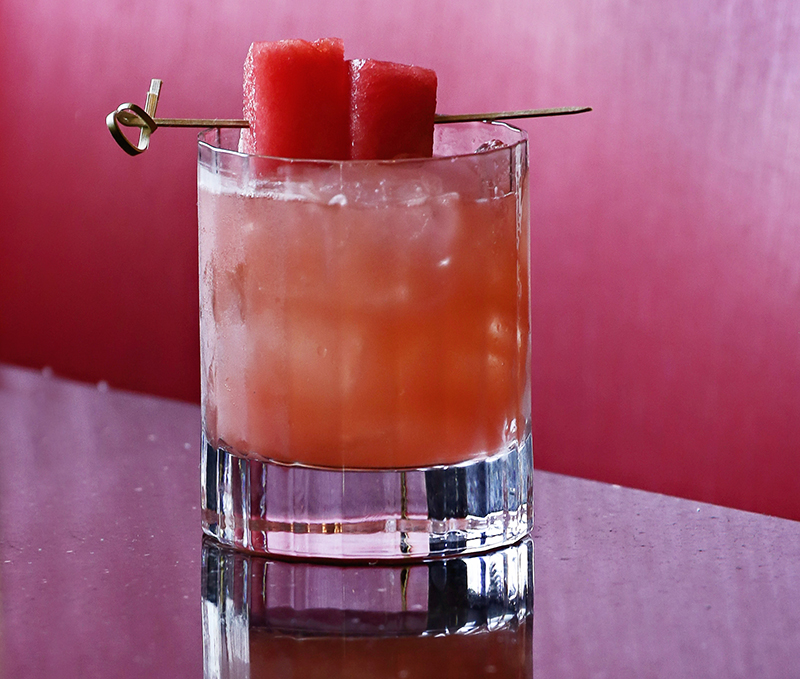 When the brutal afternoon heat from the summer sun beats down on Kansas City, there is a cool, dark respite with a quiet corner table for two waiting at Chaz on the Plaza. Here live music plays with no crowds, and a bartender beckons you to have a seat while they mix a refreshing cocktail to help you wash the day away or gear up for what the rest of your night will bring. 
For over 13 years, Chaz on the Plaza, located inside The Raphael Hotel, has been the secret spot to listen to live music five nights a week. The audience is usually a mix of locals and tourists who come to listen and drink as a variety of talented local performers play. Early week, you'll find local barman Kenny Cohrs behind the stick at Chaz shaking up some good trouble.
"Monday and Tuesday evenings the vibe at Chaz is intimate and we've paired it down to just cocktails and live music on those nights. We have plenty of regulars who come in then to relax and reconnect with a drink and enjoy what feels almost like a private performance," Cohrs explains. 
Starting Wednesdays, Jordan Carver, the food and beverage director for Chaz, along with Shawn Hartwig, the executive chef, open the kitchen evenings for happy hour from 4 to 6 p.m. with appetizers, such as bacon-wrapped dates, duck-fat fries, and mimosa deviled eggs available to curb your cravings before dinner, served Wednesday through Saturday until 10 p.m.
Cohrs enjoys tending bar at Chaz because it allows him the opportunity to be an ambassador of sorts for the city, introducing people from out-of-town to a wide variety of quality local spirits made right here in Kansas City. 
"I have regular business travelers who come to Kansas City for work every other week, stay at The Raphael, and then come see me for a drink at Chaz on the Plaza," says Cohrs. "They come and sit at my bar and trust me to introduce to them new cocktails I've made using local spirits, like the Float Trip, a drink that uses Ben Holladay, bottled-in-bond, 100-proof whiskey from Weston."
After six years of barrel aging in open-air ironclad buildings, Missouri's oldest distillery, Holladay Distillery, finally released their first small batch of Ben Holladay Missouri Straight Bourbon Whiskey after a 30-year hiatus. 
Named after the original owner of the distillery, Ben Holladay, who purchased the land in Weston to make whiskey after seeing the active limestone springs on the property, a water source that served as nature's own filtering system for impurities in the liquor. A transportation tycoon in the 1800s with interests in everything from stagecoaches to silver mines to saloons, Holladay kept detailed records of what he used to make his bourbon back then, and that same mash bill, or blend of grains, was used create this first batch that now bears his name. 
Kyle Merklein, Holladay's master distiller, has overseen the distillery's bourbon operation since 2016 and has spent countless hours comparing the lab work on what is in the current barrels to the data found in the company's old handwritten ledgers. After years spent aging, tasting, and blending different barrels with help from others, including Doug Frost, who holds the titles of master of wine and master sommelier, they believe they have matched Holladay's original flavor profile.
Pick up a local bottle of Ben Holladay bourbon at your local liquor store, sip it straight to enjoy the natural flavor profile of this local spirit, and then use it to make this cool and refreshing take on watermelon bourbon smash perfect to enjoy anywhere you find a bit of shade and a body of water this summer.
---
Float Trip
1.5 ounces Ben Holladay Bottled-in-Bond Bourbon Whiskey

 

1 ounce watermelon juice cordial*
.5 ounce lime juice
Combine all ingredients in a cocktail shaker with ice and shake vigorously. Strain over fresh ice in a rocks glass and garnish with a watermelon slice and a dash of salt. 
*Recipe for watermelon juice cordial:
Cut fresh watermelon into chunks and place in blender, and blend until completely smooth. Strain juice through a wire mesh strainer. For each quart of juice add a teaspoon of sugar and a quarter teaspoon of salt, then stir.