Sponsored content:
You know what's worth celebrating this holiday season? Kansas City's incredible—and to some, unexpected—cocktail scene.
Take it from an expert. Helen Gregory, a founding partner of Gregory + Vine, a New York and KC-based branding and strategic communications agency that specializes in global wine, food, spirits and lifestyle has visited with top makers and bars around the world. She made the move to Kansas City in 2014 and what she's seeing has her excited not only for what's happening, but also what's to come.
"The spirits scene is really pushing the boundaries," she says. "There's so much here to feel good about."
Gregory divides her time between offices in Kansas City, New York and Europe. Yet as she continues to watch Kansas City's cocktail scene evolve, she's noticed that local establishments and products are on par with the best anywhere.
"We're very privileged to live in a city where bar talent, Chefs and hospitality have come together," she says. "This isn't true in a lot of places. We live in a very creative city with access to high-end ingredients, and as a result, people take chances. It's a great time to be here."
Why not tap into that creativity and talent as you're planning holiday gifts? Whether you're buying for a spirits novice or a cocktail connoisseur, Kansas City has no shortage of expertly made and thoughtfully curated products that will delight the lucky recipient. If you're in need of a shot of gifting inspiration (no pun intended!), Gregory has several recommendations to help guide your shopping.
Create lasting memories with an experience
"When you think about a gift, it doesn't have to be a thing," Gregory says. "Cocktails are best shared and people crave new experiences, especially in spirits where so many of us are still learning. In Kansas City, you can have a different cocktail experience every night."
Gregory recommends gathering a group of friends for an introduction to Kansas City's drinks scene. Some of her top spots include The Monarch Bar, where she recommends trying something new from the award-winning menu—"the cocktail list is extremely diverse, from classics to the wildly creative and fun" she says. Gregory loves the timeless yet experimental vibe of Manifesto, and The Hey! Hey! Club, a newcomer to the scene located in the new J. Rieger & Co. distillery. "The Hey! Hey! offers a first-class cocktail experience that celebrates the best of KC tradition and today," she notes. "It would stand out as a great bar anywhere, and just happens to be in a working distillery."
Speaking of the distillery, add another dimension to your experiential gift with a tasting, tour and favorite bottle, allowing recipients to experience the production process firsthand. For a group, Gregory recommends booking a weekend tour at J. Rieger & Co., and enjoying the extensive cocktail selection with brunch. No matter what experience you select, make it educational and fun. Gregory urges guests to "ask a lot of questions. This is your opportunity to learn about the ingredients and techniques that set them apart."
Bottles, books & barware — where to shop local
The beauty of spirits-centric gifts is that the versatile category offers an abundance of options. Take barware, for example, the perfect gift for someone who loves to entertain. Gregory recommends a trip to the West Bottoms during First Friday weekends to comb the multi-level antique stores for staples like inexpensive champagne coupes.
Golden + Pine in Prairie Village is another favorite spot for bar accessories, not to mention a stylish place to browse and take it all in during the hectic holiday season. "I really love their focus on local craft, sustainability and design; they bring their products to life through beautiful displays that inspire gift-giving," she says.
With so many expertly and locally made spirits available in Kansas City, you can give the gift of great taste—literally!
"We have a wonderful production scene," Gregory says. "Our spirits are uniquely Kansas City."
For example, Gregory says J. Rieger & Co. has "set the benchmark" with both their whiskeys and gin, including a new definition of "Kansas City Whiskey" created by co-founder Ryan Maybee. "Ryan is our local cocktail historian, and his research into the origins of KC whiskey led him to create a new category in spirits that includes a small amount of sherry in the blend, in keeping with the pre-Prohibition tradition," she says.
Other recommendations include locally-focused makers like Lifted Spirits. "They'll buy the entire wheat production from a small farm and do a single-sourced batch of whiskey. It's a very unique expression of product made from the best grains in our area. They're also experimenting with absinthe and leading the way with botanical gins." For vodka lovers, TILL American Wheat Vodka (recently named Best Spirit in Kansas) is made entirely from the best heartland wheat. "The Midwest has such a longstanding tradition of great grains; you can taste the quality difference in our spirits," she says.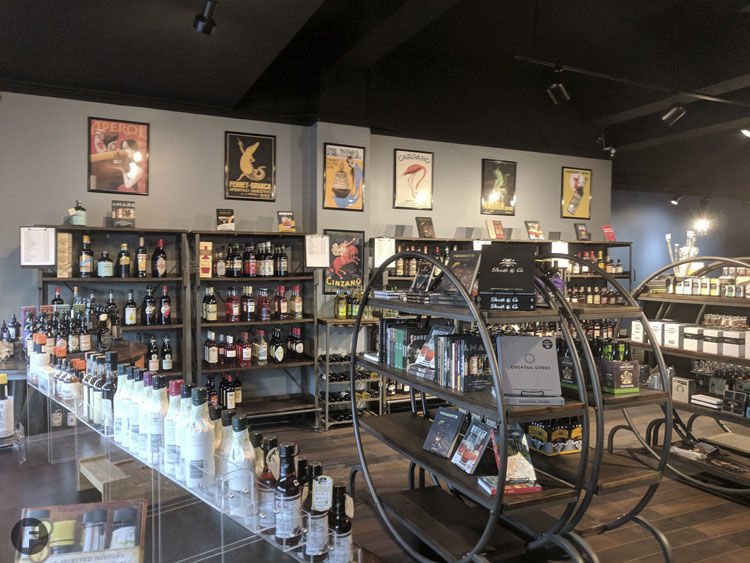 For the home bartender on your list, head straight to Mitch e Amaro in North Kansas City, at the head of its class for "bringing global cocktail culture to Kansas City with an extensive selection of very cool finds," Gregory says. Browse a carefully curated selection of spirits, bitters, barware, and more. And if you want to taste a product before you commit, head to the bar at the back of the shop. "It's one-stop shopping for barware, accessories and spirits," she says.

And if you're browsing for a bibliophile, check out the selection of cocktail-themed books at Rainy Day Books. "They always have the latest selection of current cocktail books for the holidays," she says.
Deck the bar (cart)
If there's someone on your gift list that's been extra good all year, treat them to one of Gregory's favorite household essentials: a bar cart.
Gregory says she surprised her husband with a bar cart stocked with gifts, fresh herbs, a bottle of aperitif and a cocktail book. "The bar cart is the ultimate Santa gift," she says. "Dress it up with 12 favorite bottles for Christmas, and you'll find yourself serving from it for months to come."
Where to source a bar cart? Gregory bought a vintage, rattan cart at Golden + Pine, and also has an art deco version from Restoration Hardware. They're in vogue now, so it's fairly easy to find the style and size that's a perfect fit.
Most importantly? Don't forget to raise a glass to Kansas City's spirits and cocktail innovators during this celebratory time of year. "Our local distillery and bar talent have made Kansas City even more of a destination," Gregory says. "There's a lot to be proud of in our hometown."
We'll drink to that!