Review presented by UMB Private Wealth Management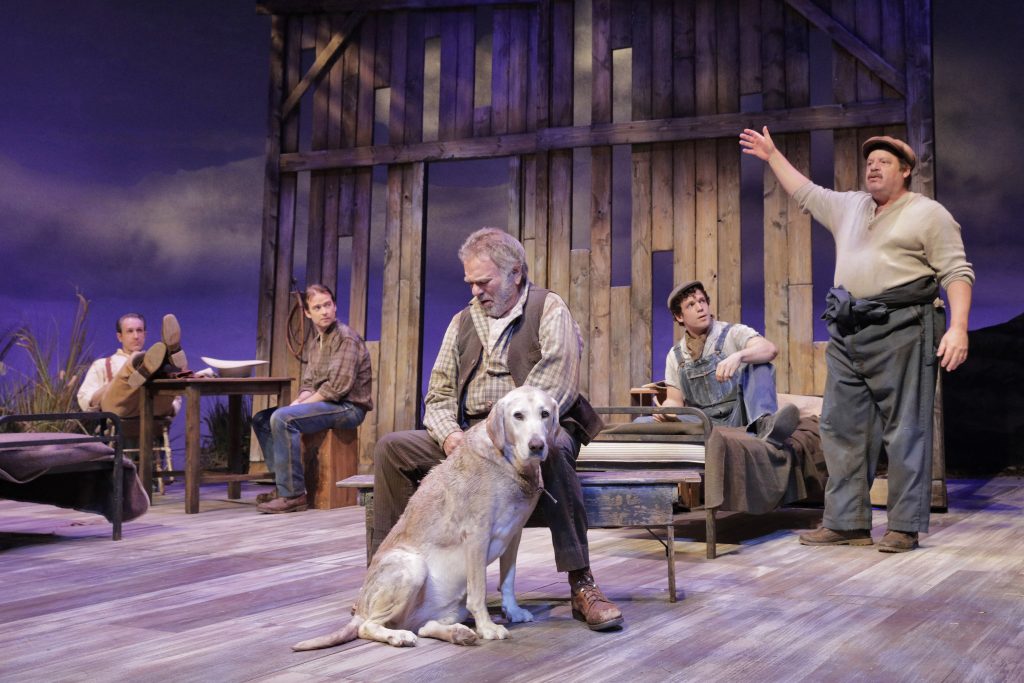 There's no better preface to the stage adaptation of John Steinbeck's literary magnet, Of Mice and Men, than to introduce Mayor Sly James to remind an anticipating audience about its duty to children's literacy with "Turn the Page KC."
Like the Steinbeck piece, literacy has an impact on the American ability to dream and the quality by which that dream is realized.
Of Mice and Men at the KC Rep Copaken Stage, directed by the interim artistic director Jason Chanos, makes quick order of showing its worthiness to the source material. To a presentational set—a sky-laced scrim, a few tufts of grass, and wood-plank floor—enter the anchors of the American dream and ultimate American tragedy, George and Lennie.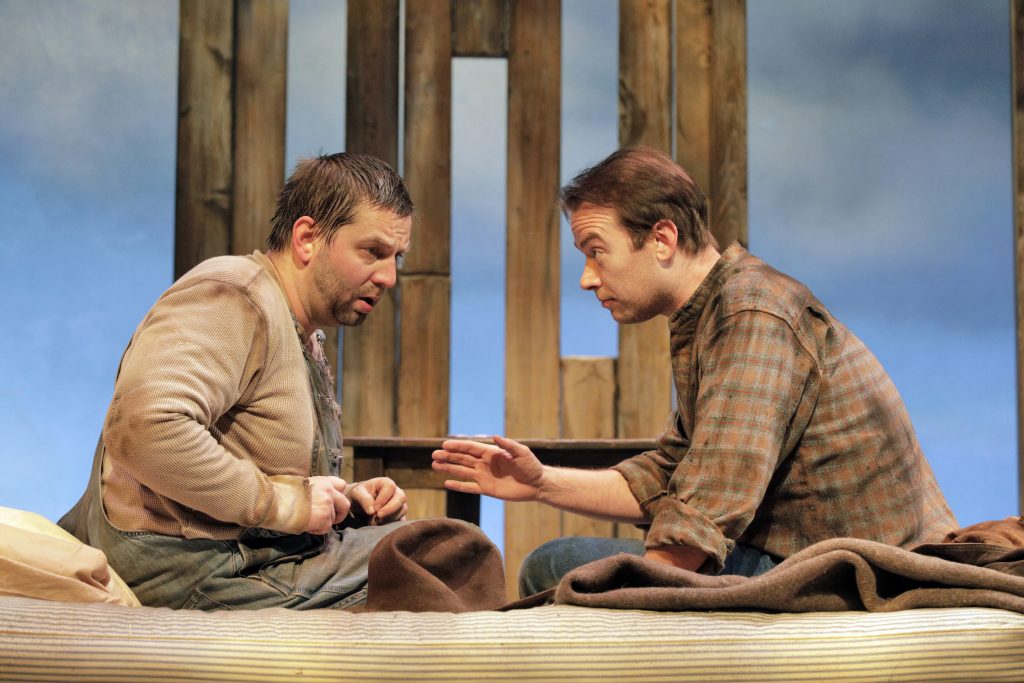 George and Lennie are best buds, nomads traversing the American landscape looking for work. Straight-shooter George (Jake Walker) is Lennie's caretaker, with a dream of them buying a ranch someday. Lennie (Rusty Sneary) is known for his fearsome size and strength coupled with his innocent and simple mind. Lennie also has a problem.
He keeps killing stuff.
After sweet-talking themselves into jobs on a California ranch, George's responsibility becomes keeping them both employed, saving money for the dream, and keeping Lennie out of trouble.
The deep-seated sensitivities of their fellow laborers make it difficult for the story to travel any other path but sideways. Curley (Kyle Thomas Dyck) is a hothead, blaming everyone for his wife's wandering, though Curley's wife (Molly Denninghoff) seems to be only wandering around town alone. Candy (Robert Elliott), is the most seasoned worker whose longest friend and only mate is his dog (Molly Halliburton). And Crooks (L. Roi Hawkins) is the on-edge colored man, separated from his peers by racial and emotional oppression.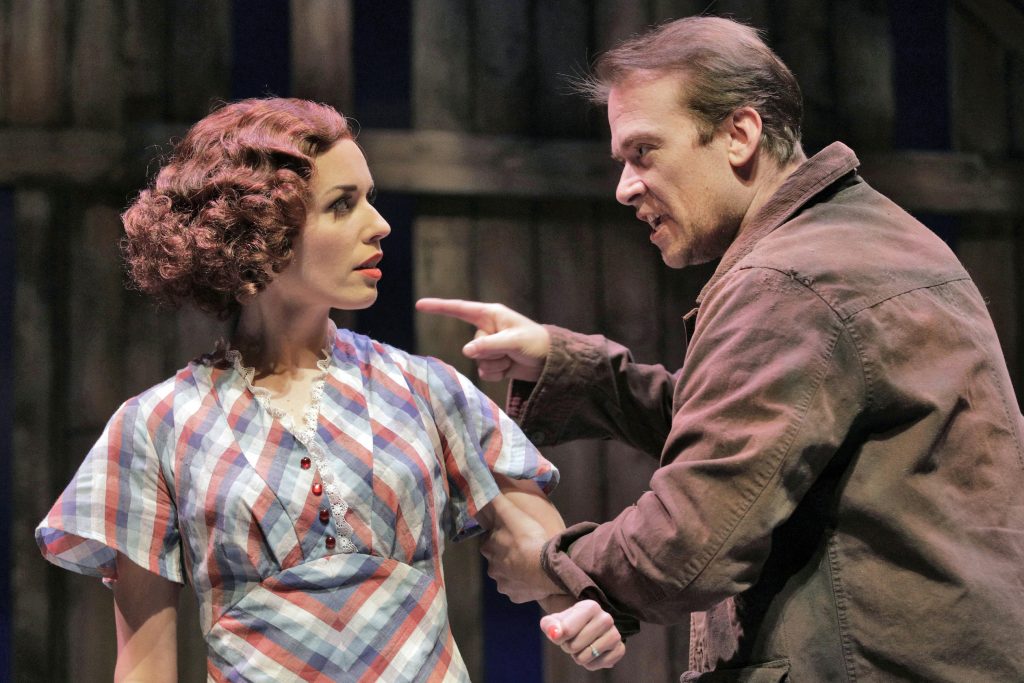 Still they are a gang, aligned in their roving and repetitious lifestyles, their delight for drink and the ladies, their inability to mind their own business, and in their misunderstanding of Lennie. When Lennie freaks out and kills one too many, the gang becomes a mob and the play reaches a tragic, heartbreaking conclusion.
Mice is stacked exclusively with top KC talent. Brian Paulette's Slim swaggers in cool like The Duke. Scott Cordes amazes as Carlson as he leans on a surprising use of volume to add that extra morsel to his performance. Elliott, Denninghoff, Halliburton, David Fritts (Boss), and Dalton Mobley (Whit) function as a sturdy support for the relationship between George, Lennie, the ranch and the dream. Dyck, however, is somewhat distracting. A more interesting Curley is the one who reveals the humanity behind the anger, rather than the anger itself
It's a forgettable misstep when weighed against all that is good about the Rep adaptation. Little nuggets like the movement and layering of the set transitions and the social impact of the tale in today's climate really charms up the experience.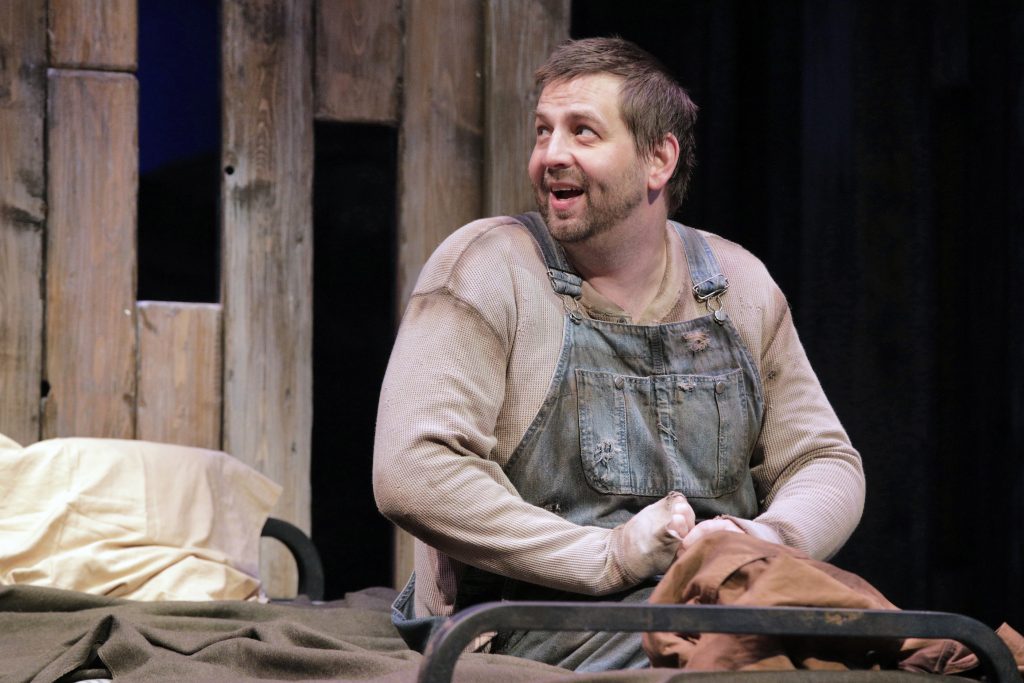 And yes, Walker and Sneary are fantastic. Walker brings a boyishness to George that makes him affable and sincere. In this rendition, George is not the monster. He is a caretaker that transitioned out of malice into a three-dimensional friend filled with love and frustration. Sneary delivers. Even though Lennie is special needs, we are allowed to enjoy the humor.
Together is what makes them crazy good. Every scene with George and Lennie is a duet. They endear us to the vision, make us hope like hell that they make it to "live on the fat of the land", that they get to keep each other, and make a home for the other misfits along the way.
That is the greatest asset of this show. Our empathy is massaged. The true gem is that we revel in the dream, something we seem to have lost as a collective. We celebrate with our fellow man, root for him, yearn with him. We can evaluate that dream. Which dreams are motivation just to get us through versus those dreams we must make real?
It has been nearly 20 years since the Rep last staged Mice. Against the current backdrop of advanced sensitivity around special needs, animal care, racial and gender sovereignty it's lovely to contemplate Curley's wife and how her reputation as a tart exists because the men say so; to question Crooks right to his anger versus his need to be polite; or how, due to the advent of social media, we are dealing with an epidemic of mass loneliness.
Today, Of Mice and Men is not a story about the dissolution of the American Dream—happiness, but about the dissolution of American Dreaming—the pursuit of it.
See Of Mice and Men at the KC Rep Copaken Stage now through November 17.
Directed by
Jason Chanos
Players
Jake Walker, Rusty Sneary, Robert Elliott, Brian Paulette, Scott Cordes, L. Roi Hawkins, Molly Denninghoff, Kyle Thomas Dyck, Dalton Mobley, David Fritts, and Molly Halliburton
Artistic Director
Jason Chanos
Executive Director
Angela Lee Gieras