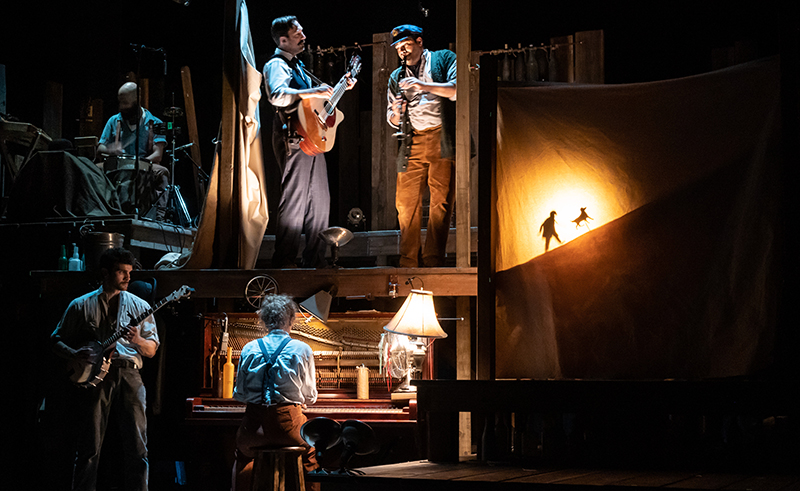 Using a spellbinding concoction of folk music, puppetry, lighting and shadows, choreography, and storytelling, The Kansas City Repertory Theatre is signing off the 2021-22 season with a production like no other. 
A collaboration between KCRep and PigPen Theatre Co., The Old Man and the Old Moon, uses mixed media to tell the story of what (or who) keeps the moon shining bright.
IN Kansas City interviewed Curtis Gillen, one of the seven members of PigPen Theatre and the movement and puppet consultant for the show.
PigPen Theatre originated at Carnegie Mellon University. How did you get connected with KCRep?
Stuart Carden, now artistic director at KCRep, was actually a professor of ours at Carnegie Mellon where the seven of us met as freshmen in the same acting class. We graduated with this show, The Old Man and the Old Moon, that we wrote at the college, and we performed it at the New York Fringe Festival. We were able to then get an off-Broadway production of the show. Stuart, who was then working in Chicago, remembered us from school and came to see the show. He took us out to dinner afterward and told us everything that he loved about the production and everything that he thought we could work toward to make it even better. So, he said, "Why don't you come to Chicago, and we'll work together." Up until that time we directed ourselves. So, Stewart came in and co-directed with us, and for the first time we had this outside eye that was helping us craft and shape the piece. Through Stewart, we cut it down to this 90-minute version (from a two-hour-plus version) that you'll see if you come to the show.
You've now performed The Old Man and the Old Moon around 300 times across the country. What is it about the show that keeps you inspired performance after performance?
This show captures the spirit of our company, which is the spirit of creative ensemble, listening, and storytelling. It really requires everyone to be entirely focused and in tune with each other to tell this story that is both magical and full of adventure, but also heartfelt and intimate. It really is magic to watch seven storytellers come together to make theater magic. This show sort of took all those parts of theater that we love to do as a group and put it on stage in a perfect little box—but that box is made with cardboard and burlap and banjo strings.
The Old Man and the Old Moon is described as an American fable performed by live folk musicians. Will audience members be familiar with the story?
I think they will be familiar in the way that it's told but the story itself will not necessarily be familiar. We've all heard tales of like The Odyssey—an epic seafaring adventure that takes one person and hurdles them through challenge after challenge and they come out the other side changed, but its essence is a totally original creation myth of how the moon came to be the way it is now—waxing and waning. 
Tell me about the mix of music and theatrics used to tell the story of The Old Man and the Old Moon.
It's a mixed bag of folk music, ensembles, group movement and choreography, dialogue, and found-object puppetry where at one moment we'll say that we're on the ocean and you'll see a shadow screen of other boats sailing across the scene. Or we'll say that the character encounters a rooster, and that rooster might appear but it's being made by a pot, a slinky, and a garlic crusher.
Are there elements of the show—whether it's puppetry or the music or even a specific scene—that you get particularly excited to show to audiences?
It's hard to choose just one. It's been a few years since I've done the show, so I'm finding a new sense of excitement and joy. There's a storm sequence that happens that is quite thrilling. It's a beautiful blend of lighting, choreography, music, and puppetry that sort of brings all those things that I'm talking about into a very heightened, exciting, very real sense of danger. This is a family-friendly show (ages six and up), but at this moment everyone feels the danger and feels the heightened sense of stakes for the old man as he keeps trying to push through, but nature has other ideas.
This is the last show in the current season for the KCRep. What message do you hope this show leaves audiences with as KCRep departs for the summer?
I think there are two ideas. One of them is the hope that audiences walk away with the idea that they could do this too. That the spirit of play and connection and fun can be achieved with just things lying around your house. I think that's the greatest thing that if somebody walks away with the idea that they can go home and play too, then I think we've done our job. But I also think the message at the end of the day is that we do these things for the people that we love, and we make sacrifices for the things that are important. I think it's not important to always just be the best and to be diligent, it's really just important to be present.
The Old Man and the Old Moon runs from May 3-22. Get tickets here.