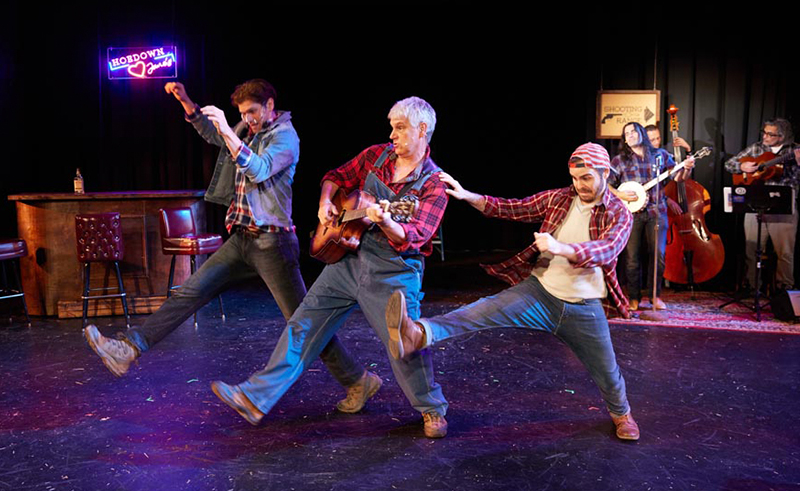 In 2016, Kansas City native Sam Wright was playing the banjo for fellow playwright Nicholas Collett and his wife, Lorraine Collett, when Lorraine pitched the idea for the playwriting duo to write a country western version of Pride and Prejudice, "I even have a title for you," she told them. "How about Hoedown Jane?"
While Wright and Collett didn't keep that title, the two decided to run with the idea when they found themselves with some extra time at the start of the pandemic. The result? A gender-swapped, modern-day, folk-music retelling of Pride and Prejudice set in Tennessee and New York. The pair won the 2022 Music Theater Heritage (MTH) Artist Residency and received the KC Inspires Arts grant for Prejudice and Pride, which premiered on July 8 at MTH.
"Once you start digging, you realize how brilliant Jane Austen's writing is," says Nicholas Collett. "She is able to convey human emotion and character almost on par with Shakespeare in terms of the way she conveys the universalities we face every day—the human condition."
After writing a new script and the folk music to go with it, Wright and Collett brought their retelling of Pride and Prejudice to the Jane Austen Society of North America where they got a "Jane Austen" stamp of approval for staying true to the classic tale and the story's values.
"When the original idea was pitched, I started chewing on it as the idea that we'd have a country western setting in Oklahoma in the 50s or 70s, but then I said, 'No, I want to tell a story about modern America,'" says Wright. "That's the point where I thought the characters should be gender-swapped because that would give us a really interesting platform to examine those relationships and power dynamics."
As Wright started transposing the story, he says the character dynamics and situations quickly fell into place as a parallel to what's happening in America today. "No matter how many times we tell the story of Pride and Prejudice, we're trying to tell a story about ourselves right now."
Prejudice and Pride introduces Bennett Longborn and Ms. Darcy Fitzwilliams, the gender foils to Elizabeth Bennet and Mr. Darcy. As his family struggles to save their farm, Bennett explores class inequalities, political instability, and gender roles in America. He soon meets Ms. Darcy, the inheritor of the media empire Pemberley Studios, and those familiar with the Jane Austen classic can probably guess what comes next.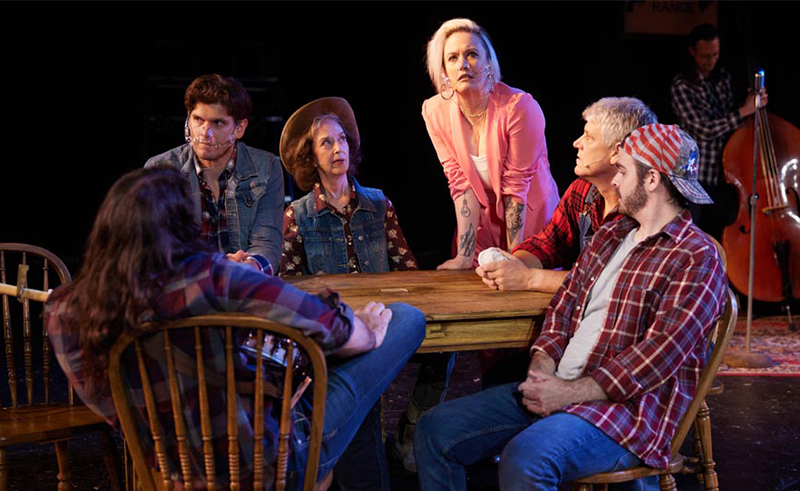 "We're having a larger conversation in America about what role women and men are supposed to play together in society, and when you have a show where you flip it and give women all the power and influence and make the men the ones who have no options and are desperate, how do you feel when you see that depicted?" Wright says. "We didn't make it some alternate reality where women have always been on top. We made it our current culture where certain women in the story happen to find themselves on top, perhaps even for the first time. The men in the story are also kind of wrestling with the idea that this isn't what society has told them they had waiting for them, so what do they do now?"
The musical retelling runs through July 24 at Crown Center's MTH, and so far, Prejudice and Pride has earned a standing ovation after every performance. With humor sprinkled throughout, the story unfolds in a way that lightly prods the audience to think deeper about how the story relates to today's societal expectations. 
After the curtains close in Kansas City, Wright and Collett are taking the show overseas to the world's biggest arts festival, Edinburgh Fringe, where the cast of nine will perform the show to international audiences from August 5-29.
"I'm fascinated to see how the show plays in Edinburgh to a world audience," says Collett. "I think what's going on in the U.S. is also kind of what's going on in the U.K. There's division on both sides of the pond, and I think those two democracies work best when there's a conversation, where there's a bit of yin and yang. Our show, if we were to summarize it, it's an invitation to a conversation."