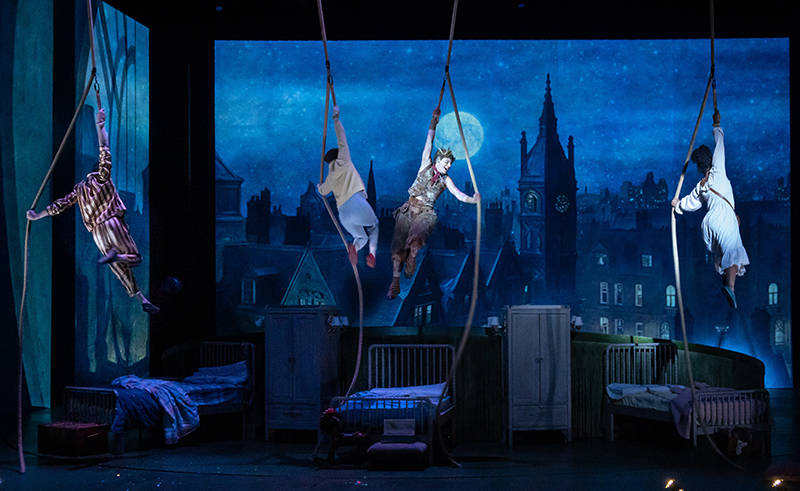 For the last six weeks or so, Harrison Bryan has been spending several hours every day climbing, jumping, and swinging from ropes as part of his training to play Peter Pan in the Kansas City Repertory Theatre's production of Peter Pan and Wendy.
"It's been a rare process to have a team willing to donate so much rehearsal time to one specific element of the show," Bryan says. "The insight on these new skills from Stuart [Carden, artistic director] and Karen [Lisondra, associate director] has been instrumental in filtering these acrobatic skills through the storytelling. It feels really intentional, very character-driven."
In many productions of Peter Pan, the characters fly using hidden strings, but KCRep is embracing the theatrics of aerial and acrobatic artistry by making the ropes Bryan and other actors use to fly across the stage visible to the audience.
"Part of the Peter Pan magic in this world is conjuring the theatricality and actually expressing flight in a physically demanding and exciting way because it's not a trick, it's a very practiced skill that is challenging to do live every day," Bryan says.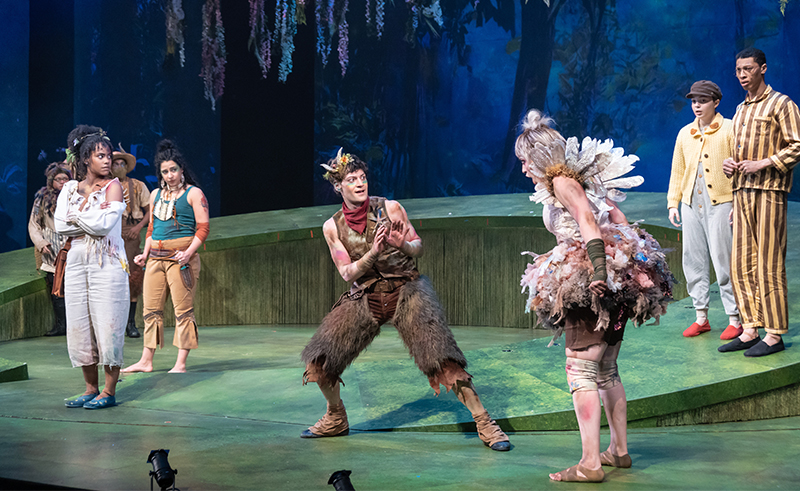 Adapted by Lauren M. Gunderson, this version of Peter Pan and Wendy follows budding scientist Wendy Darling, who has dreams of winning a Nobel Prize. When Peter Pan arrives at her bedroom window, she leaves finishing school to join him on an adventure to stand up for what's right.
"What makes this adaption special, unique, challenging, and different is we get to meet the Peter Pan we know that connects with the inner child we never want to go away, but we actually get to experience a version where that person changes, where there is an opportunity for growth—even in those of us who are scared of change," Bryan says.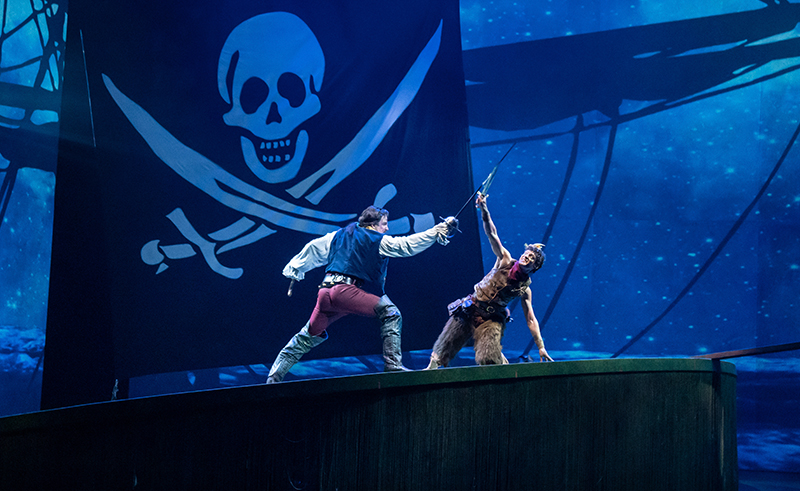 Gunderson's adaptation encourages audiences to ask questions, look within, and challenge the status quo—especially involving her inclusion of themes such as pro-feminism, anti-colonialism, and collective empowerment.
"There's a profound opportunity to be surprised by the strength that requires you to want to change, to allow yourself to grow up in a way you didn't expect—there's real beauty in that," Bryan says. "There's a larger societal message in this play you can really latch onto—that's the genius of Gunderson, she's folded all these really important key ideas into a really fun story we already love, so we'll hopefully listen in a new way that's both entertaining and important."