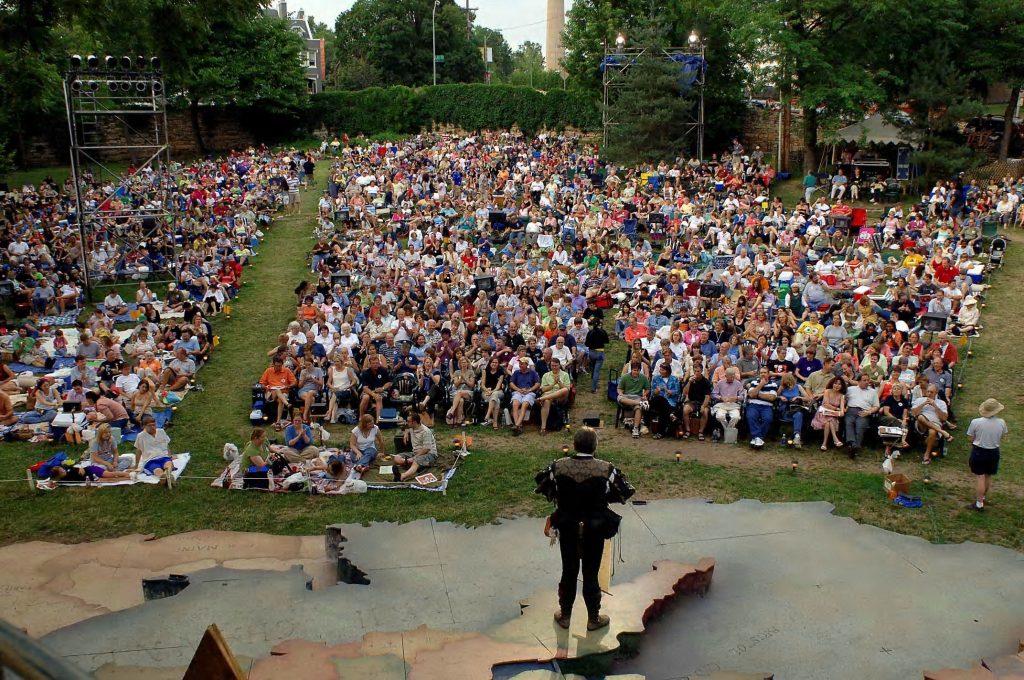 What started out as an ambitious theatrical undertaking 25+ years ago has now evolved into an even more ambitious theatrical undertaking. Of course, we're talking about the Heart of America Shakespeare Festival, which is unveiling its newest (and biggest!) production to date this Tuesday, June 11, Shakespeare in Love.
We hit up executive artistic director Sidonie Garrett with our mindless questionnaire to get the 411 on ye olde festival. Fortunately, Garrett doth not protest and had answers galore!
Year HASF started: Heart of America Shakespeare Festival formed in 1991 and we produced our first season in 1993.
 Number of productions over the years: 33 plays—in 26 seasons.
 Number of attendees over the years: More than 800,000+ theatergoers from 42 states and 11 countries.

Number of cast members over the years: 692—counting this season's cast.
Show with the largest cast: 27 in Shakespeare in Love! (28—if you include Buster, the dog.) This play takes us from the palaces of Queen Elizabeth to the Elizabethan theater and on to the River Thames. It takes a village to create a city the size of London!
Number of garments created over the years: 1,500+.
Number of props in the props closet: More than 750, including swords, a tomb, many cups/mugs/goblets, silk flowers, and greenery. Oh, and a replica of the Throne of England—which will be used in our Shakespeare in Love production!
Duration of longest performance: Hamlet, 3,901 lines—and ran about 2.5 hours.
 Number of rained-out performances: 15 rainouts—plus 9 partial performances.
Longest soliloquy by an actor: 57 lines—in 2017 Hamlet, Act II, Scene 2, lines 546-603. Nathan Darrow played title role.
Oldest Shakespeare play you've performed: King Richard lll. It was written in 1592, probably first performed in 1600 – 1601.
Hottest day of performance: 100+ degrees—during second week of The Taming of the Shrew in 1995.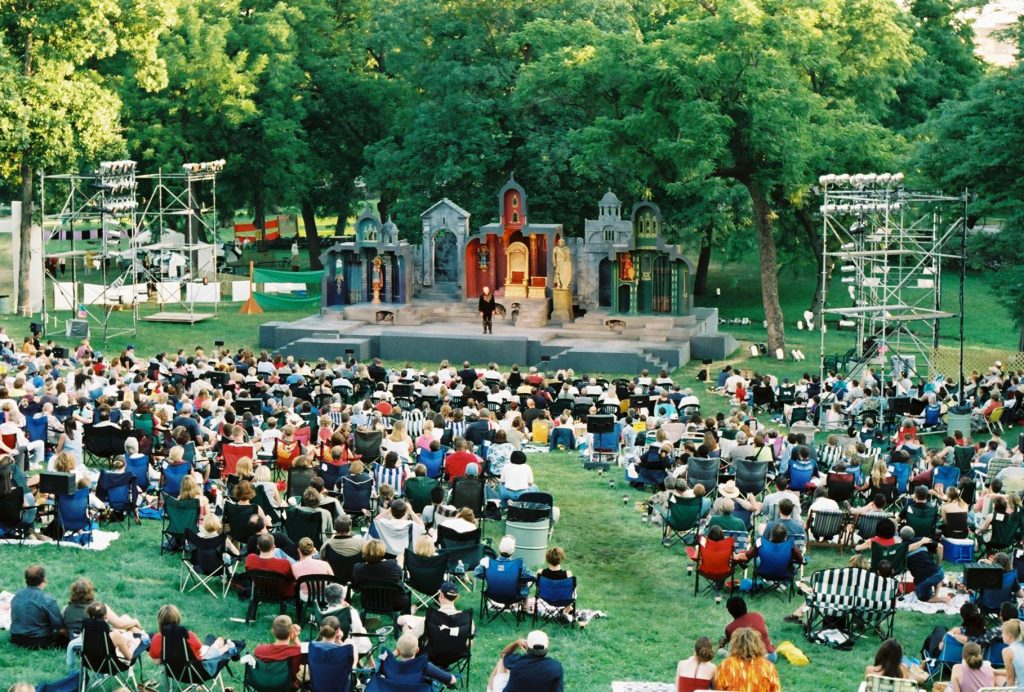 Biggest one-day audience attendance: 2,342.
Number of bags of kettle corn consumed in the park; 10,000+ in the audience—plus 4 onstage during our 2012 production of A Midsummer Night's Dream.
Number of volunteers over the years: 7,587—including our Board of Directors and Friends of the Heart of America Shakespeare Festival.
Shows with live animals onstage: 3—1994, A Midsummer Night's Dream, two horses, ridden by Gary Neal Johnson as Theseus and Merle Moores as Hippolyta; 2012 A Midsummer Night's Dream & upcoming performance of Shakespeare in Love– both dogs, played by Buster Rogge, a terrier!