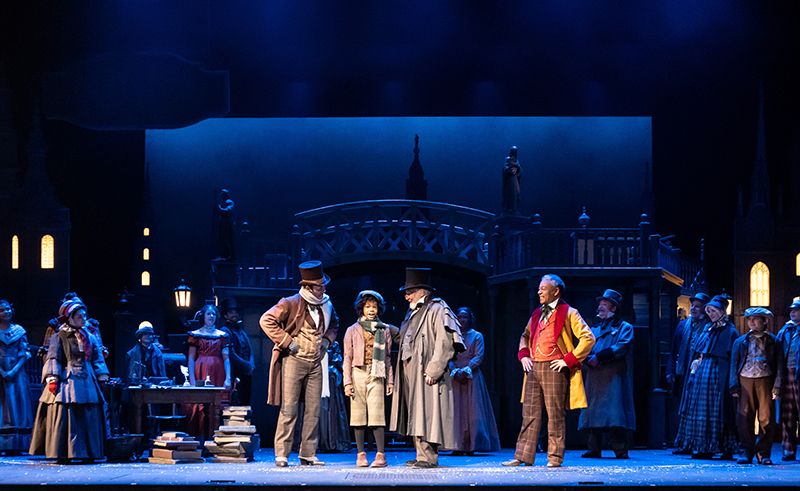 From favorite light displays to annual performances, there are plenty of traditions generations of Kansas Citians enjoy each holiday season. For me, there's one KC holiday tradition I experienced as a kid that I've always wanted to reprise. 
I grew up in the Kansas City metro, and the field trip I most fondly remember is one I took in fourth grade to see A Christmas Carol at the Kansas City Repertory Theatre (KCRep). Since then, I've spent every holiday season wishing to see the performance again, and this year I finally got the chance. 
Was it as magical to adult Emily as it was to fourth-grade Emily? As it turns out, KCRep's 2022 production of A Christmas Carol withstood that test of time—and more. Seeing the performance even put me in the holiday spirit—which I'll admit, exhausted from holiday decorating and Thanksgiving festivities, I was lacking in as I entered the theater with my fiancé.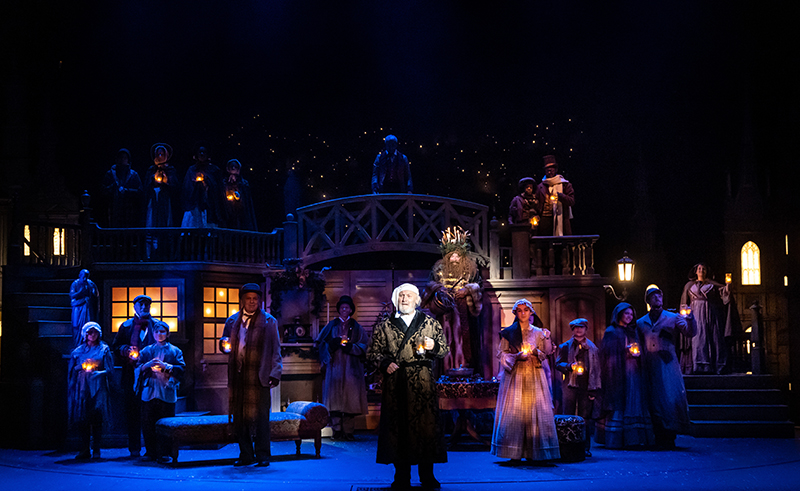 By the end of the production, however—and continuing into the weekend—I was humming and singing holiday tunes for the first time this season. It's one thing to wow the curious and blooming mind of a 10-year-old girl, but entirely something else to put a nearly 26-year-old woman into a giddy holiday trance—and that's just what happened.
Thinking back to the production I saw as a kid; I don't remember many details from that year's version of KCRep's A Christmas Carol. I remember flashes—the boisterous laughter of the Ghost of Christmas Present, the bright colors, the angelic caroling, the Ghost of Christmas Yet-to-Come rising out of the stage, and of course, Tiny Tim's cheerful, "God bless us, everyone," to close the show. But I mostly remember the wonderment and warm, fuzzy feeling that lingered as I climbed back onto the bus with my school friends.
While technology has advanced quite a bit since I was in the fourth grade, seeing A Christmas Carol as an adult revealed all the small details that make KCRep's production of the classic tale so mesmerizing.
For one, the cast is so well-rounded. Walter Coppage's rich voice guides the holiday tale from the perspective of the Storyteller. Audience members can feel the icy chill emanating from Gary Neal Johnson's Ebenezer Scrooge at the start of the tale, as well as a steady thaw as his character softens. Standing on stilts, Matthew Rapport's Ghost of Christmas Present generated plenty of chuckles as he showered the audience with a special, glitzy surprise.
Then there was John Ezell's scenic design, Rachael Cady's lighting design, and Joshua Horvath and Sarah Espinoza's sound design, which all combined to create mesmerizing special effects. From bells clanging in all corners of the theater to Jacob Marley's intricately designed visit warning Scrooge of his fate—we're talking smoke, colorful lighting, and the scraping sounds of chains—to the revolving stage that made scene changes even more convincing, and oh, so much more. There was plenty of genius I noted this time around I hadn't noticed as a child.
There's a reason the KCRep's A Christmas Carol has been a citywide tradition for the last 41 years. For audiences young and old it offers an experience sure to put any Scrooge in the holiday spirit. 
A Christmas Carol is showing at the KCRep's Spencer Theater on UMKC's campus through December 24. Get your tickets here.