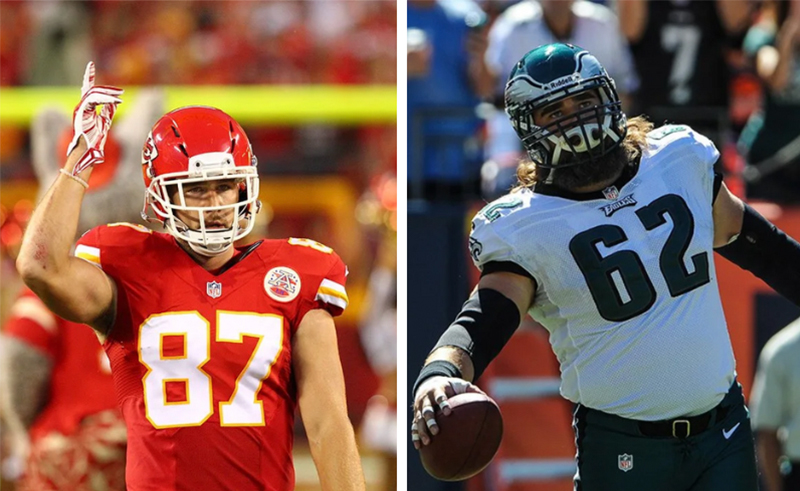 Travis Kelce is among the most beloved Chiefs players of all time, and many Kansas Citians spend their days thanking their stars to be alive during the magic of the Mahomes-Kelce era. We've never seen anything quite like this. And on Super Bowl Sunday, we'll get to see the tight end go head-to-head with his brother, football center Jason Kelce.
The Chiefs are known for historic football firsts, and at Super Bowl LVII, the Chiefs will make history with the Philadelphia Eagles for the first Super Bowl game to ever include two brothers on opposing teams.
Since the Chiefs belong to the American Football League and the Eagles belong to the National Football League, the Kelce brothers don't play against one another often, so the Super Bowl is a biggie—especially for Donna Kelce.
The NFL mom made headlines last year for rushing from Tampa Bay to Kansas City to watch both of her sons play in separate same-day playoff games. This year the Kelces' parents—Donna and Ed—had to switch between which playoff games they could attend. 
The couple had never seen a Chiefs-Jaguar playoff game before, so they headed to Arrowhead on January 21. For the championship games, they watched Jason Kelce take the field with the Eagles. On February 12, the parents will get to see both of their sons on the field.
"It's your hopes and dreams coming true, but it's your worst fears," Donna said in a recent interview. "Somebody's going to go home a loser, and neither one of them lose very well."
After the Eagles win, Jason Kelce said, "I got a Kansas City sweatshirt I'm going to wear for the next three hours, and then that's it for the rest of the year. Win or lose, I'm done being a Chiefs fan."
Meanwhile, after the Chiefs win, Travis Kelce was on the field sharing, "Cool scenario to be in—my mom can't lose. I'll just leave it at that. It's going to be an amazing feeling playing against him, and obviously, I respect everybody over there in the Eagles organization. You won't see me talking too much trash with how much respect and how much I love my brother, but it's going to be an emotional game."
Who will Mama and Papa Kelce be rooting for in the Super Bowl? Our best guess is they'll find a way to support both sons. 
Lucky for them, the two may be playing the same game, but since they're both offensive players, they won't be playing on the field at the same time. Maybe they'll switch out jerseys every time the teams trade the ball.