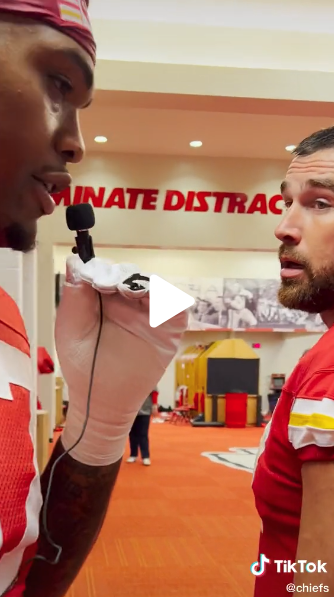 If you have a minute to spare and want a low-key way to get extra amped for the Chiefs showing in the AFC Championship game, we recommend a quick scroll through the Kansas City Chiefs' TikTok account. Beware, you might just spend more time than planned on their page. It's a hoot.
With 2.5 million followers, the Chiefs have an audience that's 600,000 people more than the second most-watched NFL team's TikTok. The Dallas Cowboys, Philadelphia Eagles, and Detroit Lions tie for second with 1.9 million followers.
Here's what the team's social media director, Alex Merry, says in a Sportico article about NFL TikTok:
"We just try and find people who are on different sides of TikTok. We have everything covered. It's fun to set aside 30 minutes a week to talk about just crazy, wild things, which I feel like you don't often get the luxury to do in a business setting." 
So, we decided to take a deep dive to see what's so special about our hometown team's social content. What did we find? Endearing videos of players asking one another silly questions, fan interviews, behind-the-scenes banter on the field and in the locker room, players baking, singing, showing off fashion, and everything in-between.
Here are ten of our favorites:
Orlando Claude Brown Jr. asks players who their favorite teammate is:
Players sneak random words into their press conference responses:
Pack with the team for an away game:
Game day outfits:
Locker Tours:
Catching players by surprise by hiding a stuffed bobcat in their rooms:
A special message from Travis Kelce after snagging a spot in the AFC Championship:
Interviewing wild Chiefs fans:
@chiefs

We brought @tabithaswatosh out to Chiefs Kingdom to ask our fans the real hard-hitting questions 😤😤
JuJu Smith-Schuster making pasta:
@chiefs

Just call him Chef JuJu from here on out 👨‍🍳 thanks for stopping by @Peters Pasta 🍝 we always love having you! #chef #pastatiktok
Patrick Mahomes on the mic during a game: