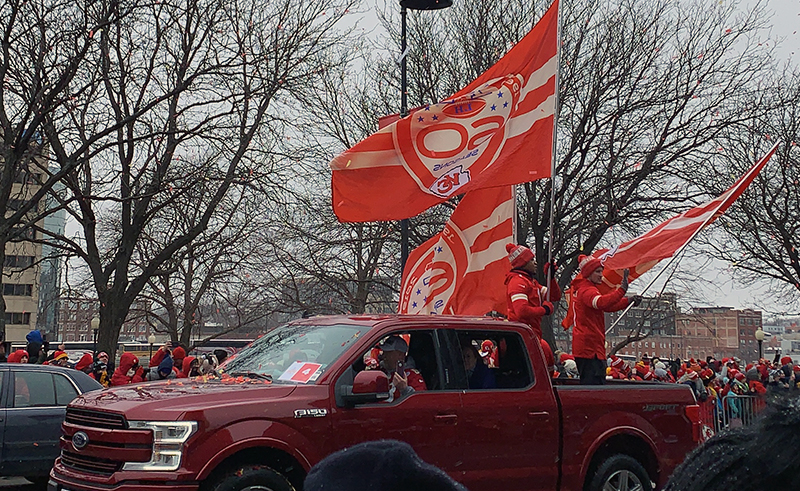 Have you come down from Cloud Nine since the Chiefs emerged victorious from Super Bowl LVII? We haven't, and most of Kansas City is still busy celebrating.
Tomorrow, February 15, will be the day we can all come together as the Red Kingdom and celebrate our team's second Super Bowl win in four years during the Chiefs Kingdom Champions Parade.
When the Chiefs won in 2020, close to one million people convened in the streets of downtown Kansas City. Before that, the Royals experienced a similar turnout after the 2015 World Series win. So, the city has plenty of experience planning for so many people to be in one part of the city at the same time.
After earmarking $750,000 to plan the 2023 victory parade, plans are in full motion. Here's what you need to know if you're planning to attend or watch this year's parade.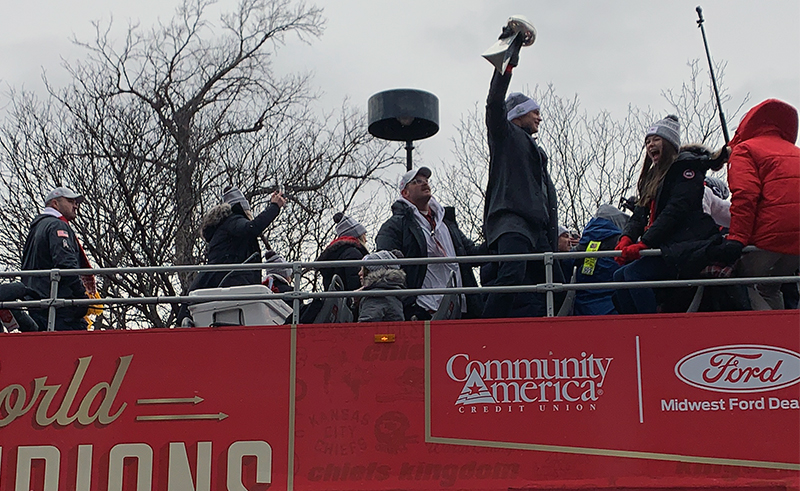 The Parade Route
The Chiefs entourage will begin the parade route at 12 p.m. at 6th Street and Grand Boulevard in the River Market. The route will continue south on Grand through the River Market, Downtown, Power & Light, and the Crossroads before turning west on Pershing and ending at Union Station where there will be a rally held at 1:30 p.m.
View the map below for a full look at the parade route.
Parking and Transportation
There are significant travel delays expected in downtown Kansas City the day of the parade. But don't fret, the city has plans in place to help you avoid getting stuck in a never-ending line of traffic. 
KCATA is running five Park and Ride shuttles that fans can take from points outside of the immediate downtown area—three on the Missouri side on the metro, two in Kansas—to the vicinity of the parade:
Worlds of Fun 




4545 Worlds of Fun Ave., KCMO




Event Drop off and Shuttle Pick-up: Truman Road & Lydia  

HyVee Arena / West Bottoms




1800 Genessee St,, KCMO




Event Drop off and Shuttle Pick-up: 18th & Troost  

Swope Park/Zoo




6800 Zoo Dr., KCMO




Event Drop off and Shuttle Pick-up: 31st & Gillham   

Oak Park Mall 




11149 W 95th St., Overland Park




(95th and Neiman Road Park & Ride location) 




Event Drop off and Shuttle Pick-up: 25th & Southwest Blvd.

47th and State Metrocenter




4601 State Ave., KKC




Event Drop off and Shuttle Pick-up: 31st & Gillham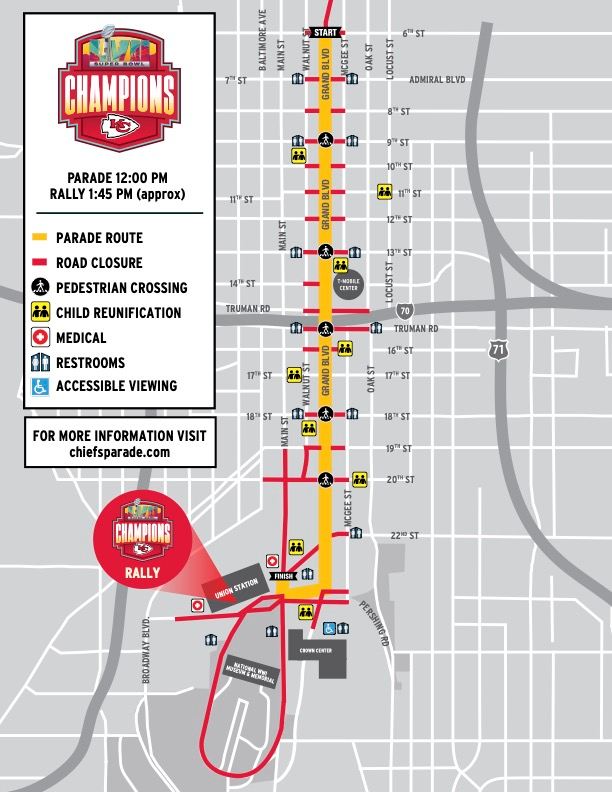 Use of the shuttles for transportation to and from the parade is highly recommended. The same shuttle method was used during the 2020 parade, and it ran smoothly. 
Park and Ride shuttles will run from 7:30-11 a.m., and then again from 12-4:30 p.m.. Riders will need to return to the drop off location for their specific shuttle, and waiting times can be up to 45 minutes between shuttles. 
If you want to brave downtown parking, there will be paid lots at the National WWI Museum & Memorial, Union Station, and Crown Center, but you'll want to arrive early in the day to secure one of those spots.
Public Safety Information
Hundreds of thousands of people are expected to attend the victory parade. So, it's important to make a safety plan and keep a few tips in mind as you venture out.
Make sure you're full party knows the plan regarding travel, parking, supervision of children, and wear comfortable and warm attire. The current forecast is partly cloudy with the temperatures starting at 35 degrees at 7 a.m. and warming to 43 by 3 p.m. At the parade start time, the projected temperature is 41 degrees.
Wear comfy shoes and expect to do some walking, as road closures near the parade route will lead to traffic congestion and delays.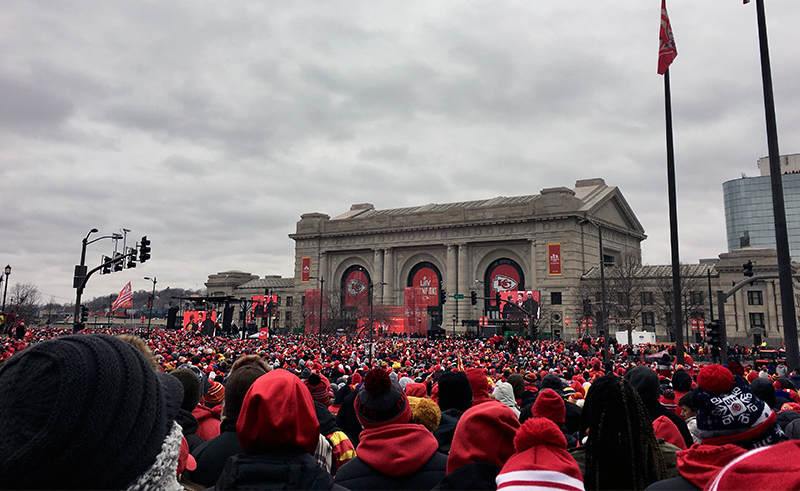 Keep in mind that cell reception will likely be very limited. If you have to separate from your group, make sure you have a plan in place to meet up without being able to communicate via phone. The Kansas City Police Department is recommending that you take photos of your family in the event that you need to locate them and identify what they are wearing. 
Make sure children have contact information for their parents or guardians on their person in case of separation. If you or a member of your party is lost, locate a police officer. There will be seven reunification stations:
UMB Bank | 928 Grand Blvd.

The Kansas City Missouri Police Department | 1125 Locust St.

T-Mobile Center Concourse | 14th St. & Grand Blvd.

Resurrection Downtown | 1601 Grand Blvd .

UMB Bank | 1800 Grand Blvd.

Blue Cross & Blue Shield – West side entrance | 2301 Main St.

Lunchland at Crown Center | 2475 Grand| Located on the Third Level above Sea Life Aquarium and Legoland.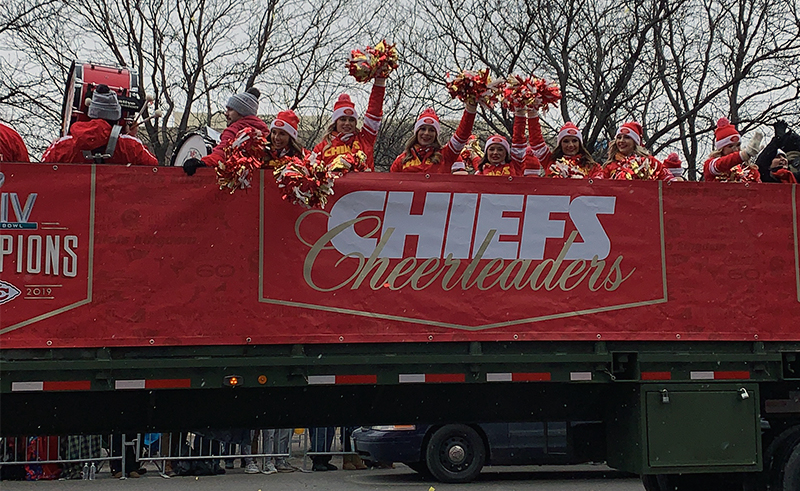 How to Watch the Parade from Home
If you're not a fan of crowds, that's okay! You can still join in on the fun with a full view of the festivities on the screen at home. 
KSHB 41 is the official broadcast partner for the Chiefs Kingdom Champions Parade. The celebration will air live on KSHB 41 and stream on kshb.com.