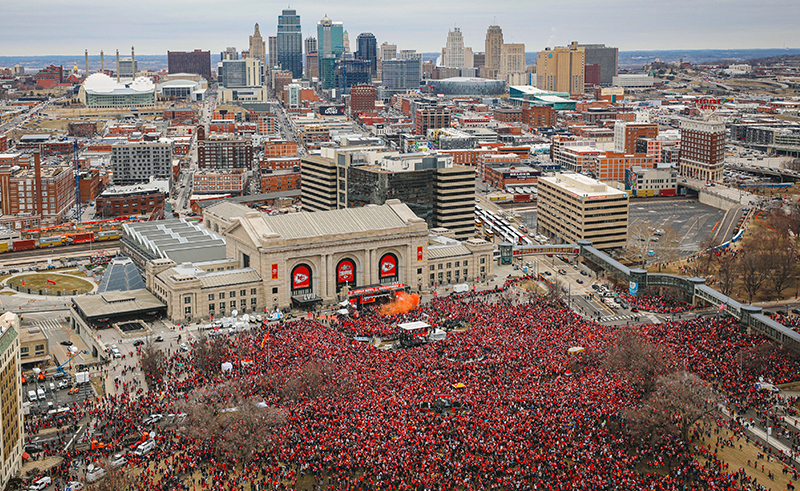 Did you hear Kansas City threw a massive party on February 15 to celebrate the Chiefs' Super Bowl win? An estimated 1,000,000-plus fans came together in downtown Kansas City for the Chiefs Kingdom Champions Parade—the largest turnout Kansas City has seen for a parade—and there were lots of special moments.
Here's what you might have missed—or want to relive if you were fortunate enough to catch it in person.
Patrick Mahomes handed off the Lombardi Trophy to fans—it's unclear if the trophy in the video was the real trophy or a replica, but we know the trophy made it safely to the rally!

Patrick Mahomes was in his own world at the Chiefs parade 😂

(via: baseballtalk247 TikTok) pic.twitter.com/vJTdj9t03B

— Complex Sports (@ComplexSports) February 16, 2023
The Chiefs players rightfully partied hard. Here's Travis Kelce catching—and downing—a shot of fireball from the crowd.
Travis Kelce casually drops his phone to catch a shot from the crowd, downs it while maintaining eye contact with the person who threw it, and then puts the lid back on the empty bottle #legendary #chiefsparade #ChiefsKingdom pic.twitter.com/4AYWcgfbWP

— TAIWANCHIEFSFAN🇹🇼 (@TaiwanChiefsGuy) February 15, 2023
Yes, Mama Kelce was in attendance. Looks like she got plenty of photos and videos of her champion in true mom fashion.
Killa Trav & mama Kelce‼️‼️ pic.twitter.com/LmesiWwKMl

— Braiden Turner (@bturner23) February 15, 2023
Fans went crazy for Patrick Mahomes. He even got a huge round of applause after exiting one of the port-a-potties along the parade route.
Patrick Mahomes got an ovation when he left the port-a-potty. Kansas City, never change. pic.twitter.com/5D6Tdq085v

— Joshua Brisco (@jbbrisco) February 15, 2023
Chris Jones took in some parade festivities from the roof of a golf cart.
There were countless memorable moments from the parade today, but Chris Jones taking it all in from on top of a golf cart was one of the best. pic.twitter.com/vt6Y2tFP9q

— Matt McMullen (@KCChiefs_Matt) February 15, 2023
Ihmir Smith-Marsette borrowed a fake skeleton from a fan. He ran off with the skeleton and did not bring it back.
He did not bring it back💀
@_ihmirr_ where's my skeleton?? #chiefs #chiefsparade #chiefsskeleton pic.twitter.com/yY5r33BYaD

— Mallory Mong (@mallorymong1) February 16, 2023
Celebrities, including Eric Stonestreet, came to Kansas City for the parade.
I guess I can tell people now. I'm a member of the committee. https://t.co/mu1NK4yzeE

— Eric Stonestreet (@ericstonestreet) February 16, 2023
Nick Wright, Fox Sports television personality and sports radio talk show host, also came to the parade and had a great moment with Patrick Mahomes and Travis Kelce.
Patrick Mahomes x Travis Kelce x @getnickwright. pic.twitter.com/9at7OhERRW

— First Things First (@FTFonFS1) February 16, 2023
Andy Reid celebrated to the beat of a giant Chiefs drum.
We love you Big Red ❤️ pic.twitter.com/fumNbQvxSj

— Kansas City Chiefs (@Chiefs) February 16, 2023
Patrick Mahomes told fans, "We ain't done yet," and that Kansas City should plan to meet him back at Union Station for another Super Bowl victory rally next year.
Patrick Mahomes: "WE AIN'T DONE YET" pic.twitter.com/ufJINL43Rn

— BBQ Dom (@RealBBQDom) February 15, 2023
Travis Kelce reprised his famous "We've gotta right to partayyy " line during the rally at Union Station.
Travis Kelce, as usual, had the last word at the parade today. Good times were had! pic.twitter.com/lmJuLXQlxa

— Matt McMullen (@KCChiefs_Matt) February 15, 2023