He's famous for a litany of comedic things—SNL! Horrible Bosses! Ted Lasso!—but KC's own Jason Sudeikis also has a philanthropic side that pays it forward in his hometown.
One of his premier charities of choice, Steps of Faith, helps uninsured and underinsured amputees get the prosthetic limbs they need to restore mobility and restoring possibilities. Since 2017, Sudeikis has hosted THUNDERGONG!, a star-studded event which has raised nearly $850,000 for the organization helping provide prosthetics to more than 400 individuals.
Tomorrow night at 7 p.m. THUNDERGONG! is going virtual with performers coming together from all over the world to help raise monies for the organization. Here's what we learned from Sudeikis and crew this morning at the Uptown Theater: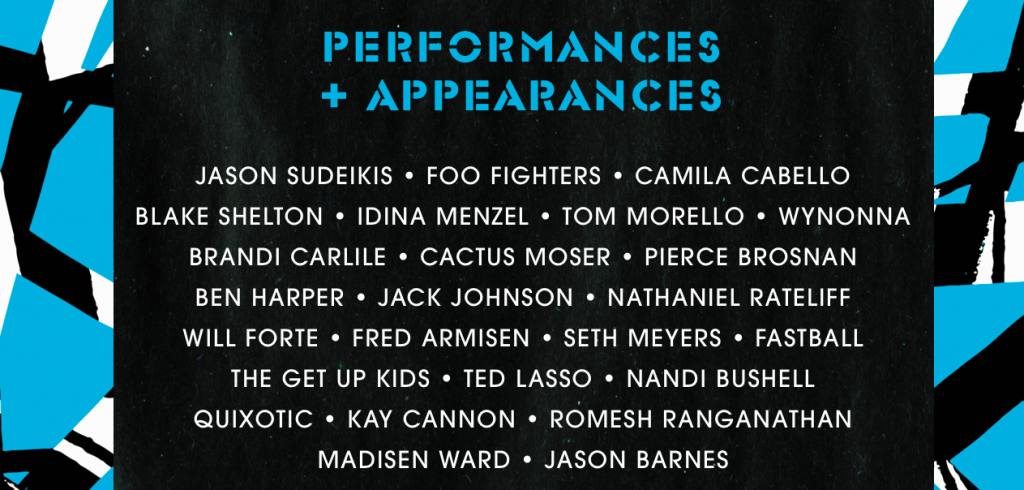 4) Blake Shelton is in! Foo Fighters are in!
Some last-minute big names have been added to the roster tomorrow. "The benefits of going virtual? We get people flying in (virtually) from anywhere and everywhere," says Sudeikis. "That's the beauty of technology. Now with Covid—everyone is at home. Blake, Foo Fighters always wanted to do it." And now they can. (Fun fact: Foo Fighters is executive director Billy Brimblecom, Jr.'s fave band—"of all time," he says.)

3) Magically, Steps of Faith already hit their 2020 goal, but wants to up the ante.
According to Brimblecom, Steps of Faith has been handling the pandemic as well as could be expected. "We've been doing alright. The raising money side hasn't been as hot as we wanted this year. I will say we're really lucky we have a small, but mighty, amount of monthly donors. Money has shown up that we didn't expect. We've been trucking right along helping people. 500 people a day lose a limb in America," he says.
Last year, the organization helped 133 amputees. "As we become more known in the community, the applications keep flying in," he says. "This year we had a goal of 150—and, as of yesterday, we hit that goal."
2) Fred Armisen is a big fan of the organization.
Sudeikis's former colleague (and SNL alum) is a big proponent of Steps of Faith, often showing up to help out when he can. "Fred Armisen comes back even without Jason to learn more about the organization—and the science behind it," mentions Brimblecom.

1) Sudeikis is—as he says—an eternal optimist.
Even though this year's THUNDERGONG! is being beamed in, Sudeikis is expecting a record number of eyeballs to watch the show. He's also psyched to see the show rally during Covid culture. "The alchemy and magic of being in the same room is real," he says. "I've benefitted from it my entire life. But you have to be a pro about it—and evolve, shift, change and move. People are collaborating because artists have a heart. We're drafting on their desire to do stuff and help people they don't know."