7/23/18 – 7/29/18
There is no shortage of live-music shows to choose from this week. Here are five recommendations plus a few others you should know about farther down the road.
Tuesday: Shania Twain at Sprint Center
In 2004, Shania Twain all but retired from the music industry. She stopped touring and recording albums, initially to address vocal issues and raise her son and then deal with the end of her marriage.
She re-emerged in 2012, when she started a two-year residency at the Colosseum at Caesar's Palace in Las Vegas. The run of shows revived her interest in hitting the road again.
In 2015, Twain announced what she called her farewell tour, which stopped at the Sprint Center on Aug. 15, her first Kansas City show in 12 years.  It was not her swan song, however.
Late last year, Twain released "Now," her fifth studio album and first since 2002, and in May she launched the Now Tour, which stops at the Sprint Center on Tuesday. Like the show in 2015, it's loaded with camp, vamp and glitz and filled with the hits that made her a country superstar. Swiss singer Bastian Baker opens. Show time is 7:30 p.m. Tickets are $41.50 to $147.
Wednesday: Journey and Def Leppard at Sprint Center
The co-headliners of this show emerged in the same decade, the 1980s, but they arrived with vastly different radio-ready sounds.
Journey is best known for its soaring arena anthems, many of them soft-rock classics, like "Don't Stop Believin'," "Who's Crying Now" and "Faithfully."
Def Leppard brings bare-knuckled pop-metal and blockbuster hits like "Photograph," "Rock of Ages" and "Foolin'."
Both bands have undergone several personnel changes, none bigger than Arnel Pineda, who, in 2008, successfully took over the role as Journey's lead singer from Steve Perry—no small feat. Show time is 7 p.m. Tickets are $49.50 to $179.50.
Wednesday: Danny Cox Birthday Celebration at Knuckleheads
Danny Cox is a Kansas City music treasure.  For decades he has performed in our city in a variety of roles: as a singer-songwriter, in children's music theater, as a jingle writer and as an advocate for social justice. Along the way, he as accumulated hundreds of fans and scores of musician friends. Wednesday, some of those friends will gather at Knuckleheads with Cox to celebrate his 75th birthday. Among the music guests: Bob Walkenhorst, Lonnie McFadden, Max Groove, Joe Miquelon, Lemual Shepperd and Bobby Adams. Show time is 8 p.m. Tickets are $20.
Friday: Buzz Beach Ball at Providence Medical Center Amphitheater
This annual all-day music fest is sponsored by radio station KRBZ (96.5 FM), also known as "The Buzz."  The 12-band lineup is loaded with indie-pop and alt–rock titans, like Portugal The Man, AWOL Nation, Blue October, Rainbow Kitten Surprise and Joywave. There is some local flavor, too: Kansas City's own Get Up Kids and Hembree. It all starts at 2 p.m. Tickets start at $9.65.
Sunday: Stephen Malkmus and the Jicks with Soccer Mommy at RecordBar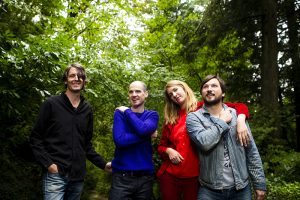 Malkmus was once best-known as the founder of Pavement, who became indie/slacker-rock royalty in the 1990s. But in 2000, after Pavement went on a long hiatus (or breakup), Malkmus started the Jicks, who have since inspired plenty of acclaim.
The band has gone through lineup changes (Sleater-Kinney drummer Janet Weiss is an alum), but has stayed together through seven full-length records, including "Sparkle Hard," released in May. The album has been widely praised. From "Variety": "With nary a weak track, 'Sparkle Hard' fines Malkmus hitting a new peak nearly 30 years into his career." You can hear some of those songs and other Jicks tracks Sunday at RecordBar, 1520 Grand Blvd.
Don't miss the dream-pop sounds of Soccer Mommy, the nome-de-plume of Sophie Allison. Pitchfork called Soccer Mommy's debut album, "Clean," an album of "clear melodies, plainspoken lyrics and the impossibly tangled logic of infatuation."
Show time is 8 p.m. Tickets are $25.
FIVE MORE SHOWS TO KNOW ABOUT
The Boxmasters, July 27 at Knuckleheads: Billy Bob Thornton returns to Kansas City with his very legitimate retro-rock band.
Drake and Migos, July 31 at Sprint Center: One of the year's biggest tours rolls into Kansas City, featuring two giants of contemporary hip-hop.
Nathaniel Rateliff and the Night Sweats, Aug. 3 at Crossroads KC: If you're in the mood for some old-school rock, blues and soul, this is for you.
Ha Ha Tonka with the Grisly Hand, Aug. 3 at Knuckleheads: These bands have very different takes on roots music but their sounds should dovetail nicely.
Starhaven Rounders, Aug. 4 at the Brick: They're a terrific cover/tribute band that revives the golden days and timeless sounds of classic country music.