This week's list of recommendations includes the second installment of the Sunset Music Fest,  the reigning king of funk, and a Kansas City homecoming.
June 20 at Town Center Plaza: The Sunset Music Fest featuring Big Time Grain Company and Hudson Drive
 This will be the second show of three-part Summer Music Fest, a series of free concerts in the parking lot at Town Center Plaza.
This week's show is a perfect pairing for modern-country fans. Big Time Grain Company is a high-energy six-piece rock-country band led by brothers Bret and Chad Bourquin, western Kansas natives with a fondness for several flavors of country music, from Alabama to Eric Church, Keith Urban, Dierks Bentley and Luke Bryan.
Hudson Drive is a four-piece country-rock band from Kansas City that, in four years, has established itself as a consistent draw, opening for big-name acts such as Maren Morris, David Lee Murphy, and Kane Brown.
Admission to the Sunset Music Fest free, but purchase of merchandise is encouraged: Proceeds benefit the Juvenile Diabetes Research Foundation.
The festival site will include a children's area featuring jugglers and aerial feats by members of the Kansas City Aerial Arts plus activities from the Barstow School and Sporting Kansas City.
Show time is 6 p.m. Admission is free. Feel welcome to bring blankets and chairs (but no coolers).
The third and final lineup of the 2019 Sunset Music Fest: A Flock of Seagulls with The Zeros,  June 27. For more information, visit the festival's web site.
June 20 at Crossroads KC: Muddfest, featuring Puddle of Mudd
This music orgy is a confederacy of five like-minded post-grunge/alt-rock/modern-rock bands. The name at the top of the marquee: Puddle of Mudd, fronted by former Kansas Citian (and Park Hill High grad) Wes Scantlin. The rest of the lineup: Saliva, Trapt, Saving Abel, and Tantric.
More than 10 years after its founding, Puddle of Mudd's music was discovered by Limp Bizkit founder Fred Durst, who launched the band into stardom. Its debut album,Come Clean, released in 2001, would break into the Top 10 of the Billboard 200 chart, sell more than 3 million copies and put five singles into the Top 10 of the alternative-rock charts.
Its follow-up, Life on Display, didn't fare as well, eventually reaching gold status (500,000 sold). And gradually, the band's popularity began to wane. And Scantlin became involved in several scandals and incidents, including charges of lip-syncing, throwing tantrums at live shows, skipping shows, and several arrests, for disorderly conduct, DUI, and other infractions.
He has been incident-free for more than three years now. In July 2018, Scantlin announced he was 11 months sober, and in December the band, which has navigated an avalanche of personnel changes, announced it planned to release its fifth album in 2019.
Show time is 7 p.m. Tickets to the 18-and-over show are $24.5 to $75.

June 22 at Crossroads KC: The One Nation Under a Groove  Tour featuring George Clinton & Parliament Funkadelic and Fishbone.
In a 2018 article in The New Yorker, writer Hua Hsu aptly described the unique world of George Clinton and his kaleidoscopic orchestra, Parliament Funkadelic: "P-Funk's marriage of spaced-out psychedelia and aggressive, purring funk music came to seem like a life style, a world view. Everyone is welcome."
For more than five decades, Clinton and his ever-changing collective of musicians have been tearing the roofs off music venues while unleashing their lavish groove-infested theatrics—a visual and aural feast unlike any other. Clinton will turn 78 in July but he shows no sign of slowing down. There's plenty of bark and bite left in this atomic dog.
Show time is 7 p.m. Tickets to the all-ages show are $32.50 to $80. Several VIP packages are available, including a meet-and-greet for $225 that includes a VIP ticket, a meeting and photo with George Clinton, and many other merchandise perks.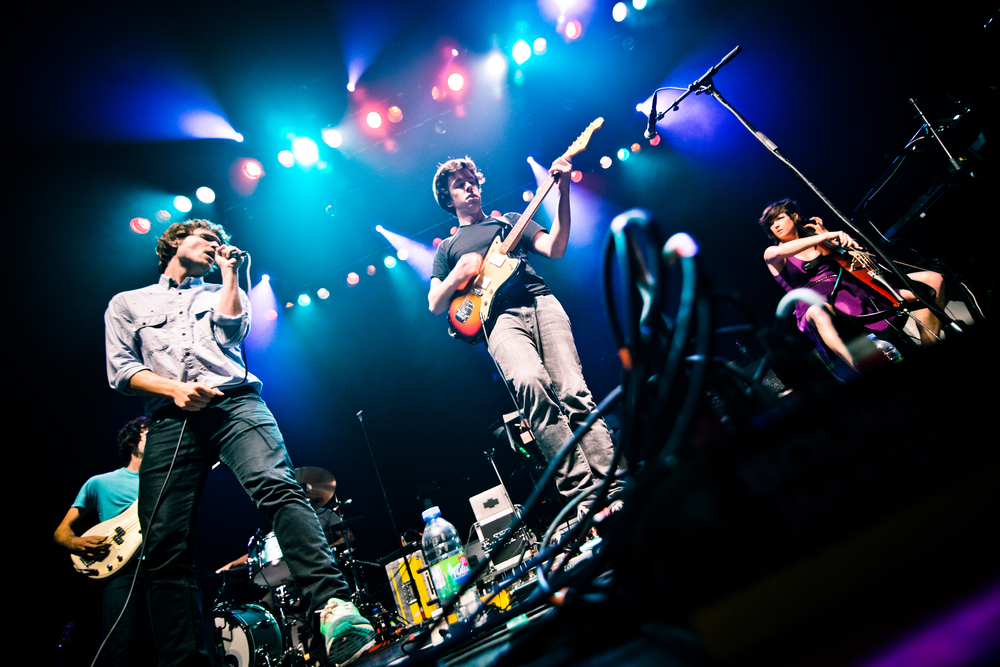 June 23 at Starlight Theater: Third Eye Blind with Jimmy Eat World and Ra Ra Riot
This trio of pop/alt-rock bands prospered in different decades. Third Eye Blind was part of a mid-1990s wave of slick pop bands that invaded radio airplay, along with Matchbox Twenty, Hootie and the Blowfish and the like. Its 1997 self-titled debut has sold nearly 4 million copies, propelled by the timeless single, Semi-Charmed Life.
Jimmy Eat World, founded in the early 1990s, emerged from a crowd of emo/pop-punk bands in the early 2000s, crashing the charts in 2001 with Bleed American, which would sell more than 1 million copies, thanks in large part to its signature single, The Middle.
 Since 2008, Ra Ra Riot has been issuing its varied take on pop, inspiring descriptions like "orchestral pop," "baroque pop," and "electro-pop." In August, they will release Superbloom, their fifth full-length album.
Show time is 7 p.m. Tickets are $29.50 to $99.50.
June 25 at Knuckleheads Saloon: John Paul White
White was half of the duo The Civil Wars, which released two albums from 2011-13, winning four Grammy Awards along the way. White and his music partner, Joy Williams, unexpectedly broke up in early 2014, much to Williams' dismay: "I am saddened and disappointed by the ending of this duo, to say the very least," she said at the time.
Both have moved on, pursuing solo careers. White has released two albums since the end of The Civil Wars, including The Hurting Kind, released in April. From a review at AllMusic.com: "The Hurting Kind stands head and shoulders above Beulah for its mature vision, powerful focus, and poetic songwriting and production. This is White's finest moment thus far."
Show time is 8 p.m. Tickets are $20.
OTHER SHOWS TO KNOW ABOUT
Howard Jones with Men Without Hats, June 22 at Ameristar Casino: A must-see revival for diehards of the early MTV days.
Cracker and Camper Van Beethoven, July 16 at Knuckleheads Saloon: David Lowery is multi-tasking, fronting both of his bands on the same night.
Peter Frampton with Jason Bonham's Led Zeppelin Experience, Aug. 5 at Starlight Theater: This will be Frampton's swan song in Kansas City. In February, he announced he was suffering a degenerative-muscle disorder, and this would be his farewell tour.
Boz Scaggs, Sept. 10 at the Lied Center: Expect an alluring evening of blue-eyed soul and blues.
Poco with Pure Prairie League, Oct. 18 at Knuckleheads Saloon:  In the '70s, both bands were prime purveyors of easy-listening country-pop.