There are worse destinies in music than the land of one-hit wonders.
One blockbuster pop hit cannot a career make, but it can bring some sense of place in history and some financial security, depending on the song's radio longevity and commercial appeal.

Sunday night's three-act lineup at Starlight Theater, the Summer of Gods Tour, featured two bands with one eminent hit each on its resume—one song by which they will always be identified. And both spent the evening trying to prove that the wonder of their catalogs reaches far beyond one successful single.
This was a disparate lineup: three bands in three different genres from three different eras. Yet many in the crowd of about 6,000 seemed very familiar with all three.
After a brief and lively opening set by Ra Ra Riot, a spry indie-pop band with no huge hits on its resume, Jimmy Eat World took the stage. The Arizona quartet wears many labels—power pop, power punk—though the most prevalent seems to be "emo," a style that evolved from punk, pop, and other genres.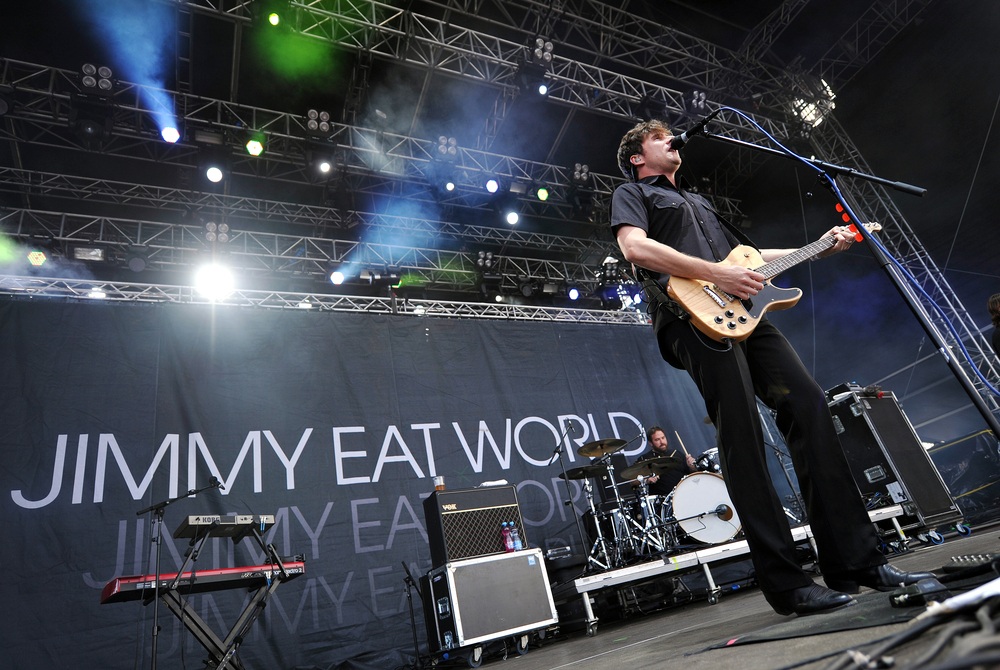 However you describe it, the band's music is typically manic, catchy and to-the-point. They reeled off 14 songs during their 58-minute set—4 minutes per, including transitions and chit-chat, which was minimal.
The set list drew most heavily from the Bleed American and Futures albums, released in 2001 and 2004. They opened with two from Futures: Pain and the title track. From there they bounced to the title track to Bleed American, a hard-chugging pop nugget with more metal in its bones than punk.
They performed before four large, spinning screened turbines—huge fans, really. Beneath those, at the level of the drum riser, a bank of lights beamed different primary colors. And that was the production: industrial and austere.
Another Futures song, 23, was the only down-tempo moment, though it by song's end it had rendered a cathartic crescendo.
Work, also from Futures, veered into fresh indie-rock terrain, bearing a slight Modest Mouse vibe. Love Never, a non-album single from 2018, was a generic catchy-pop tune sporting a heavy-guitar beard.
The exclamatory A Praise Chorus, the set's penultimate song, would have been the ideal closer: a galloping, rollicking, car-with-no-brakes careening down a mountain road.
But that was just a warm-up for that song, the one everyone came to hear. When they struck the opening chords to The Middle—the B-side to A Praise Chorus—fans who weren't in their seats, teens and adults, dashed back to dance and sing-along.
If you're going to be identified by one song, it might as well be one as catchy and well-crafted as The Middle, a keep-your-chin-up anthem that is significantly older (18) than many of the kids singing along evangelically Sunday night.
It has been used in several video games, TV shows films, and, perhaps most famously, in a 2016 Apple commercial, in which Taylor Swift lip-synched to it. It comes and goes in less than 3 minutes—a blast of melody, groove, and emo lyrics that usually bears repeated listens. It was the perfect ending to a tight, energetic set.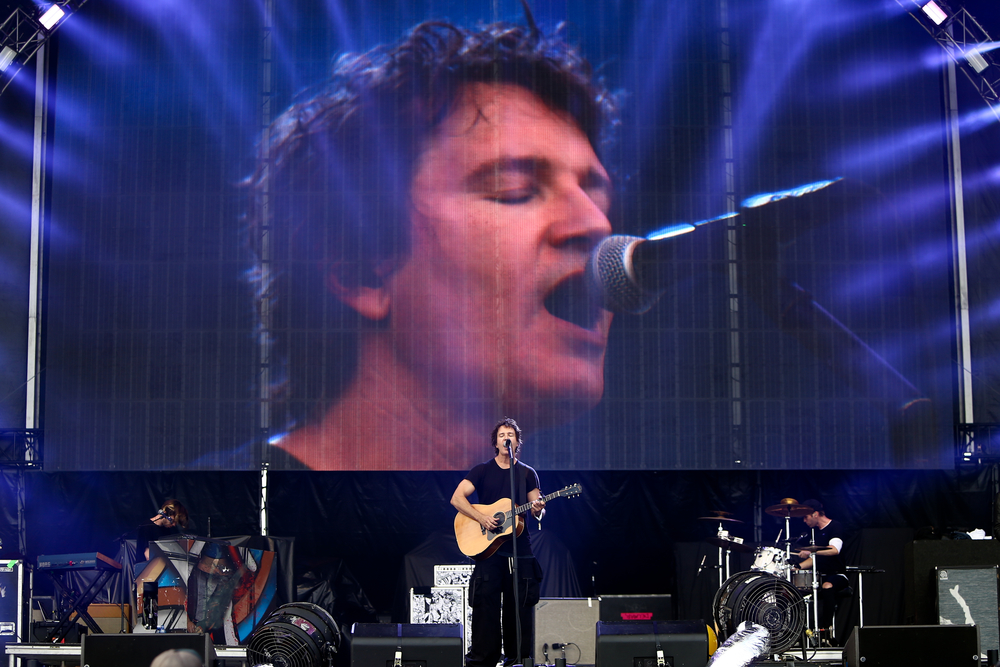 Third Eye Blind enlisted more elaborate production. Led by frontman/vocalist/guitarist Stephan Jenkins, they performed the opener, Screamer, cast as silhouettes upon a scrim. It's a non-album track that breaches the electronic/rock borders, into the periphery of Imagine Dragon land. It was also an opportunity to show off the lights and other visual amenities that would fill the show.
After the scrim dropped, they performed The Kids amid a gust of fog and a blitz of lights. Then came the evening's first big moment.
The guitar intro to Never Let You Go ignited a big roar, which preceded a hearty sing-along to every word. It's not their most popular song but it's arguably their best: a melodic, groovy, smart-crafted ditty with a 70s FM pop vibe—(at the risk of committing sacrilege:) like a decent Badfinger B-side.
The rest of the 90-minute set would proceed with varying results. Graduate rocked like a diet, lo-cal Beastie Boys anthem. Company of Strangers was a generic rollicking rock anthem, but most of the crowd submitted to its sway.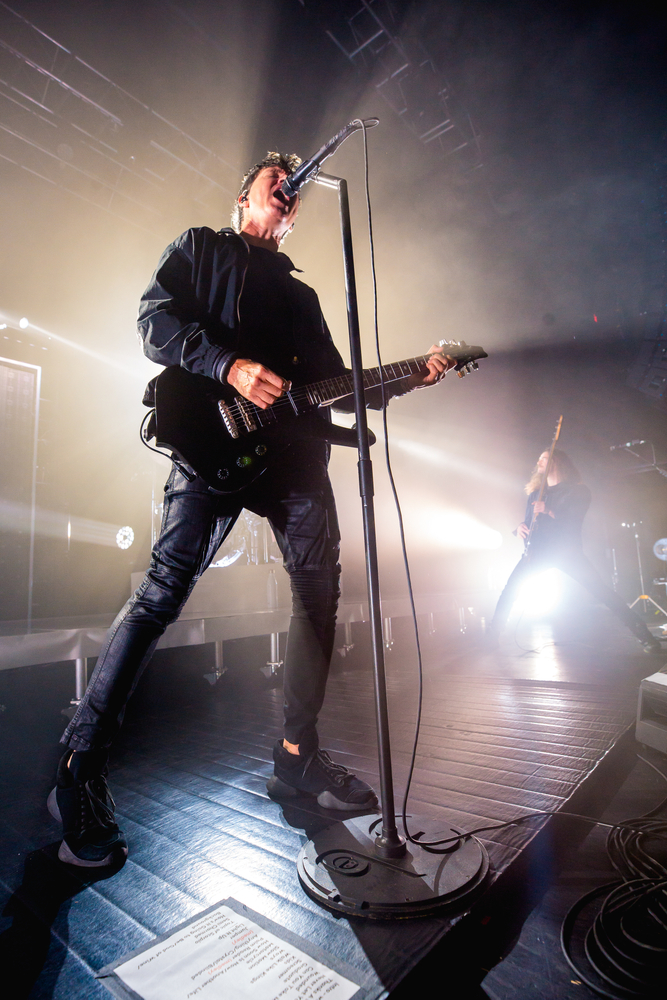 Back to Zero was marred by an unfortunate forced moment of zen: Jenkins urged everyone to turn and greet someone they don't know, a forced cringe-y moment like the peace offering ritual in Catholic Mass.
Jenkins is a lyricist whose grasp often falls far short of his limited reach, usually to the detriment of the song. His syntax or bad poetry can interfere with the groove, damaging the mood.
So songs like Slow Motion, performed solo, fell flat. As did Bonfire, another lyrically impaired number. Motorcycle Drive By reinvigorated the mood, as did the hearty anthem Something In You, thanks to its U2 vibe.
The four-song encore comprised a new song and three from their self-titled, debut album, starting with Losing A Whole Year, an overarching anthem laden with keyboard effects.
After the new song, they played their that song. More than 20 years after its release, Jenkins is no doubt tired of performing Semi-Charmed Life—it's by far the band's biggest hit and only gold single—but his fans clearly aren't tired of hearing it.
They greeted the intro with the night's biggest ovation.
Jenkins, however, couldn't resist fussing with it and turning much of the vocal work over to the crowd, which obliged, with gusto. But his tack took some air out of the moment. (Even Tom Petty performed American Girl every night, like it was the first time or could be the last.)
They added another song for good measure, the gloomy God Of Wine, but by then people were streaming out in droves.
Perhaps that was meant to remind everyone that Third Eye Blind is more than one moment coined in 1997.  But I'm betting almost everyone went home with just one or two songs ringing in their heads. And there's nothing wrong with that.
SET LISTS
Third Eye Blind
Screamer; The Kids; Never Let You Go; Back To Zero; Can You Take Me; Graduate; Wounded; I Want You; Slow Motion; Motorcycle Drive By; Company Of Strangers; Jumper; Bonfire; Something In You; Company; How's It Going To Be. Encore: Losing A Whole Year; (new song); Semi-Charmed Life; God Of Wine.
Jimmy Eat World
Pain; Futures; Bleed American; If You Don't, Don't; 23; Work; Love Never; Sweetness; Always Be; Hear You Me; Sure And Certain; Big Casino; A Praise Chorus; The Middle.
Ra Ra Riot
Absolutely; Beta Love; Flowers; Foreign Lovers; Bad To Worse; Water; I Need Your Light.