One day after drawing nearly 35,000 fans to Busch Stadium in St. Louis, country star Luke Bryan was on the other side of the state Sunday night, performing for more than 12,000 fans inside the Sprint Center.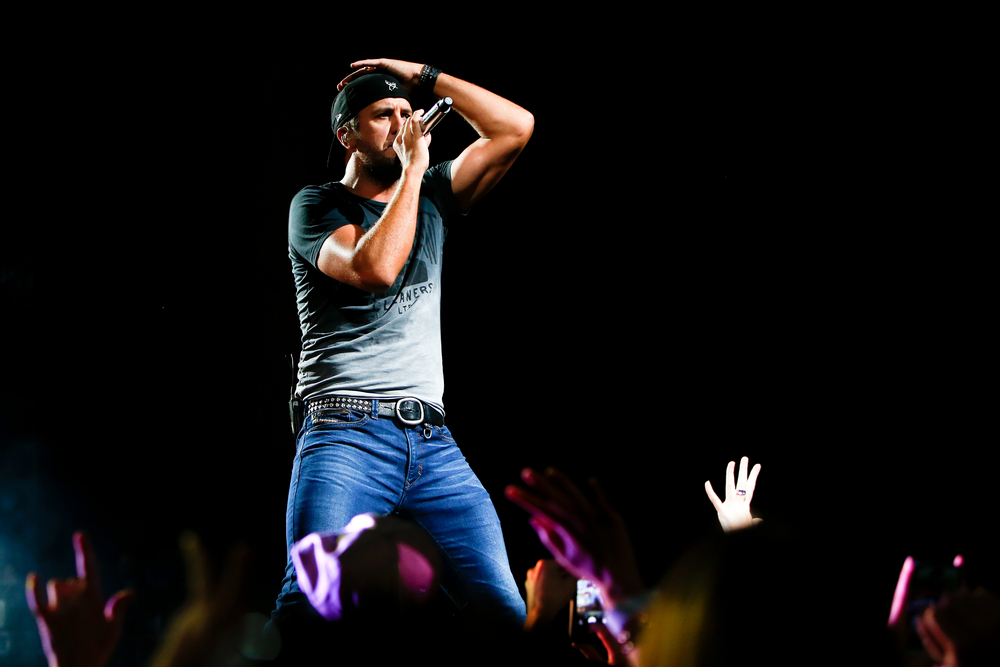 Those are impressive numbers for any recording star, but they just begin to tell Bryan's story, which is loaded with big numbers.  Since 2007, he has won nearly 30 major music awards (but no Grammys); he has sold nearly 10 million albums; and 20 of his 21 singles have cracked the Top 5 on the country charts. There is a thirst for what he's doing and seems to go unquenched.
Consider this: Bryan has performed in Kansas City four summers in a row, and each show was a sell-out or a near sell-out–even on a Sunday/school night.
His nearly two-hour show on Sunday followed a lively set by opener Jon Pardi, whose music is the perfect warm-up for Bryan: built on a rock foundation and filled with lyrics about dirt roads, trucks, six-packs of beer, and the blue-collar working life.
Pardi was backed by a stout four-piece band that veered into hard rock and Southern rock on a few occasions (one band member was wearing a Pantera T-shirt, another a Judas Priest T), some of it basted in pedal steel.
Most of the big crowd was in place by the time Pardi started, and many were familiar with every tune, songs like Take My Blues Away, a blues-rock anthem about cashing the paycheck on a Friday night and heading straight to the bar; Night Shift, a libidinous, swinging country-rock number about a guy who can't wait to clock out and be on his way home "to them cool, cool sheets and you and me"; and Dirt On My Boots, in which our hero washes up as much as he can before he swings by and takes his honey to the club so they can "cut a rug."
Pardi more than earned his warm-up paycheck, but Bryan doesn't really need a lot of help whipping a big crowd onto its feet and into a party mood.
He is a strapping small-town Georgian who dresses like he just returned from a trip to the feed store: worn, short-sleeve T-shirt, faded jeans, boots, and a ball cap that he switches from forward to back continuously. As much as any country star, he looks like much of his audience.
No part of his skill set is eminent, but each is good enough to produce a sum that exceeds its discrete parts: He knows his way around an acoustic guitar, which he displayed during a solo-acoustic set towards the end of the show. His strong, pleasant voice is suited for the songs he sings, but as a vocalist he's no Alan Jackson or George Strait or even Billy Currington, a friend and colleague.
He is adept at writing or co-writing catchy songs that are guaranteed to get radio traction, though lyrically most rely on clichés or aim for the lowest common denominator.
Bryan chatted congenially with his fans, even tossing them a beer or two from an on-stage cooler. He also honored the late Sen. John McCain, calling him a "hero," and saluted the troops.
But his comic chops need some polish. He made a crack about teachers showing up for school Monday morning nauseated and hungover (don't throw up in front of your students, he advised), which led to an odd bit about women in the place who might have had breast-enhancement. Both fell flat. "Don't put that on YouTube," he chuckled.
Bryan's off-stage life is no doubt germane to his popularity. He's a devoted 40-something husband, father and custodian to orphaned nieces and a nephew. And he generous with charities, including human rights groups and research for cancer and HIV and AIDS.
For that and his music, Bryan's fans – a three-generational mix of men and women, boys and girls—adore him, and that affection was clear and abundant all night, starting with the two opening songs, which framed the mood for the rest of the night:  Country Girl (Shake It For Me), the first of several let's-party-and-hook-up anthems, and Huntin', Fishin' and Lovin' Every Day, which works in the trinity of nearly every hit bro' country song: the outdoors; the country life; and romance.
When your stockpile of hits is as deep as Bryan's, putting together a hearty two-hour set list comes easy. And he rewarded his fans with plenty of favorites, most of which share a theme: Rain is a Good Thing (because "Rain makes corn / Corn makes whiskey / And whiskey makes my baby / Feel a little frisky"); I Don't Want This Night to End; This Is How We Roll; Drunk On You; Kiss Tomorrow Goodbye; Crash My Party; Drink a Beer; Strip It Down.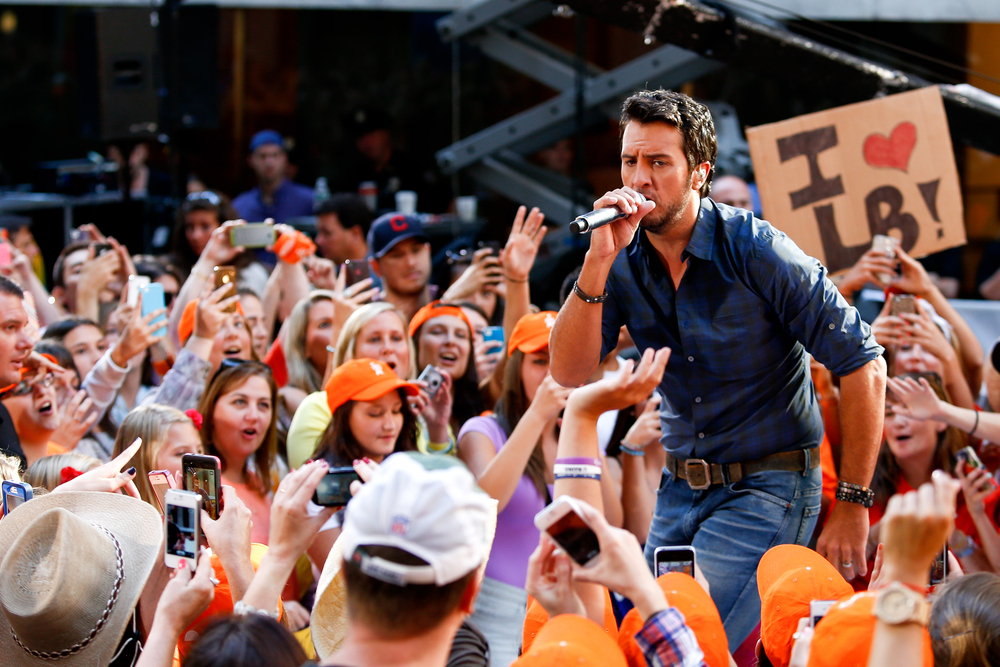 He covered Florida Georgia Line's This Is How We Roll, reprised Good Directions, a song he wrote that Currington turned into a hit, and brought out the evening's first opener, Morgan Wallen, to cover Wallen's hit, Up Down. Each got a raucous response.
Even the songs Bryan played off his most recent album, What  Makes You Country, were well-received: Sunrise, Sunburn, Sunset, another tale about country living; the title track; and Most People Are Good, an earnest hymn about looking for the best in others or at least accepting who they are.
Like every country star, Bryan was accompanied by a stout band—a five piece equipped with some country ingredients (pedal steel, mandolin, fiddle, banjo) but plenty of rock firepower.
There were lasers and other lights, some flashpots and plenty of action on the video screens behind the band. But most of the energy came from the down-home guy in the ball cap and jeans whose star power keeps accelerating.
 Don't be surprised if he returns next summer, this time to a stadium near you.
SET LIST
Country Girl (Shake It For Me); Huntin', Fishin', and Lovin' Every Day; I Don't Want This Night to End; This Is How We Roll; All My Friends Say; Light It Up; Someone Else Calling You Baby; Kiss Tomorrow Goodbye; Up Down (with Morgan Wallen); Most People Are Good; Sunrise, Sunburn, Sunset; What Makes You Country; Kick Up the Dust; Strip It Down; Drunk On You; Crash My Party; Home Alone/Do I; Fast; Good Directions; Drink A Beer; Play It Again; Rain is a Good Thing. Encore: Move; That's My Kind of Night.