His fans have known for a while not to expect many country moments in a Keith Urban show.
A banjo or dobro might make a cameo once or twice, and a song or two might get braised in a soft twang or swing to a country-shuffle groove, but as a songwriter and performer, Urban is a footloose traveler who explores many genres, country being the least of them.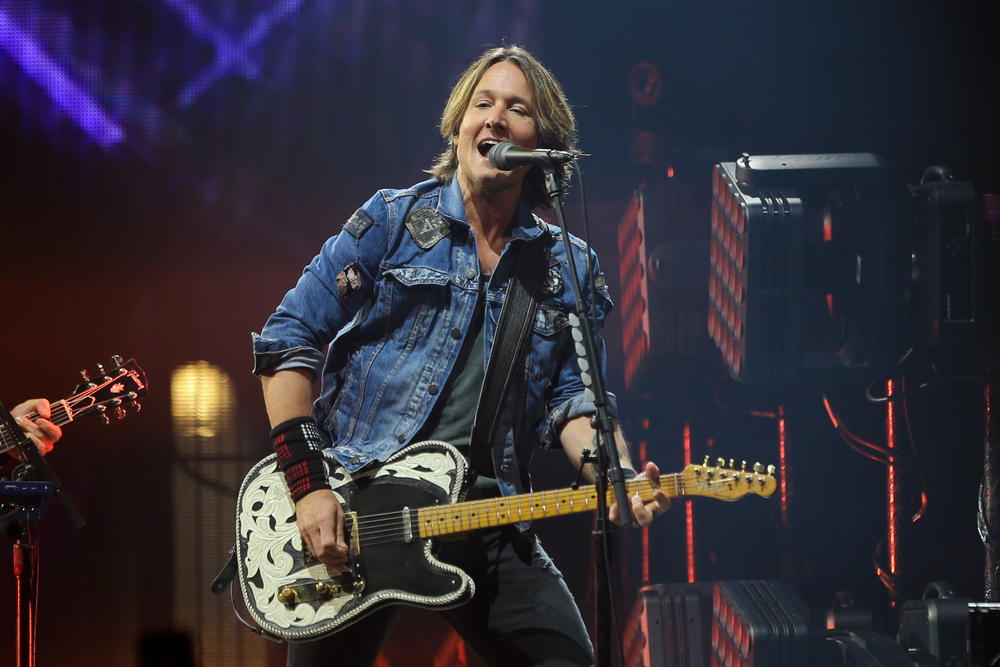 Never has that been more obvious and explicit than it was Friday night, when Urban dropped by the Sprint Center—his fifth appearance in the downtown arena since 2008, and his ninth in Kansas City since 2002.  He is popular here and for a reason.
Urban is touring off Graffiti U, his tenth solo album, in which he doubles down on his successful foray into electro-pop on Graffiti's predecessor, Ripcord. He would play seven tracks from the new album, including Never Comin' Down, the bright funky number that opened the show.
He followed that with a remodeled version of Days Gone By, a funky pop-soul number from his Be Here album (2004) that sounded of another millennium. Then came Coming Home, another Graffiti U song.  Merle Haggard gets a songwriting credit for the opening guitar riff (borrowed from Mama Tried), but that's where the country begins and quickly ends in this pop song, which veers into low-cal hip-hop for a measure or two.
Urban is a star and a Kansas City favorite for some obvious reasons: his matinee-idol looks (and his Oscar-winning wife), his world-class guitar skills, his easy-on-the-ears voice, his radio-ready songwriting chops. But just as important are his personae and demeanor, on stage and off.  The most country thing about him is what he learned in Nashville charm school: the proper way to treat and connect to fans, which he did throughout the show.
He came equipped with binoculars, which he employed to read fans' signs all over the room, including in the upper-decks across the arena. He called to the stage a young woman who was celebrating her 16th birthday, then summoned the other three members of her family to join them for a selfie/love fest.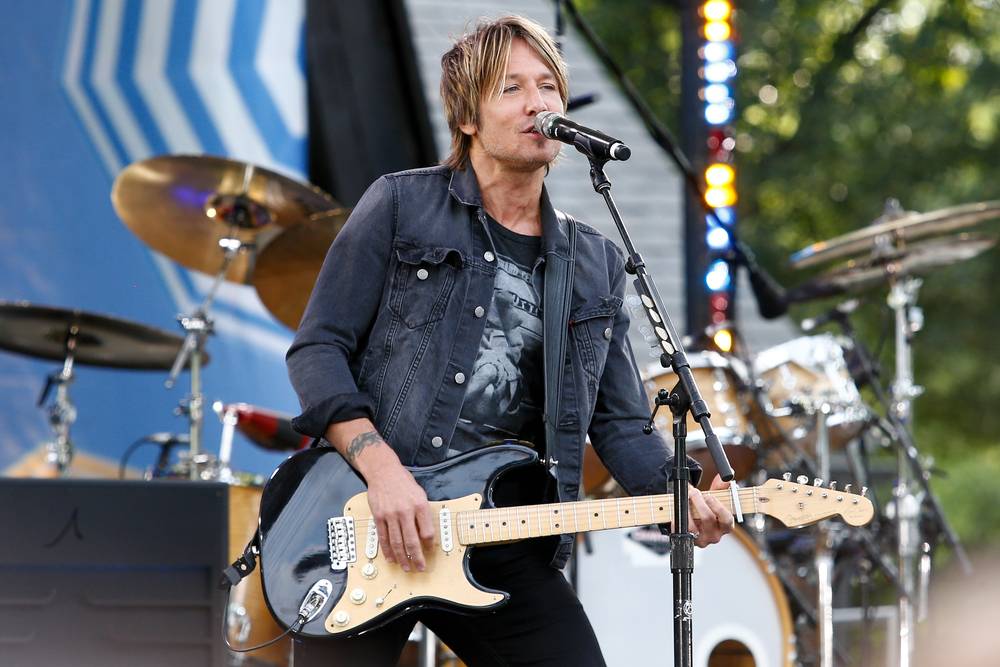 On his route from the main stage to the satellite stage at the back of the arena, he slapped every hand extended his way. And before he returned to the main stage, he signed an electric guitar and gave it to a lucky woman during another on-stage ceremony.
Urban also recalled his many trips to Kansas City, including his pre-sobriety days in the '90s when he played at the Beaumont Club (RIP)—shows he recalls not recalling much about afterward: "I remember going but not leaving." Among the 13,000 or so in the crowd, a few thousand cheered as if they had been there with him so long ago.
When you endear yourself to a fan base like he does, you can take risks and follow your impulses, even to the point where you've abandoned your base genre in favor of other sounds that interest and excite you more. And that's what Urban did for most of his set, which lasted 130 minutes and change.
Parallel Line sounded like a Hall and Oates' B-side. You Gonna Fly was a beefy rock-with-twang anthem. Put You In a Song was a rubbery pop tune. Kelsie Bellerini, who opened the evening, joined Ubran on stage for We Were Us, another hefty gust of melodic rock and pop.  My Wavedipped into the hip-hop/reggae well. Then came the solo/acoustic version of Stupid Boy, which sounded like a Dan Fogelberg ballad, circa 1977.
Urban and band sustained a high level of energy throughout the show, but the most rewarding moment came when he brought out Larken Poe, a duo comprising sisters Megan Lovell (dobro) and Rebecca Lovell (mandolin). They have performed in Kansas City a few times, including with Elvis Costello at Yardley Hall in October 2016. They are that diverse.
They joined Urban and the band for a dramatic renovation of his hit Where the Blacktop Ends, turning it into a gritty, grimy blues number that resolved itself with a fiery guitar/dobro/mandolin shootout. If the extreme makeover displeased anyone, they weren't vocal about it.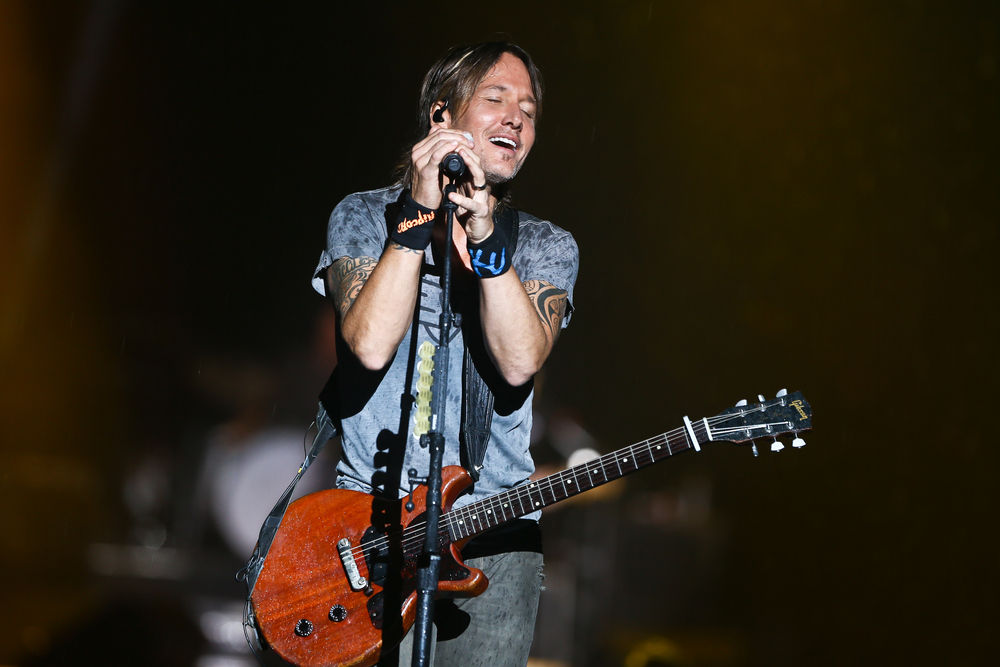 Other highlights: The Fighter, a duet featuring a virtual performance from Carrie Underwood via one of the huge video screens that were part of the elaborate visual production; and Gone Tomorrow (Here Today), a bluesy electro-pop romp embellished by a six-string banjo that was performed from inside a cage quickly assembled from various components on stage.
Urban opened the encore with a gratuitous cover of Kansas City, then introduced the guitar he was playing, formerly owned by Waylon Jennings. He then performed But For the Grace of God, a ballad about gratitude he co-wrote in the late 1990s with two members of the Go-Gos (Jane Wiedlen and Charlotte Caffey).
He closed with Horses, an arena-rocker from Graffiti U that sounds like Coldplay at its over-earnest best. It's a ballad about redemption, letting your internal horses run wild and free, until you find what your heart truly desires.
It was a fitting ending to a show from a guy who refuses to be saddled and penned-in.
SET LIST: Never Comin' Down; Days Gone By; Coming Home; Sweet Thing; Somewhere In My Car; Long Hot Summer; Parallel Line; You Gonna Fly; Put You In a Song; We Were Us; Stupid Boy; My Wave; Somebody Like You/With or Without You; Where the Blacktop Ends; Love the Way It Hurts (So Good); Blue Ain't Your Color; Drop Top; Cop Car; Slow Hands; The Fighter; Kiss A Girl; Who Wouldn't Want to Be Me; You Look Good In My Shirt; Gone Tomorrow (Here Today); John Cougar, John Deere, John 3:16; Wasted Time. Encore: Kansas City; But for the Grace of God; Horses.