The weekend arrived early Thursday night at Starlight Theater, where close to 7,000 fans spent four hours partying heartily to various strains of country music.

The headliner was Dierks Bentley, a country mainstay since 2003, when he released his debut (and now platinum) album. He brought with him three other acts: Jon Pardi, a neo-traditional/contemporary country songwriter; Tenille Townes, a rising country-pop star from Alberta, Canada; and Hot Country Knights, a spurious '90s country-cover group that comprises Bentley and members of his band, all with pseudonyms and in disguises.
Townes followed the Knights' brief and brash opening set—a farcical music skit, really—with a short set that included Somebody's Daughter, an empathetic ode to homelessness, which cracked the Top 30 of the Billboard country charts in 2018.
Her style bears similarities to a range of other women artists, from contemporaries like Kelsea Ballerini and Maren Morris to her hero and fellow Canadian Shania Twain, who would come into play later.
Pardi is well-known and –liked around here, having opened and headlined several shows, as recently as in March 2018, when he opened for Miranda Lambert at Sprint Center. So the amphitheater was nearly as full as it would be all night when Pardi and his band took the stage.
He comes off as a working-class hero, a guy who looks forward to the ways he deals with the work-week tedium. Thus songs like Paycheck– "straight from the bank to the honky-tonk"—and Night Shift, in which the singer bemoans how work keeps him from the one he loves at night.
They played a few songs off Heartache Medication, Pardi's third studio album due to be released in late September.  One of those was Tequila Little Time, which sounded like a Jimmy Buffet tune larded with fiddle and pedal steel; another was the title track, a jaunty, tuneful woe-is-me honky-tonk ballad.
The cover of Brooks and Dunn's My Next Broken Heart, a hard country shuffle, was an early highlight. So was Lucky Tonight, which featured a long instrumental that gave his stout band a chance to stretch out, including a spry jam on the alto-sax.
He ended with two favorites, both with footwear in mind. Head Over Boots bears an early rock 'n' roll vibe—like a Buddy Holly tune with swaths of pedal steel. They closed with Dirt On My Boots, another honky-tonk anthem with a hard sway that celebrates the end of a work day and the impending night out with a sweetheart—dirty boots be damned.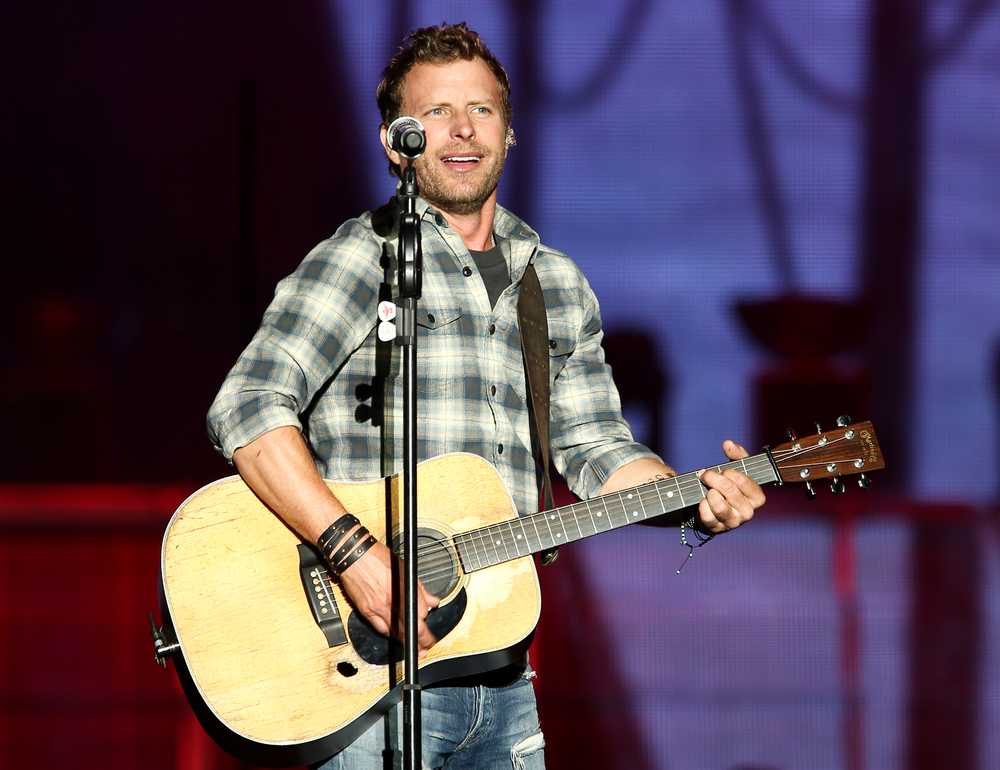 The large crowd seemed adequately lubricated on adult beverages when Bentley and his crew took the stage. He christened this The Burning Man Tour, after a song from The Mountain, his latest full-length album, not the annual nude fest in the Nevada desert.
So they opened with that song, a rollicking country-bluesy ballad with introspective lyrics: Little found, little don't-know-where-I-am / I'm a little bit holy water / But still a little bit burning man.
The set list would draw equally from Bentley's last three albums: The Mountain, Black and Riser—three songs, each.
But the songs that drew some of the loudest responses were from his first three albums: Come A Little Closer from the stellar Modern Day Drifter, which he performed from a satellite stage near the soundboard, facing the fans in the terrace seats; What Was I Thinking from Dierks Bentley, his first hit, which prompted Bentley to recall the days at the turn of the millennium when he performed at the Beaumont Club; and Free and Easy Down the Road from Long Trip Alone.
Pardi and Townes joined him in the middle of the 90-minute set for some duets. First, Pardi and Bentley sang a Pardi tune, Missin' You Like Crazy. Their harmonies were spot-on. Then Townes came out, with guitar, and, after playing a snippet of Deanna Carter's Strawberry Wine—which was recognized by a large majority of the big crowd—she delivered several verses of Man! I Feel Like a Woman!, a hit for Twain. As she sang that, the video screen displayed an old photo of Townes, then 9-years-old, on stage with Twain, singing during a concert.
Bentley cut that one short and invited Townes to join him in Different For Girls, one of his own songs, which addresses how the pursuit and consequences of sex affect each gender differently: They don't take someone home and act like it's nothing / They can't just switch it off every time they feel something.
It wasn't the only time Bentley addressed gender politics. Woman, Amen is a love letter to his wife but as he sang it, the video screens displayed portraits of women artists in country music: Dolly Parton, Reba McEntire, Emmylou Harris, Loretta Lynn, Miranda Lambert, Kacey Musgraves, Maren Morris. And I think I spied a portrait of Brandi Carlile.
Bentley waxed nostalgic a few times. He prefaced I Hold On, an ode to an old truck, with a tribute to his father, a native of "Missourah." Before Say You Do, he recalled his earliest days in Nashville, when he busked for free cans of warm beer.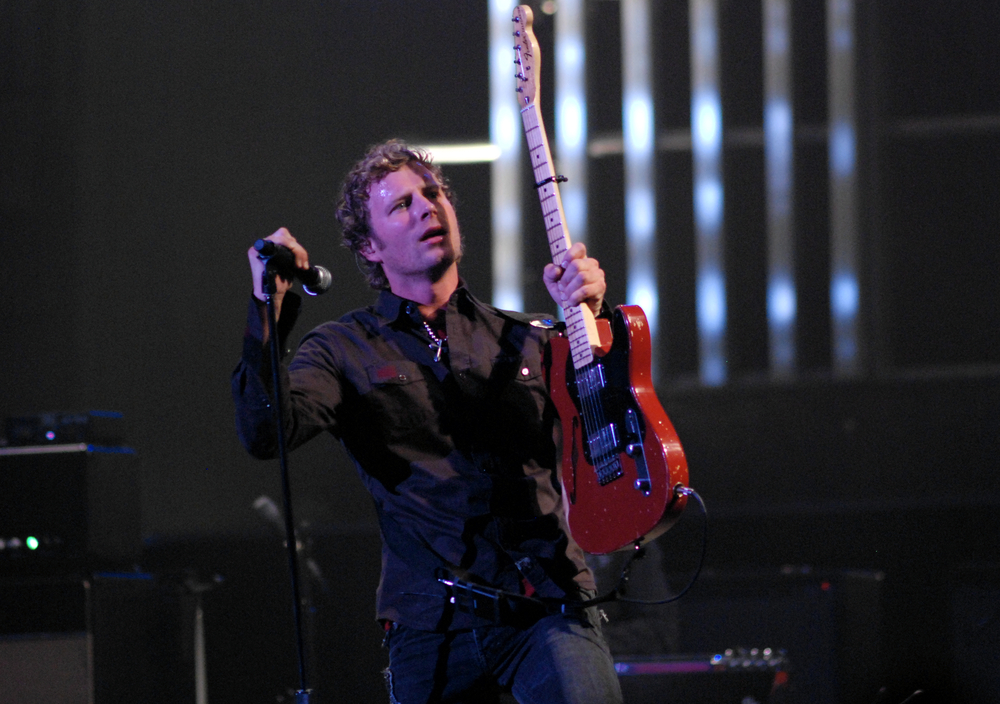 He closed with Drunk On An Airplane, which featured Bentley dressed in airline pilot's garb and traipsing comically around the stage, sipping from a black Solo cup. Then came the finale: Free and Easy (Down the Road I Go), which aroused one of the most boisterous sing-alongs of the night.
 The big crowd was clearly in the mood for plenty more, but it was for  most, after all, a school night/work-tomorrow-morning night. I just didn't feel like it.
SET LISTS
Dierks Bentley: Burning Man; Up on the Ridge; Somewhere on a Beach; Woman, Amen; Black; I Hold On; 5-1-5-0; Living; Missin' You Crazy (with Jon Pardi); Riser; Strawberry Wine/Man I Feel Like a Woman/ Different for Girls (with Tenille Townes); Am I the Only One; Come A Little Closer; Say You Do; What Was I Thinkin'; Sideways. Encore:Drunk on a Plane; Free and Easy (Down The Road I Go).
Jon Pardi: What I Can't Put Down; My Next Broken Heart; Tequila Little Time; Night Shift; Paycheck; Lucky Tonight; Ain't Always the Cowboy; Heartache Medication; Can't Turn You Down; Me and Jack; Heartache on the Dance Floor; Head Over Boots; Dirt on My Boots.