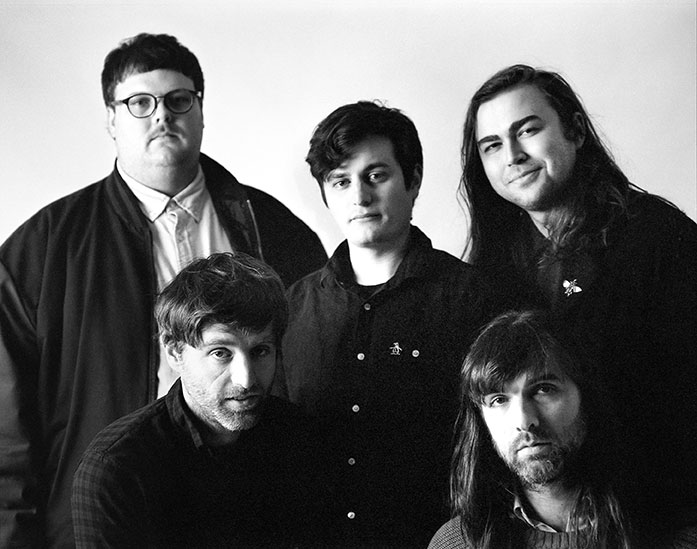 The men in Shy Boys have many memories of their former residence on Bell Street. Some of those recollections are infamous. 
"It was more like a bum den than anything," says Collin Rausch, Shy Boy's vocalist and primary songwriter. "There was a giant hole in the floor of the kitchen that had a piece of plywood over it. We threw out most of the furniture to make room for a jam space.
"In the backyard, weeds got like six-feet high in the summer. It was its own thriving biome. We lived in trash. Literally I slept with full bags of trash in my room."
And there was the time one of many guest squatters that rolled through the house "killed a rat with a ballpoint pen."
After five years, Rausch and his roommates moved out of the house near 45th and Bell streets in the West Plaza neighborhood, but the time Rausch spent there with fellow band mates—his brother, Kyle, and Konner Irvin—left indelible impressions.
"It was … a group of guys being in a really dark place together," Rausch says. "It was intense, looking back on it. The lifestyle became overwhelming and really seeped into the music."
That music fills Bell House, Shy Boys' sophomore record, due to be released in early August on Polyvinyl Records, a large independent label that is home to Of Montreal, the Residents and other indie-rock titans.
Bell House is the follow-up to Shy Boys, released in 2014 on High Dive Records, a Kansas City label. Like its predecessor, Bell House brims with the Boys' signature traits and virtues: bright, bubbly melodies, shimmering multi-part harmonies and cryptic, sometimes dark, lyrics that belie the music's day-glo charms. The songs are short—an average of two minutes long—but filled with clever twists and unexpected turns.
Their label heralds Shy Boys as "the Beach Boys on Robitussin," though, lyrically, their music sounds more like it emerged from the shores of Times Beach than sunny Southern California.
"Take the Doggie," for example, is a brief gust of jaunty power pop about a dog that lives next door that appears underfed and ignored by a neighbor that Rausch doesn't get along with. The song comes and goes in 94 seconds, but not before a big picture emerges and Rausch is inspired to consider leaving the neighborhood entirely and taking the dog with him.
The songs on Bell House swerve from the lyrical matter that filled the Shy Boys album, and for a reason.
"Thematically I wanted [the record] to be anything other than apathetic," Rausch says. "Maybe because I'm older, maybe because the weed and pizza and shaka sign thing seems inappropriate now in the time we live.
"After we finished the first record, I got my degree, my parents separated, I fell in love and got married. I actually feel things differently now, and more deeply. I wanted this record to actually have some of that feeling: happy, sad, scared, tired, joyful, anything but apathetic."
Thus song titles like "Tragic Loss," "No Fun," and "Basement," which chronicles Rausch's move, with his wife and dog, back into his mother's suburban home, where "the carpet stains are still the same."
Shy Boys hit the road for the second leg of a summer tour in early July, but Bell House won't get its official release until August 3. The Boys will celebrate with a record-release show August 4 at RecordBar, 1520 Grand Blvd.
The hometown celebration is appropriate. Like the environment that inspired the songs on Bell House, Kansas City and its music community have influenced the band and played a significant role in Shy Boys' ascent.
"Kansas City being smaller and more isolated, I think, has bred a scene that's unique and uncommonly talented," Rausch says. "There's a vibe here that really seems special, and that feeling only becomes more apparent after we've spent more and more time in other towns."
---
Email Timothy Finn at tfinn@inkansascity.com