Sara Morgan has spent most of her life away from her birthplace in McGehee, Arkansas, but she has not shed nor forgotten the values and principles instilled in her by the small Southern town, the place she still calls "home."
These days, the 2007 Olathe South High School grad and her husband, Chris Bradley, live amid the rural outskirts of the Kansas City metro area as Sara pursues the music life she launched about ten years ago, an endeavor that has been filled with plenty of rewards and hard lessons learned.
She recently answered questions from IN Kansas City about her small-town upbringing amid a large family, her pursuit of a career as a singer-songwriter in the country music world, and how two people—a country legend and a preacher/guitarist friend—shaped her outlook on music and life.
You spent the first decade of your life in McGehee in southeast Arkansas. What was that town like and how did living there shape you?
McGehee will always be home. When we moved, the population was a little over 4,000, there was one stoplight, and everyone knew everyone and everything about everyone. My teachers knew my parents so well that if I ever did anything wrong, I knew my parents would know about it before mom picked me up at the end of the day. It was an "easy-going, ride bikes with your buddies until the streetlights come on" kind of town.
My childhood helped me learn as an adult to appreciate a slower pace, quiet times, the breeze in the trees, and to really cherish the precious moments we are given with loved ones. It also taught me that farmers feed and clothe the world, hard work is necessary to get where you want to go in life, and real, meaningful relationships matter most.
I have observed so many people wanting to get away from their roots, but for me there is something very powerful about them. I believe in watering the best parts of them.
You grew up in a large family. What's the gender breakdown and how did that environment influence you?
Four boys, four girls. I am a first-born but was No. 2 in our blended family. We are a very loyal bunch. We always have one another's back. Life in a house with eight kids and all our friends could be chaotic at times, but the door and the fridge were always open to everyone. I make an intentional effort to talk to and visit with my siblings and parents regularly. I think the closeness of our family is why superficial acquaintances aren't part of my life. Or my career.
You moved to Kansas City when you were ten and graduated from high school in Johnson County. How big of an adjustment was that and what are some of your most lasting memories of that time?
The biggest adjustment for me was the lack of racial diversity. Back home, our town was very diverse, and everyone went to the same school. I had never known anything different, and I thought that's how it must be everywhere. Being in a place where things were drastically different was unsettling. I went home that first week and said "Mom, where is everybody else?"
The best memories: meeting the curly-haired guy in middle school—who I found incredibly irritating at the time—who would many years later become my husband; and scoring a three-point shot at the buzzer during a basketball game at Olathe South.
What music was around during your childhood?
I always signed up for music class and choir when they were an option, but other than that I didn't really have any one-on-one teaching. My music teachers noticed that I took a special interest in singing, and I would receive solos and was sort of expected to carry sections periodically. In high school I participated in chamber choirs, mixed ensembles, and all-women's choirs.
Was music prevalent in your house? How did your family influence your music world?The music that filled my life back then was country, Christian music/church hymns, and [the band] Boston. My parents love Boston. My mom is always reminiscing about the Boston concert she went to in Pine Bluff, Arkansas, when she was in high school. She still has her ticket stub.
When I was a kid my dad and I took a trip to Pensacola, Florida, in his white-with-red-stripes Ford Ranger. We took a brown bag full of fried bologna sandwiches that my mom had made, and we listened to Boston's debut record on cassette tape the entire trip. It is my favorite record in the world.
You and I share a couple of significant life experiences. We both grew up in families of eight children. And we both have suffered the death of one of those siblings. Talk about your brother who died—what you remember most about him and how his death has affected you.
Well, dang. I have avoided this question for almost a decade. It's the one part of my life I am incapable of emotionally dealing with. I cannot touch it. My brain cannot process his death. It kicks the concept back out, like a "404 error" when I try to access it. That is how it has affected me. Trying to answer this question requires me to stop between sentences because the depth of emotional ache I carry on a daily basis pertaining to this is suffocating when I'm forced to observe it.
I had this dream in college that [Alex] came back. He knocked on the door and he was dressed in his Navy whites and he said, "I'm sorry. They needed me for a mission. I had to." I woke up, and for a few seconds I believed that. Then I realized it was just a dream, and the heaviness came back to my chest. It wasn't until then that I realized how internalized I had allowed this to become. I've written one lyric about him: "We buried him to the tune of a 21-gun salute."
I have a photograph of the last moment I saw him. He hugged me, got in a moving truck with his new wife, and they headed out to Norfolk, Virginia, where he was based. I can't believe someone snapped a photo of this.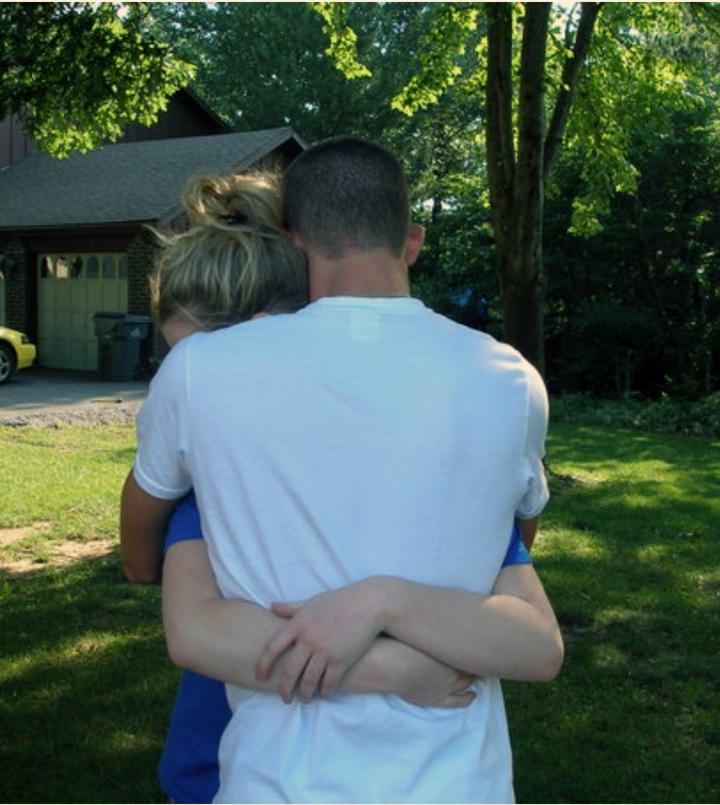 Music was not your first pursuit. Talk about what you did before you focused on music. Why did you choose that?
My first pursuit was a degree in Biblical and Theological Studies. I'm fascinated by world history, specifically church history. I chose it because I love to read. Part of me still wants to be a college professor. When I'm sitting on my porch daydreaming, I consider applying to Trinity College, moving to Dublin—if I could get into school—and working on that. I saw The Long Room there last year. Breathtaking.
What and who most inspired your move into the world of music?
The what—naivety and a rebellious spirit. The who—a talented guy named Jason North. He was my youth-group worship leader in high school. We both ended up in northwest Arkansas: I was in college, and he and his family were in nearby Fayetteville. I sent him a song I had written one night. Instead of telling me it was bad, like he should have, he asked when we were going to record it. We ended up recording two albums together, and I'm hopeful our musical paths will cross again.
What songwriters did you have in mind when you started writing your own songs?
I really didn't have any in mind when I started. I was just picking up a guitar and writing songs, out of boredom, initially. When I began really venturing into music, Loretta Lynn's lyrics became my favorite. Her music was simple, her lyrics weren't pretentious, and they weren't trying. They were great hooks about real life written in a way that made sense to anyone who heard them.
You've met her twice, including one night when you both performed at the Uptown Theater. What did she say to you that still resonates?
I walked onto her tour bus. I sat down across from her in her kitchenette. She put her hand on mine. We took a photo. She essentially said, and I am paraphrasing six years later: "If you have a hit song, you have to get out there and push it, because no one is going to do that for you. No one is ever going to believe in you as much as you have to, to get this done." She signed my guitar. I walked off her tour bus, and as I was walking off, I realized there were a bunch of fans behind a barricade screaming for her: an 82-year-old, female country singer.
She had her own mountains to climb, but her refusal to change who she was in exchange for success is why I love her, and I believe it's also why she has lasted. Whatever you use to hook them is what you'll have to use to keep them. A Kentucky accent and killer country tunes about her life are what hooked them, so it's all she's needed to keep them. Many entertainers create a character in order to "sell," but characters are for fairy tales. Loretta Lynn was, and still is, a breath of fresh air for the rest of us just trying to make it out here in the real world.
I've seen you perform several times. Each time you seemed more comfortable and natural on stage. Assess how your live performances have evolved.
I played one show that really changed my approach to performances. A few years back in Lawrence, I opened for a big Nashville band. When I got done with the set, I looked down and the front row of the crowd was fighting over something.
Two girls finally came up with my set list shredded in half. I chuckled at them. They realized they had my attention, and we started talking. Other people started chiming in. I bent down and started talking to the crowd and throwing anything I could find to them: extra set lists, picks, my capos, markers, all of the things I tend to keep by my pedal board while I'm performing.
I realized in that moment that I had the performing thing backwards. I'm not there for people to see me; I'm there to see people. That allowed me to evolve to a very comfortable place on stage, both in the areas of musical performance and crowd connection. Seeing the crowd as multiple, individual people instead of looking at them as a collective has made performing something I enjoy; it has allowed me to no longer feel separated from them. It's like the buffer has been removed.
How much has your music partner and guitar accompanist Carl Butler helped you as a live performer?
Carl is the one who said, "Whatever you use to hook 'em is what you have to use to keep 'em." He's also always said, "Good songs will make the live show; the rest of it will fall into place," and it sort of has, as of recently. That advice defines my live show.
As for the 90 minutes we spend on stage at night, we berate each other the entire time. I think people think we hate each other, but it's just a shtick. He's old, and I'm another blonde girl with a guitar. The jokes write themselves.
What about beyond music? He is, after all, a minister and preacher.
He is much more of a life mentor than a musical mentor. He is very in-tune with his surroundings and he knows how to be human, alone and around other people. He can look in someone's eyes and see straight through to their heart.
When Carl and I met, I believed that I knew everything there was to know. It didn't really matter that I actually knew nothing and that my retorts were just condescending platitudes. Carl was patient. He did not judge my ignorance or my points of view. He never took anything I said personally or assumed any comment I made was about him. He asked me questions until I was able to break the cycle. Eventually I realized I had just been talking circles around myself. Being around Carl helped me switch my brain on.
What have been some of your favorite music moments over the past six or seven years?
The moments I cherish the most are the times I've been on stage with people I love. When you're on stage with good friends, 90 minutes feels like a split second. I'm glad people take pictures.
You have released several singles and one full-length album, Average Jane. One of those singles, Church in a Bar, got some traction nationally in radio land, thanks to its being a really good song and thanks to some relentless work by you. What did you learn from that experience?
Thank you. I learned more about business/finance than anything. I learned that when someone really believes in you, they are willing to take the risk. There are plenty of producers out there who will charge me an arm and a leg and produce my record, but the catch is that they're doing it for everyone else, too. That works for some people, but this route would have been a mistake for me. And Carl kept me from making that mistake. My current producer has a philosophy for being in the business today: "Don't go into debt for this," and "Don't play with more than you're willing or able to lose."
From the recording, to the mixing, to the release and the work still going on behind Church in a Bar, everything was fast. There was no time wasted. I wrote it on a Wednesday, and I believe we cut it in Nashville that next Friday. I walked in, the band sat down, I put on the guitar, I played through the song, then we cut it live. It's an old-school approach and it turns out the old ways are the best ways sometimes.
I pulled this quote from your Facebook page: "I ain't buyin' my way in, and I ain't sellin' my soul." Care to elaborate?
My next record discusses this exact lyric ad nauseam. It means what it says. I'm not paying someone to write reviews about me, and I refuse to become someone I'm not for 15 minutes of fame. I want to see myself when I look in a mirror rather than a caricature.
And this from your web page, to Chris: "Baby, I may never make it, but I know we will." A life in music requires some serious sacrifices. How do you and Chris navigate all the demands?
I know I can speak for Chris when I say our marriage is our number one priority. When you both agree on that up front, you can give energy to a secondary thing like a career without it taking over your life in an unhealthy way. A partnership like that makes navigating the demands of this type of career much easier than if we were to attempt it alone.
How are you surviving the pandemic, personally and as a musician?
I am doing great. We left the city, and we live in a rural area now. Life is much more normal where we are. I drink coffee on a wrap-around front porch in the morning, pet stray cats, and read. Chris kept his job (thank you, Frank Hicks). I had a good job I was able to go back to, so I did; we weren't sure how things were going to go.
I am still working on the next record and we are pretty close to being done. I'm playing here and there and have noticed that the crowds are bigger, and people are actually buying more merchandise, so things are surprisingly stable.
I am happy for the support but I'm trying to be very conscious of the financial position many people have found themselves in. Continuing to promote a career in music, which I know is a luxury in the first place, seems trivial when people are losing their businesses, homes, and lives. But those same people have argued to me that music is what gets them through the difficult times. Seeing people forget about the world for 90 minutes is what made me decide to go back to work.
What are your favorite Covid-era binging exercises?
I watch The Office, and it's usually just on in the background if Chris is home and we are eating a quick lunch. When I've had the free time, I have been binging books. The Story of WWII by Donald L. Miller is fantastic. My eBay cart is full of antique American history books from the 1800s.
I've gone through a lot of books, but the one I've really binged on has been the Bible. I hadn't read it in years, and when I was in school, I was reading it from a historical perspective. I've been reading it from a personal perspective in search of stability. I'm trying to learn how to exist calmly and lovingly in a world that is chaotic. It's turned out to be a good book for that.
Give us your rosiest hopes and expectations for Sara Morgan in 2021.
I hope to have a piece of land in the middle of nowhere with a little house on it, and I hope to release a record that people can relate to. And maybe for Church in a Bar to become a bona-fide smash.
---
Want more Timothy Finn?
Check out his weekly online-only content, including his Top 5 Not-to-Miss Concerts in the metro and his revered, rollicking, reasoned reviews and commentary.
Email Timothy Finn at tfinn@inkansascity.com