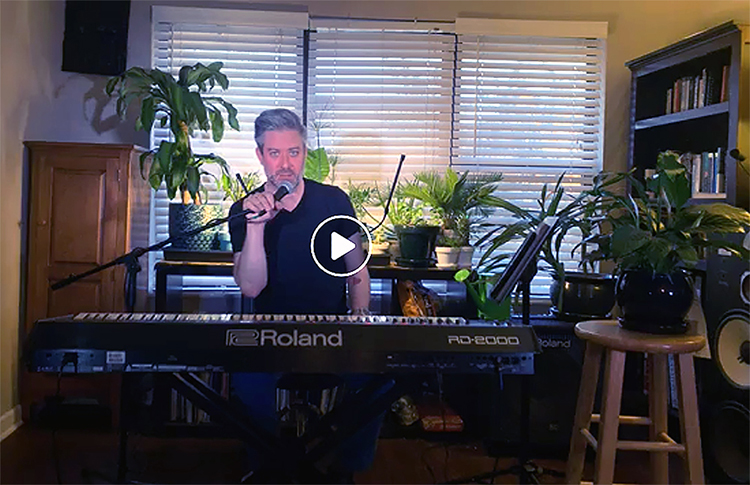 For nearly 20 years, music has been Mark Lowrey's sole source of income. As a solo artist, part of his own group, or a member of someone else's band (like the Barclay Martin Ensemble), Lowrey booked dozens of gigs each month, sometimes as many as three in one day.
When the COVID-19 pandemic shut down the Kansas City live-music world in March, he, like hundreds of other musicians, had to improvise and come up with ways to keep performing and sustain some income flow. His solution: Jazz and Plants, a regular live performance streamed via Facebook from his apartment. He charges no admission but accepts tips via a cash-payment app. It has been a tricky enterprise but one that has produced good results, so good that initially he was able to share some of his income with his regular accompanists.
"For the first weeks, my solo stream was successful to the point of my being able to pay bassists and drummers for the club work they were missing that I had hired them for," he says. "But as tips predictably average out much lower, I might not be able to continue that."
Another upside to these performances: He draws a wider audience.
"I'm noticing people who can't make it out due to their normal schedules, health concerns, or location are tuning in," he says. "I'm playing for my high school band director, my best friend in Tennessee, my elderly fan friends every night. It feels good to share something with them. I learned a Billie Eilish song for my niece. It is weird, and I'm learning as I go."
He is not alone. IN Kansas City asked a dozen Kansas City musicians to talk about how they are managing their careers from the confines of their homes and apartments. Responses varied.
Danielle Nicole Schnebelen, a Grammy-nominated artist from Kansas City, has hosted two ticketed events since the shutdown, including one from an otherwise empty Knuckleheads Saloon, a gig organized by the venue's owner, Frank Hicks.
"It was me, Brandon [Miller] and my brother Kris, plus Frank and a crew of two," she says. "We all kept our social distance and we each handled our own gear."
The results? "The experience was fulfilling and successful and also very, very odd. I knew we'd sold a few hundred tickets so there was an audience, but we basically performed a set in a venue that holds 700 people and was completely empty."
With his mother, Ruth, Madisen Ward has toured internationally as Madisen Ward and the Mama Bear. They had no immediate touring plans and have been focusing on writing new material, he says, but it's a bit unnerving not knowing if they'll be able to tour when the need and desire arise. His first online performance experience gave him hope, however.
"I have done one Instagram Live stream with the intentions of just noodling around, hoping to connect with folks however I could," Ward says. "Surprisingly, though, it quickly turned into a full-on performance. I began taking requests and actually shared a few tunes I had been working on. I enjoyed it more than I imagined I would, and I might try another one here soon."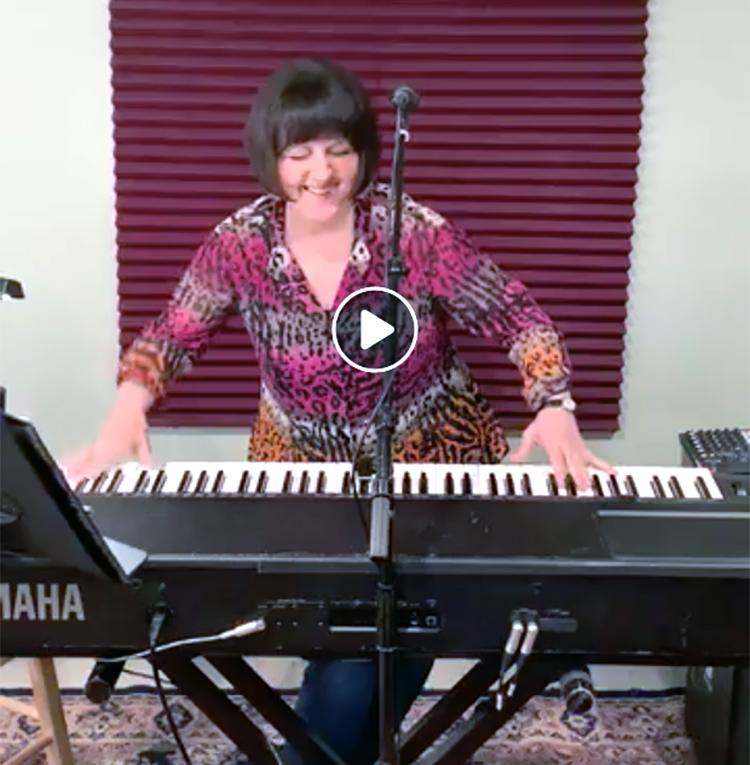 Soul/R&B singer Kelley Hunt responded to the shutdown by scheduling a weekly, one-hour Saturday evening Facebook performance for her fans, who have embraced the chance to see and hear her sing.
"We conceived it as a meeting place every Saturday where my fans and I could come together and share lots of music," she says. "They've been really successful. I've averaged over 9,000 views and over 500 comments, and the cool thing is fans are interacting with each other.
"It also gives me a chance to do a full-on show for my fans all over the world in places I haven't been to recently, or in some cases, have never toured."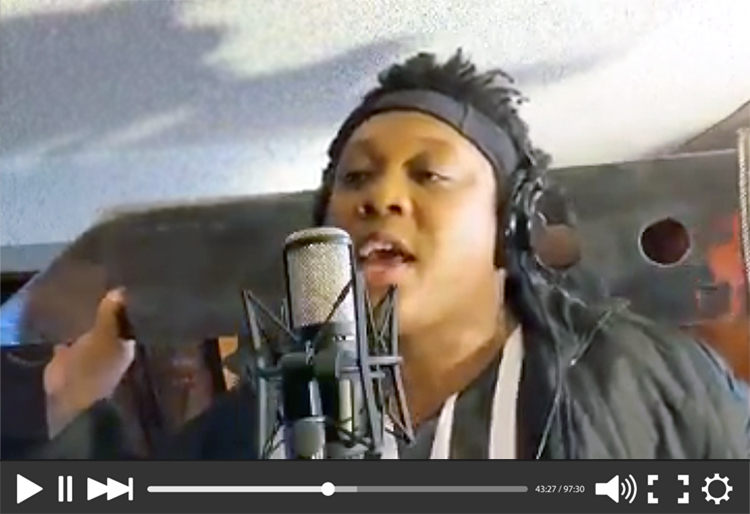 For Ryan Jamaal Davis, a musician and hip-hop artist who performs as Kadesh Flow, the stay-at-home order has provided an opportunity to work on his branding and create content he can issue regularly onto his online platforms and channels.
"I made my nerd-music-world bones on YouTube, releasing anime and video-game rap [videos]. Some of them went viral," he says. "That built the foundation that has led to me playing all of the conventions I play. I had been planning to return to that world, especially now that I have merchandise to which I can direct people.
"That initial content batch is a lot of work. But now I've got about two months of weekly drops batched out."
His goal: Stockpile a three-month supply of content and keep contributing to that so he can maintain a weekly "drop" schedule. Streaming live performances will be a secondary priority: "I want something that can turn into a long-term move from this, and the content-drop seems like the most likely option."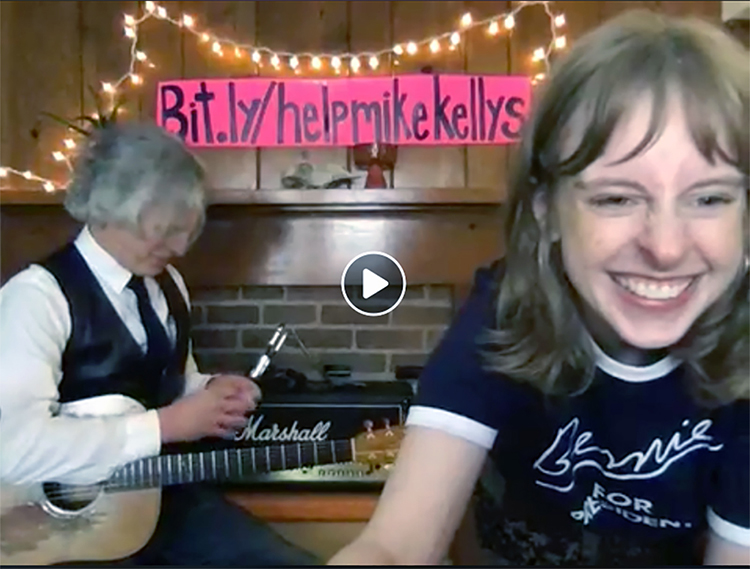 Others in the community have organized charity events for their fellow musicians and for the venues that have booked and supported them. In April, Una Walkenhorst and her father, Bob Walkenhorst [Rainmakers], held an online benefit concert for the staff at Mike Kelly's Westsider, where they'd performed regularly. They raised nearly $6,000. For Una, the experience was enriching in several ways.
"My dad and I were thrilled by the number of people who tuned in and incredibly moved by everyone's generosity," she says. "Friends as far away as Norway and Finland showed up to help out our little neighborhood bar. I mean, that's pretty wild.
"At the end, my dad and I were both surprised by how emotionally wiped we were. After not having that performer-audience exchange for a minute, experiencing it in this intense and concentrated environment was both special and kind of exhausting, in a really satisfying way. "
The event introduced a fresh experience to her father, who has performed live for decades, often before audiences in the thousands.
"There is a magic moment when you are set up in your little basement room and you click that 'go live' button, and you start seeing people joining in, watching and listening, and being so generous," he says. "Not the same as a good live show, but unique."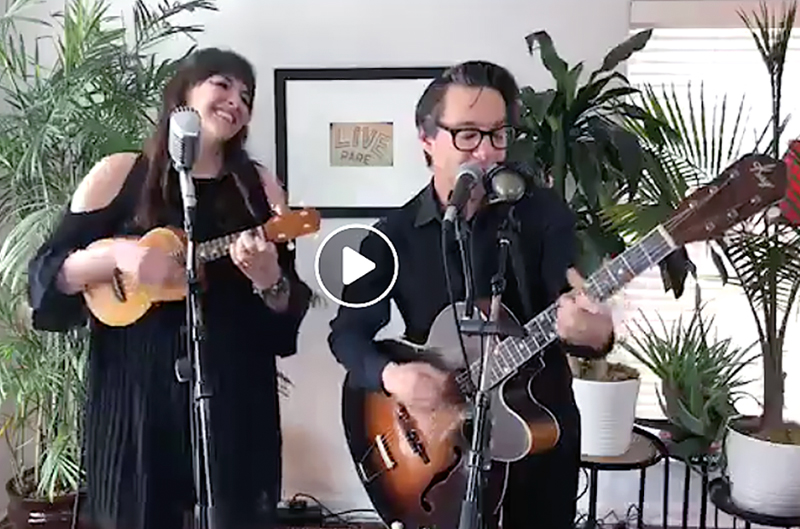 Jeff Freling and Erin McGrane, who perform as Victor & Penny, hosted a concert from their Kansas City home to raise money for the Midwest Music Foundation, which assists financially stressed musicians, particularly those facing medical debts and hardships. The event raised nearly $20,000 for the foundation, which, as of mid-April, had dispersed about $26,000 in grants to nearly 90 musicians.
"I loved the concert itself, and even though it was weird that there was no clapping and we were in our dress clothes in the middle of the day in our front room, it felt surprisingly comfortable," McGrane says. "Honestly, I had so much fun … We could see the comments and people sending us hearts and clapping hands over the internet. I felt very close to everyone."
Despite a few distractions, Freling says the show was an all-round success, for the foundation and for McGrane and himself.
"I tried to play as if we were performing an intimate house concert, of which we've done many over the years," he says. "The lack of audience reaction—interacting with people, seeing their faces, hearing them clapping or laughing—was difficult. The incoming messages were important but pulled focus. Plus, I was monitoring the live feed to make sure we weren't having technical difficulties. But regardless of all that, the energy we feel when we play together was undeniable, as it always is."
Many musicians in our town are missing more than income and live audiences. They are also missing one another. Zoom and other digital gathering sites aren't the same as real-time venues and rehearsal spaces. For Olivia Fox, an electro-folk trio built on a foundation of keen vocal harmonies, the physical separation is particularly difficult.
Olivia Fox vocalist Aubrey Callahan says, "Life separate has been really lonely. I can't wait to get together again. I've been trying to do vocal warm-ups regularly and have been trying to work on the piano that is accessible to me at a church next door."
Tiffany Smith, a registered nurse who is otherwise immersed in this healthcare crisis agrees. "I miss live performances—a crowded space with heads you can't see over, the smell of smoke, the sound of a train barreling through a song at Knuckleheads. Even the times when the person standing next to you spills their beer seem far less significant now because at least someone was standing next to you."
For Mikala Petillo, who performs as Miki P, the rewards of performing before live audiences have been difficult to replicate. "It's been tough completely going cold turkey," she says. "For me the stage is so therapeutic, as it is for so many musicians, and I really miss not only connecting with the audience but with the musicians I play with."
Her built-in remedy: Her live-in partner, Trevor Turla, a fellow musician who plays trombone with the Grand Marquis.
"We have a duo, Miki P & Trevor Turla. We've both been taking it day-to-day in a lot of ways, trying to adjust to teaching online and finding other ways we can make income during this time and probably the next year or so."
Roy "Sauce" Handy is a music educator at We Are Rap, a co-owner of the Rap Asylum and a member of the neo-soul/jazz ensemble NuBlvckCity. His approach was an online performance in which fellow musicians were also the audience.
"It was more a roundtable style that included conversation," he says. "Adjusting wasn't bad. It was just weird after being so used to being in front of people. I adjusted by making sure I performed interactive songs and also used the other musicians as my crowd. It worked fine, and I'm preparing for more."
Others are grappling with ways to reproduce online what they've been presenting live. For more than 20 years, Kim Stanton has organized the weekly Monday night Rural Grit Happy Hours at the Brick. Shepherding a dozen or more musicians on one stage at a well-equipped music venue is an ambitious and hefty chore in itself. Doing it online, with everyone in different locales, posed an even bigger challenge and a few unforeseen obstacles, technically and otherwise.
After a few missteps, she settled on Zoom, the video conferencing/webinar program, with mixed results.
'The first live Zoom performance provided more of a [Rural Grit Happy Hour] feel, and for the performers, when we were all on before the show—it was great. We were all talking at once, saying hi, catching up." she says. "But the performance sound was atrocious."
Mark Smeltzer, her partner and fellow Rural Grit organizer, reiterated what others expressed. What's been missing so far is the freewheeling camaraderie among musicians that's implicit in their weekly gatherings.
"Musician interaction is a big part of the Rural Grit Happy Hour. Getting to play with others in a spontaneous way has been the glue that held everyone together." Smeltzer says. "The most elegant monologue is nothing compared to a simple conversation when music is the language."
Stanton figures there's someone out there who can remedy their problem, if one hasn't already.
"I hope that some really savvy computer programmers figure out how to make [what we need] possible and create a new app. Pretty optimistic that this will happen before the COVID-19 experience is all said and done."
In the meantime, she says, "We will continue to have something online for the RGHH each Monday."
Likewise, Lowery will continue to perform from the confines of home five or six nights a week, for himself as much as for his loyal audience. "It is something I look forward to. It's a reason to play the piano, to take a shower. I am lucky to be able to play right now. It makes me feel like I'm doing something."
---
Want more Timothy Finn?
Check out his weekly online-only content, including his Top 5 Not-to-Miss Concerts in the metro and his revered, rollicking, reasoned reviews and commentary.
Email Timothy Finn at tfinn@inkansascity.com