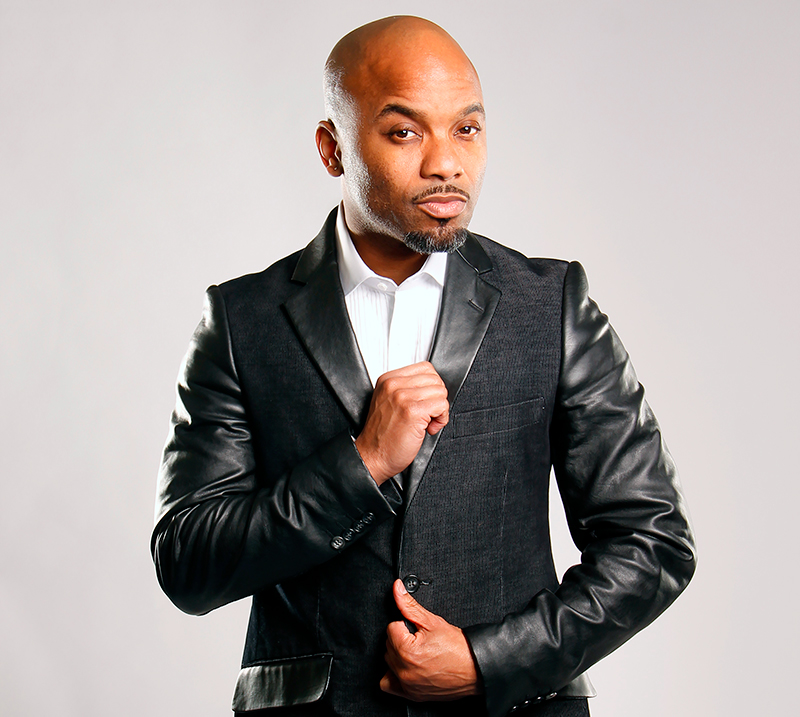 No one who knows Lee Langston or has seen him perform could have been too surprised in March when he announced he'd been selected to fill the Friday night residency at the downtown music club The Phoenix, a gig held for more than a decade by Kansas City legend Lonnie McFadden.
Langston, who was born in Tulsa, Oklahoma, but raised in Kansas City, has been performing professionally in a variety of roles since his early 20s. About a decade ago, he made his first big splash in our music community by organizing a tribute show to Lauryn Hill, a show that filled the now long-gone Crosstown Station and led to successful tributes to other music superstars.
A 1995 graduate of the Paseo Academy of Fine and Performing Arts, Langston is best-known for his music performances, but he is a multi-faceted and -talented entertainer who uses his public platforms to raise awareness about a variety of issues, especially racial and social injustice.
He recently answered questions from IN Kansas City about his upbringing, his music inspirations, other professional experiences (including a role in the 2000 presidential election), and his perspective on the rise of social justice awareness in the era of Black Lives Matter.
What was your childhood like? What do you remember most about it?
I spent my childhood surrounded by love. I was a shy kid until middle school; from middle school and beyond, I was one of the "popular kids." However, I operated in it differently: Instead of being the mean popular kid, I held space for everyone.
I had a very diverse, tight-knit group of friends. Most of us are still very close. My best memories were centered around all of the ways our individual families fostered this wonderful village. Most of the parents were heavily involved in making sure we had great experiences growing up. Our households all represented something different as far as class, religion, and marital status, but we never operated as if there were any differences. We learned from our differences.
Tell us about your family, your nuclear family and extended family.
I came up in a single-parent home with an amazing mother. My father had been married several times, and as a result of this I was given a very unique family dynamic. With each sibling that was born, all of the mothers in my tribe made a choice to keep the children close to each other in one way or another. I grew up being close to not only my immediate family, but also my stepmothers' family and all the branches of their families.
When were you first aware of and attracted to music?
I always had a love for music. I had musically inclined relatives on both sides of my family. My grandfather on my dad's side was a pastor, so music and church went hand-in-hand with that side of the family. Also, my grandparents on my mother's side were performers.
Around age 13, I started to truly realize my love for singing. However, I was extremely shy. I sang around the house, but I wasn't ready for any public consumption. I didn't really start singing publicly until my late teens at my family church, St. James United Methodist.
Who were your earliest music influences? What about them captured your attention?
My mother raised me around jazz, gospel, R&B, and all of the soul music sub-genres: the Hawkins Family, Roy Ayers, Michael Franks, Spyro Gyra, Minnie Riperton, and many others.
The ability to make such beautiful sound with the voice has always captured me, almost putting me into a trance. It could be a female or male voice, a high voice or a low voice; it didn't make a difference. Certain textures of voice spoke to me. I was rarely drawn to music-industry norms or the most popular norms. I just liked what I liked. I was probably considered an oddball by my classmates for some of my tastes in music, but it definitely benefited me later in life.
What was the first record/album you owned?
The very first record I ever bought was the 45 single of Purple Rain by Prince, and, of course, the vinyl was purple.
When did you first start performing?
I started performing in my early 20s. I was a member of several different local "boy bands." I remembered always having extreme stage fright then. Later, I learned the art of connecting with my audience.
Did you have interests other than music?
For the most part, growing up I was an art/music nerd. I loved photography, visual art, performance art, and modeling. My junior and senior years in high school, Hallmark Cards purchased and used one of my photographs to use on the cover of one of their cards on the Mahogany line. Also, I used to do print-work modeling as a side job.
Describe one or two breakthrough moments for you as you pursued music as a passion/profession.
There are many. Two come to mind. First: When Bob Kendrick, president of the Negro Leagues Baseball Museum, asked me to pull together a team of musicians and singers to perform for country music legend [and former Negro Leagues pitcher] Charley Pride. He was receiving the Jackie Robinson Legacy Award. We all stood before Charley Pride [in April 2013] and performed some of his original music while he looked on. When the show was done, he walked up, shook my hand, and told me he enjoyed my rendition of his music. I was so relieved. It was the first time I had performed country music publicly.
The other was shortly after Kansas City received its UNESCO City of Music designation [in fall 2018]. I was contacted by Anita Dixon to locate musicians and lead them on her behalf to Chiapas, Mexico, to do a cultural exchange during Dia De Los Muertos (Day of the Dead). It was an amazing experience I will never forget.
What have you done for employment outside of music?
I have worked in many fields: banking, home mortgage, and politics to name a few. I previously had a job working for the Florida State Legislature in the very district where the infamous ballot issues played out during the 2000 presidential election, and I watched the madness play out first-hand.
You have organized and produced several tribute shows to music legends. How did that get started?
I always had a desire to put together shows that reflected the artists I enjoyed most, but at first, I wasn't quite sure how to execute it. I was invited to perform as a vocalist in a hip-hop tribute show produced by Les Izmore, where he paid homage to Common's Like Water for Chocolate.
After that, I was able to better determine how I wanted to format my own shows. I started with my first actual breakthrough moment in the city, around 2010-11 when I did my first self-produced show: A Tribute to Lauryn Hill at the former Crosstown Station.
I pulled together a large ensemble of the city's well-known singers, spoken-word artists, and musicians. It ended up being a sold-out, standing-room-only show and started the buzz and established my following. Since then, I have produced about 60-plus tribute and theme shows.
The other tribute shows I have enjoyed the most paid homage to legends like Whitney Houston, New Edition, and D'Angelo. What I loved most was putting together costumes, settings, and dance steps that were conducive to the feeling of the music.
What do you learn from immersing yourself deep in the music of the masters? How does it change you as an artist?
It has taught me to always express art in my highest form of authenticity. Even if I'm interpreting art created by someone else, I do it my own way. When you think about it, most of the artists that we consider to be masters were those who were fearless when it came to self-expression. I always show up as myself at every show. I am the same on and off stage: no alter-ego, no facade, always me. This has worked for me since Day 1.
What music legend, dead or alive, would you most like to meet and collaborate with?
There are many, but my first choice would be Donny Hathaway. There is a conviction attached to his music that I can't describe. Also, I've always loved performing his music.
I'd like to talk about racism and social justice/reform and Black Lives Matter, issues that have become widespread and prominent over the past several years. Describe your involvement. How have you expressed your voice?
I have always used my stage to affirm, educate, and open dialogue on the challenging discussions around equality. Also, different community organizations have brought me in over the years to produce shows around social justice. Not long before the pandemic, I was brought in by Communities Creating Opportunity to produce a show that centered around civil rights in Kansas City. This organization's mission is to "organize communities for racial justice and social change."
What is your reaction to what has transpired so far?
I am glad to see steps that have been made, however I do still feel we have a long way to go and I will continue to do my part.
Has any of it inspired hope in you?
I wish I could say that there has been a consistent feeling of hope, but that wouldn't be true. There are days where I am able to hold on to hope, and other days when I'm simply exhausted. There is a level of perpetual trauma that comes along with the Black experience. Sometimes we have to shut the world out in order to keep our sanity, and only after that are we able to continue doing the work. I'm a very spiritual person, so I do regular meditations around my own Black experience. That helps me to keep a positive outlook.
What do you think most needs to be better understood?
First: "Black Lives Matter" is actually an affirmation. I repeat, an affirmation.
It doesn't need to be edited, modified, revised, reworded, or adapted to make anyone else comfortable. Just let it be an actual affirmation of Black Life. This doesn't erase anyone else's existence; however, it does give consideration to include ours.
It also admits to an awareness that the race hierarchy actually does exists. Once that part is done, look in the mirror and ask yourself: "Are you going to contribute to the betterment of actual equality—or are you going to be complicit?"
What racial obstacles or biases do you confront?
For people in my community, it happens so much that none of us are shocked when we experience it. One of the things that doesn't get talked about enough is how much racism and colorism actually play out in many of Kansas City's music spaces, especially in music and art spaces where races intersect. I have had my share of bad experiences surrounding race in the city. I have filled up space after space with sold-out shows over the past decade, only to learn that in some of the performance spaces, my fans and supporters were not treated well.
I have performed for well-known collectives and had to explain to the band owners that it still isn't safe for Black people traveling through "sundown towns" after late-night shows in remote locations. To that I received insensitive responses. Sundown towns still exist in 2021; I recommend everyone look it up.
In recent years, I did a regular stint with a venue inside one of the city's boutique hotels. The booking agent that brought us in believed in inclusion and happily added my band and several other diverse bands to the schedule. The moment the agent left to further their career elsewhere, all of the Black artists were immediately removed from the calendar.
For months we inquired about continuing on the performance schedule, but none of our calls were returned. Upon deeper research, we even learned that the venue had been participating in "erasure" whenever they advertised Black performers on their social media. "Erasure" is when someone advertises or promotes a Black artist, then intentionally replaces (images of) the artists with pictures and scenes that target only a white demographic.
This is a divisive marketing tactic that keeps people from knowing what to expect before they arrive. None of us even knew this had been going on. After months, I was finally able to get a return email from management to discuss this. No sincere apology was offered. Just a template "corporate" response, and no real accountability.
I find it hard to say whether things are really improving. Over the past couple of years several venues in the city have been called out on this type of behavior, but it just repeatedly gets swept under the rug. We have even seen recent articles written where venue owners have openly admitted their clear biases against the Black demographic and spoken of the things they've put in place to keep Blacks away.
Over the past decade, I have had to end working relationships with several venues and organizations over that type of behavior.
You were recently named Artist in Residence at the Phoenix, following in the footsteps of a beloved Kansas City artist, Lonnie McFadden. Talk about what that means to you and what your plans are for that role.
It is an honor to be following in the footsteps of Lonnie McFadden. If I'm not mistaken, he has performed at this venue for nearly 15 years. I spoke with him before my residency began, and he gave me advice and expressed joy in knowing that I had been chosen to fill his spot. That meant the world to me.
Some people don't realize that Lonnie McFadden has done so much with art activism deeply rooted in Black culture by creating spaces in which people of all races and backgrounds can sit in one space together and enjoy music. He has laid down an amazing framework for this. I will always honor him for his work.
I plan to add my own unique style of entertainment to the Phoenix. For many years I was pegged as a neo-soul performer, but I just have a deep love for the genre. I am actually a multi-genre artist.
One of the reasons I love performing at the Phoenix is because it is among the small group of venues west of the redline—Troost Avenue—that actually represents true inclusion. That has been consistent in my experiences over the past couple of years. This inclusion includes both the patrons and the staff. I have many different demographics that follow me as far as race, gender, religion, orientation, class, and I have enjoyed seeing them all in one room enjoying music as a universal language.
What other music endeavors do you have in the works?
I am working on my original music to be released this year, more themed shows, and also the official launch of my accessory line, Stardust & Stones.
Finally, talk about Kansas City and what living and thriving here as a music professional means to you.
Kansas City and its music community have supported my art in large numbers for many years. I have an amazing hub of artists that I work with. Some of them are mentors; some are mentees; all of them are my music family. I consider it a blessing to do what I love for a living, and I am eternally grateful.
---
Want more Timothy Finn?
Check out his weekly online-only content, including his Top 5 Not-to-Miss Concerts in the metro and his revered, rollicking, reasoned reviews and commentary.
Email Timothy Finn at tfinn@inkansascity.com