The world of live music in 2022 isn't where it was in 2019, before Covid and the pandemic, but it's significantly closer than it was a year ago. The summer of 2021 was a tide of shows being scheduled, canceled, and/or postponed—a mix of hope, joy, frustration, and disappointment. A year later, the waters have settled, and the industry, the performers, and the fans appear to be in full-steam-ahead mode.
The summer 2022 music season in Kansas City looks vast and bright, especially at the outdoor venues, which get to indulge in the warm (or steamy) temperatures, the balmy breezes, and the star-spangled skies. Here's a look at what's going on at the largest of our outdoor music venues, where the calendars are percolating with concerts. Almost feels like old times again.

Azura Amphitheater
The stalwart amphitheater west of the Kansas Raceway in Bonner Springs has gone by many names for four-plus decades, referencing banks, hospitals, and cellular companies. But many still call it by its birth name, Sandstone. Over its history, it has presented some of the greatest artists and moments in music history: Bob Dylan, Tom Petty and the Heartbreakers, the Eagles, Z.Z. Top, Metallica, Public Enemy, Foo Fighters, Smokin' Grooves Tour, Lollapalooza, H.O.R.D.E., Ozzfest, Lilith Fair…
This year's lineup was still coming together at press time, but it already bears a heavy '90s flavor: It opened on April 22 with a classic hip-hop event: Snoop Dogg, Ice Cube, and Warren G. Summer shows include Slipknot with Cypress Hill (June 7), Incubus and Sublime with Rome (August 12), and Shinedown (September 3). Country fans take note: Cody Johnson performs on June 23, and on September 9 the lineup includes Sawyer Brown, Neal McCoy, and the Bellamy Brothers.
For a complete schedule and ticket information, visit azuraamp.com.

Grinders KC
Like Lemonade Park (see page tk) this venue started in an open lot next to a bar and restaurant, Grinders, but on the east side of the Crossroads District. Back then it was called Crossroads KC. It has evolved from an austere standing-only joint into a fully appointed music venue with some reserved seating, a VIP area, and a world-class stage and sound system. Plus, of course, it offers access to the food and beverage menus in Grinders. A change in name and management hasn't changed the venue's mission: to present some of the biggest names in music.
This summer's highlights include the two-day Bluegrass in the Bottoms festival, featuring Railroad Earth, Sam Bush and Yonder Mountain String Band (May 20-21), Modest Mouse (May 24), the War on Drugs (June 5), Fitz & the Tantrums with St. Paul and the Broken Bones (June 21), Sheryl Crow (July 21), and The Decemberists (August 13).
For a complete schedule and ticket information, visit grinderskc.com.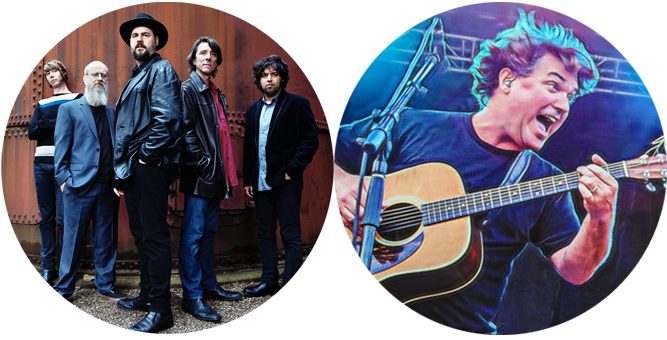 Knuckleheads Saloon
The juke joint/roadhouse/honky-tonk south of the Missouri River and north of the railroad tracks in the East Bottoms has become a sprawling live-music compound, one with five venues, including the spacious outdoor stage, with table seating, bleachers, and a balcony.
Big names on the 2022 calendar include The Mavericks (May 13 and 14)—always a great show—JJ Gray and Mofro (June 4), Billy Bob Thornton and The Boxmasters (June 10), Drive-By Truckers (July 16), Keller Williams (July 23), and The Rainmakers (August 27).
For ticket information, visit knuckleheadskc.com.

Lemonade Park
The newest of Kansas City's outdoor venues was born of necessity. Or of the adage: When life gives you lemons, make lemonade. In the midst of the pandemic, Steve Tulipana, co-owner of the music venue RecordBar, and Wes Gartner, owner of West Bottoms restaurants Voltaire and Golden Ox, devised a plan to turn the lot south of Voltaire into an outdoor venue that could safely present live music and serve food and beverages. The plan worked so fabulously, Lemonade Park is now a permanent fixture in the ever-blossoming arts and entertainment hub that is the West Bottoms.
The 2022 lineup is stocked with many of the elite bands and singer-songwriters in our region, like The Grisly Hand, Grand Marquis, The Freedom Affair, The Black Creatures, and Carswell & Hope, plus a few national touring acts, including Strand of Oaks (May 13).
Other highlights include on May 28: Found A Job, a stellar Talking Heads tribute band,  along with Subculture, a New Order tribute band. June 24: Ayllu: Latin-American Music Night, which will include a "special menu" via Gartner and Voltaire.
For a full calendar, and ticket information, visit lemonadeparkkc.com or the venue's Facebook page.

Starlight Theatre
The crown jewel of outdoor entertainment venues in Kansas City, Starlight in 2022 has reignited and resumed its role as a live-music mecca, locally and nationally.
This summer's concert schedule is stocked with all-stars, legends, and elite bands and performers, starting with Phoebe Bridgers (May 31), Haim (June 4), and Lord Huron (June 5). It continues with top-shelf shows from Bon Iver (June 15), Blue Man Group (June 24-26), Brandi Carlile (July 6), Chris Isaak and Lyle Lovett (July 7), Earth Wind & Fire (July 12), Maren Morris (July 21), Josh Groban (July 22), Bonnie Raitt (August 6), and Alicia Keys (August 24). And for the classic-rock fans: REO Speedwagon and Styx (June 14), and Chicago and Brian Wilson (June 20).
For a complete schedule and ticket information, visit kcstarlight.com.
Crown Center
After a two-year hiatus, Boulevardia (June 17-18) has returned en force at a new locale. After several years in the West Bottoms, the beer, food, and music festival has moved east and south. And it has unleashed a massive lineup comprised of more than five dozen acts who will perform on five stages. Headliners include Jenny Lewis, Nathaniel Ratliff & the Night Sweats, Dayglow, Valerie June, and Dashboard Confessional. The lineup also includes local and regional titans and heavyweights like Radkey, Calvin Arsenia, The Phantastics, Frogpond, and Summer Breeze (a yacht-rock/soft-rock tribute band).
A variety of ticket packages are available. For information, visit boulevardia.com.
One of the world's biggest and best Irish music festivals, Kansas City Irish Fest (September 2-4),  is celebrating its 20th year, and once again organizers have assembled a world-class lineup of performers who represent a wide array of music styles. Headliners include Gaelic Storm, Young Dubliners, Enter the Haggis and, from Kansas City, The Elders, who will reunite for another Irish Fest and to pay tribute to their late bandmate, Steve Phillips.
Music starts at 5 p.m. Friday and 11 a.m. Saturday and Sunday and goes until 11 p.m. each night. A variety of ticket (and hotel) packages are available at kcirishfest.com.