Even before he succeeded Frank Byrne as the Kansas City Symphony's executive director July 29, Daniel Beckley was working behind the scenes. This season hasn't even started, yet he and conductor Michael Stern were already looking ahead to programming the 2020-21 season. Beckley comes to Kansas City after stints with the Charleston (S.C.) and Indianapolis Symphony Orchestras, and when you meet him for the first time, Beckley's passion for symphonic music is unmistakable, the seeds of which were sown by his background in trombone performance and seeing the Baltimore Symphony Orchestra perform.
"It's so exciting to be able to go through the repertoire and say I'd like to do this because we haven't ever done it before," says Beckley, who hails from a rural community outside of Williamsburg, Virginia."There is so much that we haven't done. Kansas City has never done Berlioz' Roméo et Juliette, for example. It's a surprising list."
But we're getting ahead of ourselves here. Opening weekend for 2019-2020 is Oct. 4-6, and it's packed with great music, starting with Jean Sibelius' famous Finlandia and closing with one of Bedrich Smetana's symphonic poems from Ma vlast, Blanik.
"It's so special," Beckley says of opening weekend. "Having the orchestra play the national anthem, for example, which we only do the opening weekend. I think it's just a great sense of, here we go! Finlandia is one of the most hummable tunes you can imagine, one of those tunes that you'll be singing on your way home. And the Smetana that we're doing is similar."
IN Kansas City got to know Beckley a little more three weeks into his new job, and he says he was fully aware of what the Kansas City Symphony had already achieved.
What were the things that jumped out at you about the orchestra and the organization itself as you were being walked through the interview process?
"I've been following this symphony since 2011. With the opening of the Kauffman Center, it was receiving national attention, and I had my eye on it. I had the opportunity to come here for the first time in 2014 when I was GM at the Indianapolis Symphony. I came here with [Indianapolis Pops conductor] Jack Everly in 2014, and there was something about this city that really clicked with me. That's the opportunity that I had to meet Frank for the first time in this office, sitting where you are and talking to him about the symphony. The years between 2011 and 2014, the symphony had seen huge success, and in the time since 2014, the symphony has seen huge success. It's unparalleled. I can't cite another organization in our industry that has seen that kind of growth in that short amount of time. It's not a flash in the pan. It's not one big gift that they're spending and now there's nothing left. They've put in place a really solid financial platform to build artistic growth."
What fueled your love of music in the first place? Did you play an instrument at an early age? Was music being played around the house?
"My dad was a professional trombonist. He came up in the rock fusion sort of thing that was happening with Chicago, and so he had a little rock-and-roll band that was along those lines. My mother was a music lover, and she made sure that music was always in the house, so we kids were immersed in it early. I started listening to my dad warming up on the trombone as early as I can remember. So when the opportunity came and I was old enough—and I could reach the slide positions—he set me up on the trombone and then I went all for it. I pursued trombone pretty vigorously in high school, composed music while everybody else was playing sports—the geeky kid. But I had a lot of fun with it.
Along the way, I got interested in music performance and wanted to focus on that, so that's when I went to Northwestern and did trombone performance and went on the audition circuit."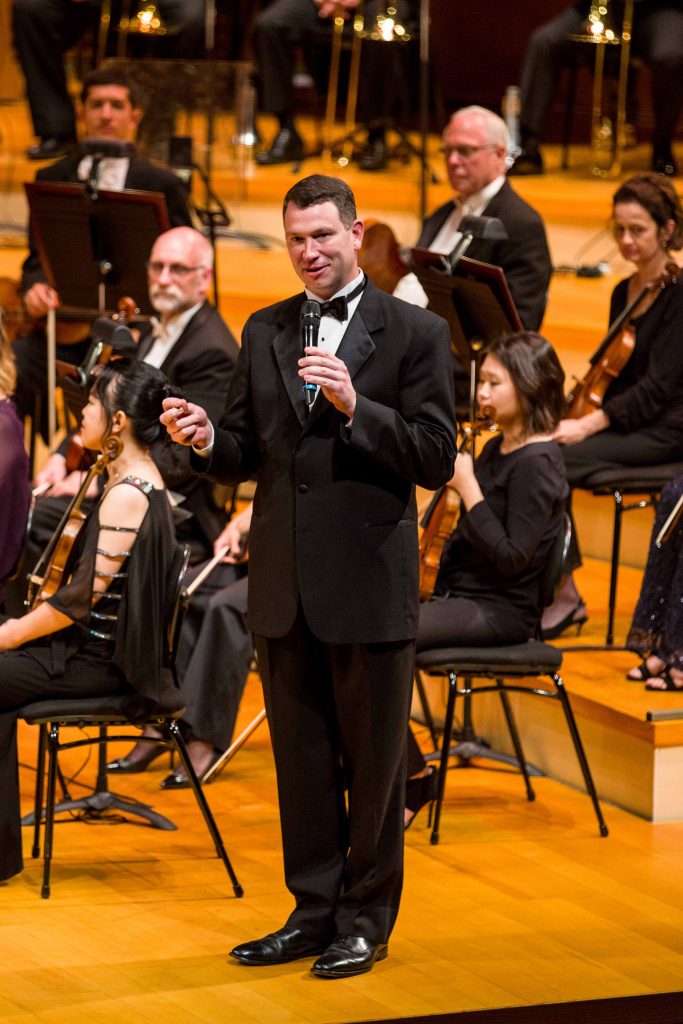 What long-term priorities do you have with the orchestra?
"We have achieved such great things as an orchestra. This orchestra is probably one of the best-positioned in the country to really do something special. So it's a question of what is that special thing? Do we want to become one of the most significant orchestras in the country in service to our community? I think we could.
I've been reading a history of the Cleveland Orchestra, and it's funny because the Cleveland Orchestra was a late bloomer. The Chicago Symphony and the New York Philharmonic were coming into Cleveland and playing concerts since Cleveland didn't have an orchestra of its own. Then the Cleveland Orchestra takes shape and eventually it becomes arguably one of the very best orchestras in the world. It's remarkable to me that one of the late bloomers can achieve that status in a fairly short period of time. And as for the Kansas City Symphony, I just wonder. We have the financial foundation. I think we have the civic ambition. And we have the hall, which is part of the instrument of the orchestra. To what level could we rise? I think it's more than we might assume it is."