Earlier in July when the big four—the Kansas City Ballet, Kansas City Symphony, Lyric Opera, and the Harriman-Jewell Series—announced they were canceling or postponing programming through the end of 2020, many of the metro's arts organizations faced the same issues with a variety of reactions. Here's how four responded.
Stage Fright
Whoever coined the phrase, "The show must go on" never witnessed a citywide shut down due to a pandemic. The stay-at-home mandate hit the arts community especially hard. By March, stages went dark. Art galleries closed. Performances were canceled. And scheduled fundraisers were sidelined. 
The handful of arts groups profiled here represents dozens more throughout Kansas City. People in leadership roles admitted to initial emotions of feeling gobsmacked, depressed, angry, frightened. 
But without exception, each one interviewed began making immediate plans to connect with artists, audiences, subscribers, members, and supporters through "with a heavy heart" emails, phone calls and socially distanced ad hoc meetings. Unlike other tough times many had endured before, this catastrophe had the additional stress that no one knew when it would end. Two weeks? Two months? A year?
Yet one thought, one rallying cry was echoed by all four organizations: learn to pivot. Fast.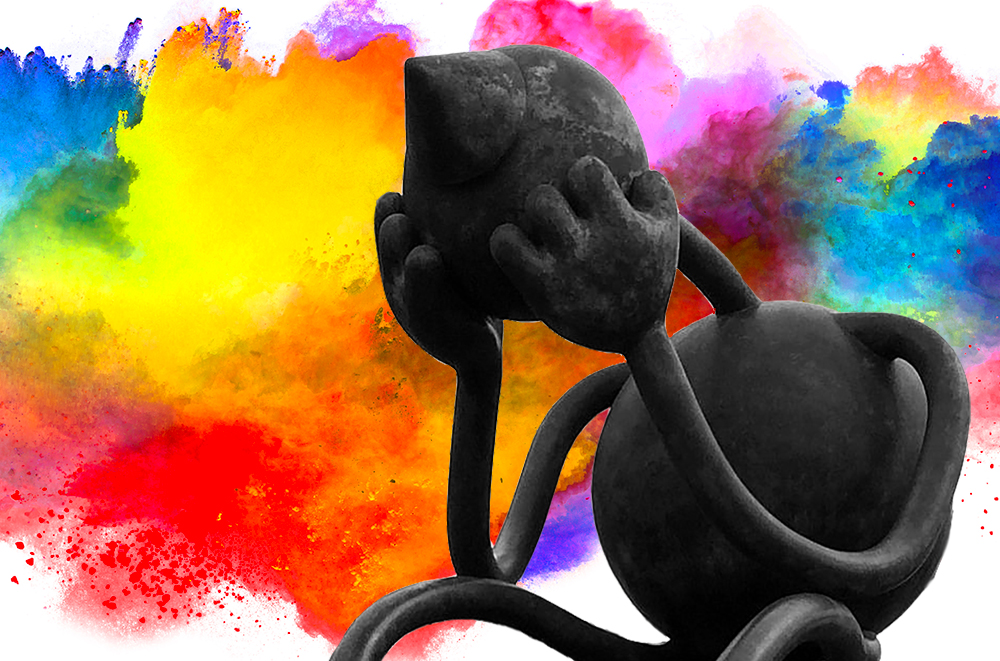 Kemper Museum of Contemporary Art
"If I never hear that word again, I'll be happy," says Breeze Richardson, who became Kemper's director of marketing and communications three years ago. "But there it was. After realizing we had to shut our doors without knowing when we could reopen, we began to pivot, rethink our roles, and retool how we communicate with our varied audiences. 
"For instance, a week after we closed, Jessica Thompson-Lee, our creative engagement manager began uploading 'Virtual Playdates,' short, fun, step-by-step videos of art projects to do at home inspired by the museum's permanent collection." 
The museum's popular weekly event, Scavenger Saturday, added a home addition and encouraged players to post photos online. Artist-talks videos became available, including newly published conversations from the archives. Docents gladly took to Facebook with #EyeOpener, personal thoughts of favorite pieces from the permanent collection, which garnered more comments than anything else posted in the last three years. The Mystery Art Challenge became virtual, with kits distributed to 100 participants to play along at home; July's version sold out in 24 hours. And the museum's gift shop added facemasks to its textile section. 
As anyone who's ever attended Kemper's annual gala with 500 wall-to-wall revelers dressed to interpret that year's theme, it was evident the 2020 version couldn't be an in-person event. "We're lucky to have chairs who understood the need to—there's that word again—pivot to turn this year's party into a celebration for supporters, whatever form it takes."
While details are still coming together at this writing, Richardson promises it will be as amazing as ever, noting that long-time collaborator Chadwick Brooks is involved, and will include a special thank-you gift for "ticket holders."
With her typical enthusiasm, Richardson has found the last few months energizing rather than defeating. "Everyone here saw this not as a setback but an opportunity for growth. Nothing was seen as a Band-Aid, but as a new way to reach existing audiences and bring in new ones. 
"Going forward, we'll keep expanding several of these new ideas in our quest to inspire and educate our community through art."

InterUrban ArtHouse
Like Richardson at Kemper, Angi Hejduk, InterUrban ArtHouse's CEO, viewed the shutdown as an opportunity to reach the community through new ways. As part of the trio (including founder Nicole Emanuel and Wolfe Brack) running the Overland Park event space and programs to support and advance artists, Hejduk admits to an initial feeling of dread of the unknown. 
"But," she says, "there was never the thought of pulling the plug here. We have people depending on us, including 25 studio artists."
The ArtHouse @ Your House became a free live-stream series to inspire and offer a sense of community during a time Hejduk says can be isolating for artists in particular. IUAH had to quickly evaluate how to make its four key programs accessible: ArtMatters, for artists and entrepreneurs to develop skills and participate in discussions; ArtWorks, to help artists learn and manage business strategies; ArtsConnect, a community engagement program; ArtSmart, providing arts programming in several Shawnee Mission School District's public schools; and ArtHeals, offering a safe environment for sharing and creating through art activities. 
Rather than hosting in-person classes, ArtWorks has transitioned to Zoom, with individual consulting time available via phone calls. The IUAH team will reevaluate class-based programs this fall; if held on-site, classes may be spread out with fewer participants at one time. 
One of the most successful new online offerings is Lost & Found, a five-part interactive film series that addresses solitude through dance and music. Each weekly film was co-hosted by other arts groups, including the Charlotte Street Foundation and ArtsKC. 
That collaborative experience is one reason Hejduk is excited about the future. "We all realized, more than ever, that we're stronger together. Johnson County Community College's Carlson Center reached out within days to ask, 'what do you need?,' and volunteers came forward to offer assistance."
Hejduk experienced her own personal revelation during these months. "My pat answer to 'how are you?' was always, "Busy!,'" she says. "Suddenly, I had a minute to be more thoughtful, more aware." 
She also discovered a silver lining to making more IUAH programs and artwork available online, and that's being more accessible to the disabled community. "It's humbling to understand their needs more than ever," she says. "That connection is just one reason we'll look for other ways to communicate to a more diverse and wider variety of audiences going forward." 
Hejduk notes another upside from a more robust and engaging online presence. "We've quadrupled our audience lately, not just in our immediate community but around the world." She hopes that translates to more donors to support programs that in turn support and encourage artists.

Kansas City Friends of Alvin Ailey
There it is again—pivot—in a glossary of dance moves. So it's no surprise that the Kansas City Friends of Alvin Ailey was able to swiftly shift programming from studio classes and workshops to online offerings. 
As the official second home of Alvin Ailey American Dance Theater, KCFAA makes dance accessible to all people. At its core is teaching young people not just dance moves, but critical life skills, including self-esteem and critical thinking. Each year, the organization reaches more than 25,000 young people through ten programs. 
Soon after the doors were closed due to the pandemic, KCFAA instructors began offering classes online. While returning students knew they would miss the personal interactions Ailey Camp provided, this was a chance to challenge themselves in new ways as front rooms became studios with instructors like Kennedy Banks leading young dancers through a warm up followed by a dance routine via iPads. 
While granting the coronavirus has taken away some of the important elements of face-to-face interactions of summer camp, KCFAA artistic director Tyrone Aiken hopes the new online tools will reach a wider audience in the future. 
Aiken is doing his part to encourage people to get moving even while sheltering in place with his "Take 5 with Ty" online video series. In the first one, he and three others danced around the kitchen table to OutKast's Hey Ya, picking up a bottle of Lysol spray and hand sanitizers to shake along the way. Other videos focused on balance and movement. 
And while KCFAA's popular annual gala featuring performances from Ailey II had to go virtual this year, the May 2 event was a success. Viewers were treated to presentations and performances by AileyCamp the Group and gala honorees, and full-length choreographies produced by France.tv. 
Throughout the closures and postponements, KCFAA's CEO Melanie Miller reminds its patrons and supporters that, as a non-profit, it depends on the public's generosity to continue to deliver programs that have a positive impact on our youth. For instance a $100 donation funds a workshop for 30 students. And, she notes, in today's environment, reaching out to our underserved community is more vital than ever.

Heart of America Shakespeare Festival
"Was I sad when I realized we wouldn't be able to present The Tempest in Southmoreland Park this summer? Of course," says Heart of America Shakespeare Festival's executive artistic director Sidonie Garrett. "The conversation with the crew and actors was one of the most painful things I've ever done.
"But at the same time I'm hopeful for the future. That's the only way I know how to be." So don't call it a cancellation; it's a postponement until 2021. 
In the meantime, HASF's other programs continued, including Summer Camps, which became virtual. Through interactive live sessions and individualized coaching, students ages 5 to 18 learned crafts and storytelling, presentation skills and language arts. 
Garrett's grit may come from the fact that the organization has faced financial trials throughout its 29-year history. "We came close to closing several years ago and the community came to our aid," she says. "We're lucky to have that support, and that of our incredible board of directors and staff.
"We'll keep moving because we know next year's festival will be better than ever. Just think: we have even longer to get the costumes and staging just right." 
Donation options include membership in the Free Will Society, the Marilyn Strauss Legacy Fund, named after HASF's late founder, and by purchasing signature T-shirts.