If you've ever wanted to do yoga in the quintessential perfect venue, may we suggest Yoga at the Kauffman Center? Yes, you read right. It's an opportunity for you to get your Zen on in Kauffman's glorious, spacious Brandmeyer Great Hall.
Two fall dates are currently available, Saturday, October 27 and Saturday, November 10. Guests can attend a class that suits their level of yoga experience. There will be two 60-minute sessions in each day, at 8:30 a.m. and 10:30 a.m.
The early classes will feature an intermediate vinyasa flow while the late classes will focus on yoga foundations for beginners. (And while we mentioned "currently available", that's code for "y'all better get signed up when tix go on sale this Friday." The last series of Yoga at the Kauffman Center sessions in fall 2017 and spring 2018 were sell-outs. There's a limited number of approximately 100 patrons in each class.)
Co-sponsored by Saint Luke's Health System, each session will be led by local yoga instructors Stacey Knoell in October and Jesse Davis in November. Local artists Amado Espinoza and Karen Lisondra will provide relaxing instrumental accompaniment for the October classes, and handpan musician Rick Kloog will accompany the November yoga sessions.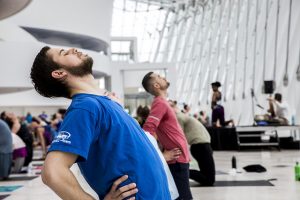 "The opportunity to teach at Kauffman Center for the Performing Arts is like a dream. The terrarium-like exterior provides a vantage point like no other from within the complex," says instructor Jesse Davis. "Kauffman's stated mission is 'to enrich the lives of communities throughout the region and world by providing extraordinary and diverse performing arts experiences'. This intention to provide openness and connectivity in life perfectly mirrors the spirit of yoga. Yoga or 'union' is the connection that makes us human, diverse, and extraordinary. Come flow, breathe, and experience this magical Kansas City wonder."
With Kauffman Center's spectacular aesthetics, acoustics and architecture, the experience is bound to help yogis see the well-known space in a whole new light.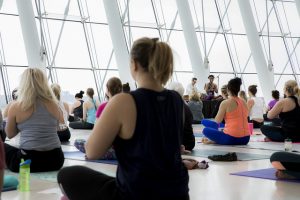 Tickets for Yoga at the Kauffman Center will be $18 per session, including fees, and will be available 10 a.m. Friday, August 24. Each ticket includes admission to one yoga session and a souvenir gift provided by Saint Luke's Health System. Attendees must bring their own yoga mat and will be asked to sign a waiver when they purchase a ticket to this event. Tickets will be available through the Kauffman Center Box Office at (816) 994-7222 or online at www.kauffmancenter.org.