Whether it's a painting, photograph, or hand-painted ceramic tchotchke from your Aunt Vera, most everyone has one piece of art that truly resonates with them. We're putting out the call to ask, "What's your favorite piece of art?"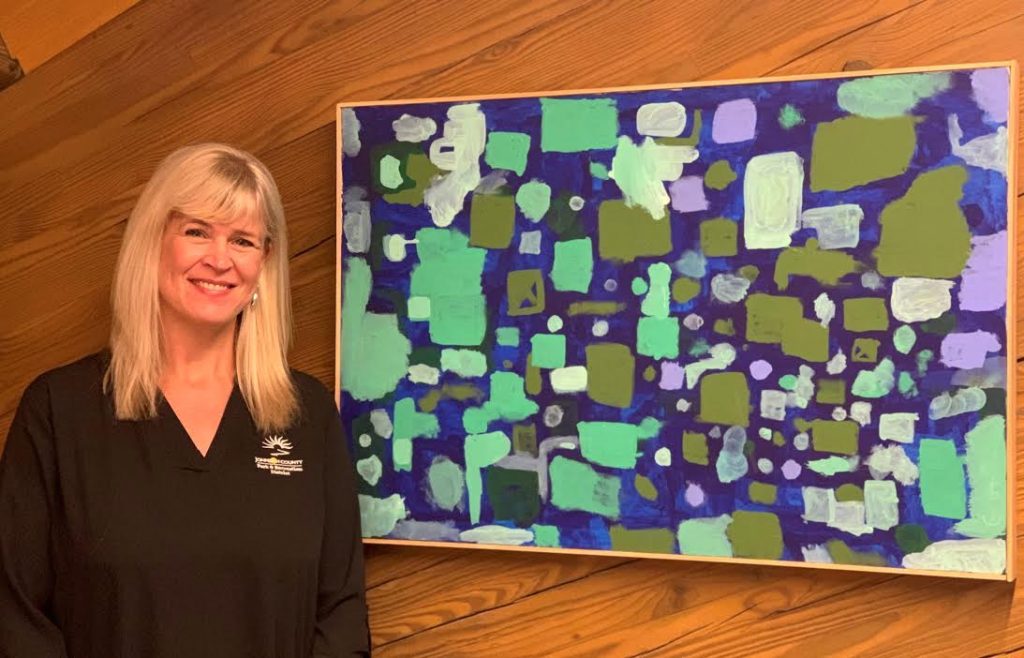 Next up is Susan Mong, superintendent of culture for Johnson County Park and Recreation District (JCPRD). The Johnson County Arts and Heritage Center serves as the hub for this division which includes the Johnson County Museum, Theatre in the Park, Fine and Performing Arts, and some amazing event spaces.
Mong—who hails from Omaha—has called Overland Park home for nearly 30 years. She holds both a master's degree in Public Administration and a bachelor's degree in Business Administration from the University of Kansas. Mong chose a recent 2020 painting by artist George Utter. "This piece hangs in my office at the Johnson County Arts and Heritage Center," she says. "It's entitled Mossy Forrest."

What's the appeal/allure of said artwork to you?
This is a special piece partly because of the calming effect it has with all the blue and green hues. Mostly, it stands out because of the artist that created it and all that he represents. George Utter is a member of our Emerging Artist program housed at the Johnson County Arts & Heritage Center. This program welcomes artists with intellectual/developmental disabilities.
It is such a pleasure to count these artists as colleagues, working with them on various projects throughout the year. The staff that facilitates this program does an amazing job helping these artists manage a studio space, set goals, market their work, and successfully earn income as working artists. It's a reminder to me of the beauty and unique creative gifts that every individual possesses. I encourage everyone to check out their online store or come by sometime to see their studio and support their work.
Is there a backstory to the artwork?
George created this during the pandemic—and it has special meaning to me because of that. Our entire team has served the community throughout the pandemic in so many unique ways with art, history, and culture as our vehicle. I know we all want to move past this, but this painting will always be a reminder to me of the resilience of our team and the power of the arts to process, to make sense of life, and inspire hope.
Describe the artwork's nuances—or what catches your eye about the work, please.
The colors that George chose for this piece draw me in. The blues and green hues inspire a feeling of being in nature. I see something a little different every time I look at it—the night sky, grass landscapes, a rich forest. I also love the chaos of it.  Life is beautiful but it is also chaotic, and I embrace that as part of the journey.