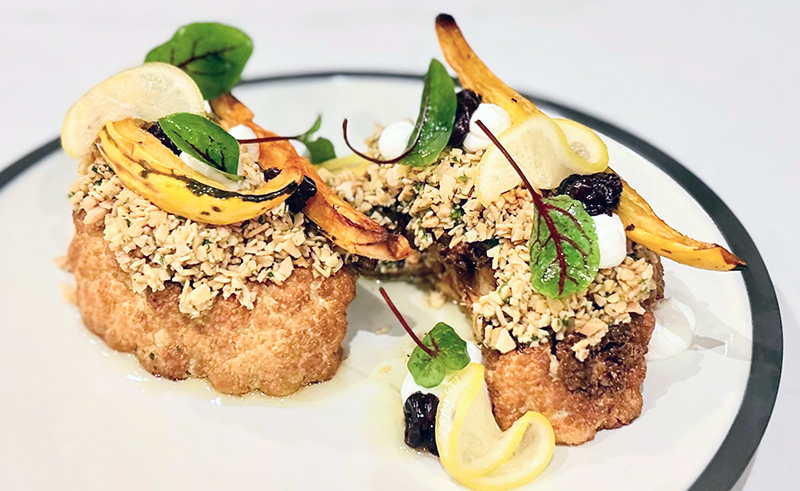 Thinking about spending Valentine's Day at home this year cooking for your sweetheart? Andrew Longres, executive chef and owner of Parkville's Acre, has just the dish for a date night in. 
Whether you're looking for a vegetarian meal or something on the light and "healthy" side that still tastes incredible, Longres's recipe for boneless cauliflower steak with almonds and cherries checks the boxes.
"We are a restaurant that does predominantly beef, and we are proud of our dry-aged steak program, but we wanted to offer a vegetarian option on the menu and have fun with it," Longres says. "We called it the "boneless" cauliflower steak. A guest told us that cauliflower does not have bones. We played along and told our guest cauliflower also does not have steaks. So, the name stuck."
Here's how to make it at home:
Acre's Boneless Cauliflower Steak with Almonds and Cherries
Makes two servings
Ingredients:
8 ounces plain yogurt
Salt and sugar, to taste
¼ cup whole almonds
¼ cup dried cherries
Red wine for poaching
1 Delicata squash, seeded and cut into long strips
2 tablespoons sorghum
1 teaspoon smoked chili powder
1 large head cauliflower
Olive oil for roasting
3 tablespoons unsalted butter
1 teaspoon finely minced shallots
Juice of ½ fresh lemon
1 teaspoon finely minced parsley
Favorite herbs for garnish
Instructions:
Yogurt: Season yogurt with salt and sugar, then spoon yogurt into a cheesecloth-lined colander. Place the colander over a bowl in the refrigerator overnight to drain to help the yogurt thicken.
Almonds: Pour boiling water over almonds to cover them. Let stand for one minute. Drain the almonds and run them under cold water. Allow almonds to dry completely overnight. Set the oven to 325 degrees F. Spread almonds on a baking sheet and toast for 10-12 minutes; be careful not to burn them. When cooled, place almonds in a food-safe bag and uniformly crushing them with a rolling pin.
Cherries: Add equal parts sugar, red wine, and water into a saucepan and bring to a simmer. Add the cherries, cover with a lid, and poach on low for 30 minutes.
Delicata squash: Preheat oven to 350 degrees F. Toss the squash with olive oil, salt, sorghum, and smoked chili powder. Place on a sheet tray and roast in the oven until the squash is cooked and light brown but be careful not to burn as sorghum has high sugar content.
Cauliflower: With a sharp knife, trim the root end of the cauliflower and remove green leaves while keeping the core intact. Place the head on a cutting board and slice two thick 1½-inch steaks through the core from the center, so the steaks will lay flat in the pan. Save the remaining half head and florets on the ends for another recipe.
Place the cauliflower steaks on an oiled baking sheet and roast in the oven until the steaks caramelize, about 30 to 35 minutes. Remove cauliflower from the oven. 
Melt butter in a large sauté pan. Add the almonds and cook over medium heat on a burner to lightly brown the butter and almonds. Add the shallots, lemon juice, and parsley to the pan and season with salt.
To serve:
On a large plate, add 2 tablespoons of yogurt to the center of the plate
Add the cauliflower steak and spoon the almond mixture over the top.
Garnish with the roasted Delicata squash, poached cherries, and herbs you like. Longres suggests red ribbon sorrel, parsley, and chive tips.