Kansas City is smitten with a serious case of Mahomes Fever. Symptoms may include anxiousness, heart palpitations, and an occasional case of the vapors. With the Chiefs poised to make it just thatmuchcloser to the Superbowl this weekend, we figured it was only fair to scour the internet to find any/all Mahomes-centric apparel to wear this weekend—headbands, socks, lanyards, T-shirts, jerseys—the list is endless.
Want to find the perfect bit of gear to support our beloved quarterback? We did a little reconnaissance for you so you can completely focus on your nervous energies. If you want, click on any pic for a link to products. (We're an XL, by the way.)
Charlie Hustle offers up quite a few quirky, one-of-a-kind T-shirts to honor his majesty Mahomes. They're clever. They're memorable. They're expensive. Hey, being a fan-atic costs money, people. (On a budget? Their quirky Mahomes socks are just the ticket.)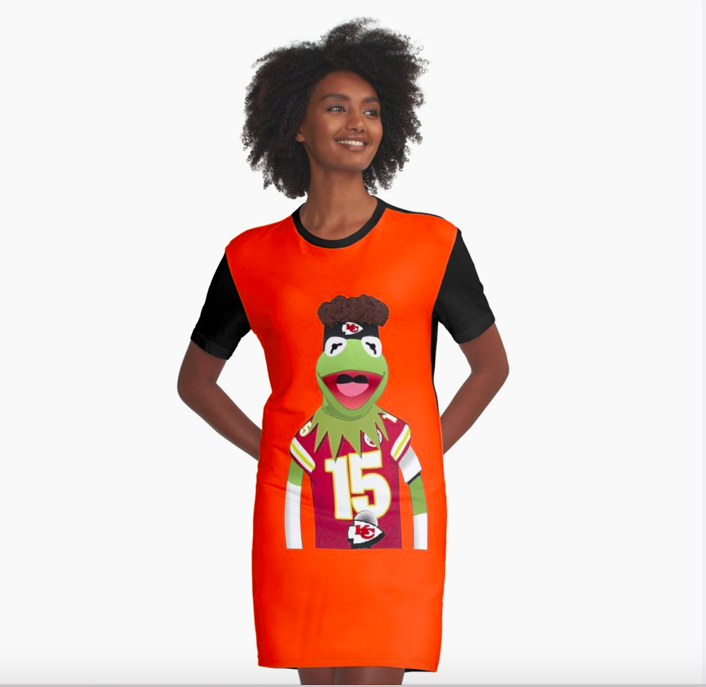 While we can't say we like or approve of them, we did stumble across a few Kermit/Mahomes T-shirts on both Etsy and Redbubble. Some critics (and fans) have commented that Mahomes distinctive voice sounds a bit Muppet-esque—not unlike Kermit the Frog. Okay, sure. We'll go with that. And while we doubt you can order them in time for Saturday's game, we'll just assume the Chiefs are going to win, yes? (Can I get an amen up in here?) You can go Kermitastic for the next one.
Rally House has a slew of legit jerseys and T-shirts for you to snatch up. Also, lanyards, decals, and pint glasses. Ahem. Heck, you can ever wrap yourself up in a Mahomes fleece blanket. It's supposed to snow on Saturday. We're assuming they're all NFL-approved since they all look the same, but different. Either way, they'll likely have the biggest selection other than Arrowhead Stadium.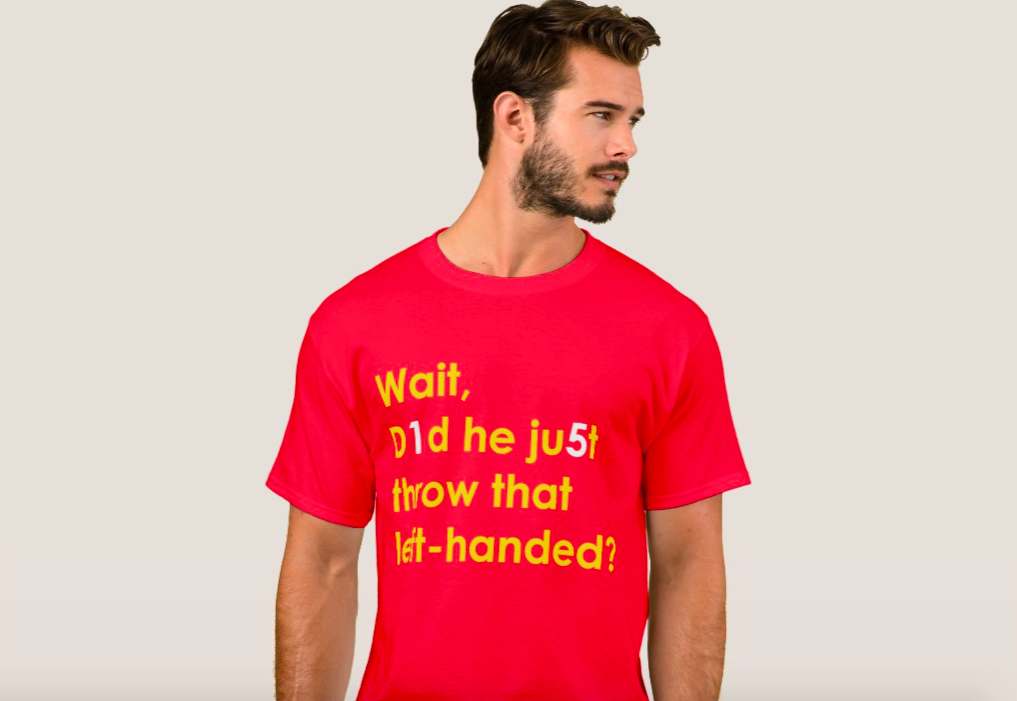 Even Zazzle.com wants in on the Mahomes action. They've concocted a creative shirt about the quarterback's left-handed prowess. Oh, look—we see what you did there, Zazzle. They sprinkled in Mahomes' number too. Nothing gets by us.
If you're ready to show your unbridled adoration to Mahomes this weekend, better dress the part. And dress warm. And be ready to shell out some cash. It's the American way.