Sponsored Content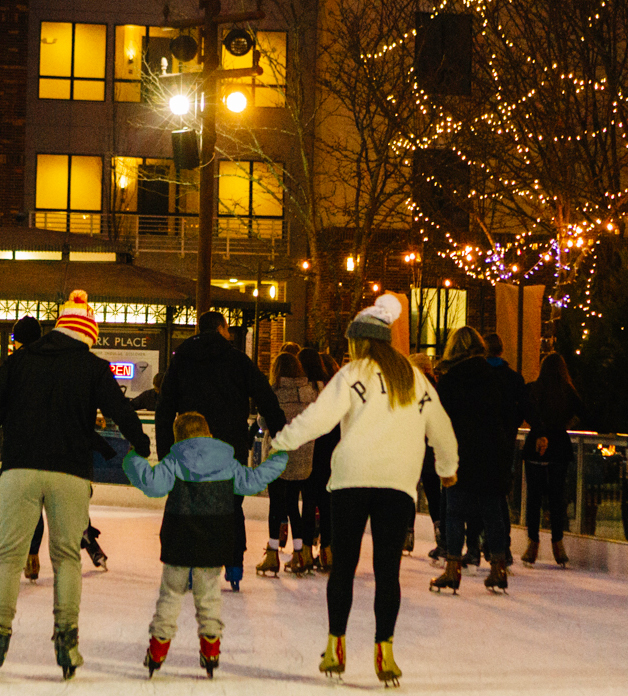 Ice, ice baby! Over 11 glorious holiday seasons, the ice-skating rink at Park Place has become a huge draw for all sorts of kids—big and small. This year is no different. Since opening at Thanksgiving, the rink is once again the go-to place for families to gather and make memories. "It's a whole holiday experience," says Amy Watkins, the marketing manager for Park Place. "When you combine the ice skating with the holiday lights and the local businesses you have this old-fashioned holiday vibe. It's great for families to be able get away and stay active. It's very family-oriented."
Bring your own skates or snag a pair at the rink. If you get chilly, pop over to the nearby fire pits to stay toasty. (Yes, Virginia—they've thought of everything.) Watkins says in addition to all the kiddos enjoying the rink, she also sees plenty of couples out and about on what she considers to be the perfect date night. "What could be more fun? You have a nice dinner out and then go ice skating," says Watkins. "You could even have a mini-staycation. Grab dinner, get your shopping done, a night out complete with ice skating, and then a blissful stay at Aloft."

Every year Park Place sprinkles in a fun array of events and festivities. On January 19th, Park Place will be holding their ever-popular Princess Skate Day. "We invite our kids to dress up as their favorite prince or princess, and they get a free crown," says Watkins.
Can't skate? Forgot how to skate? Need a refresher? Check Park Place's rink roster. They even offer free skating lessons to folks who are—shall we say—not as graceful as Nancy Kerrigan. And moms—never fear—when it comes to your kids' upcoming holiday break, Park Place will have extended skating hours. "Over the Christmas break, our hours fit nicely with school schedules," says Watkins. "Especially during those holiday periods when kids are off, we're open through the day." (See? We told you they've thought of everything.) "What's great about it is this is a place where we see big groups of kids getting out and about, turning off their phones, their videos, and enjoying the outdoors and each other. We always enjoy seeing that."

Every year Park Place listens to their customers' suggestions. "We always want to know what will add to their holiday experience," says Watkins. This year skaters will appreciate the new canopy over the rink that's rife with a slew of twinkling lights, not to mention exquisitely decorated streets and sidewalks.
Don't forget to save your skating receipt too. Plenty of Park Place shops and boutiques are doling out discounts to folks who get their shop on post-skate. You skate, you save. Score! (Personally, we're fans of traipsing just down the street to T.Loft for a piping-hot chai latté.)

With oh-so convenient free covered parking and/or free valet parking, you can get in and out with minimal muss and fuss. Even better? Bring a canned good and receive $1 off your admission. "We're collecting for the Jewish Family Services Community Food Pantry," says Watkins.
What are you waiting for? Grab those mittens and that stocking cap with the huge tassel on top and we'll meet you on the rink.