Sponsored content:
Not to drop names or anything, but Winning Streak Sports (a Granite Bridge Partners company) in Lenexa is probably one of the biggest players in sports—right up there with Nike and Under Armour. And there's also a good chance you've never heard of them—despite likely having some of their high-end sports décor and memorabilia adorning a nearby man-cave, dorm room, or office. "Winning Streak Sports has been around 20 years now. We've found a niche in the premium home décor collectible space for sports fans around the world," says Chris Lencheski, Winning Streak Sports' CEO. "We're the holder of one of the most robust intellectual property assets in sports."
He's not kidding.
Name a team out there and Winning Streak Sports licenses their products—including the NFL, Major League Baseball, the National Hockey League, the NBA, and Major League Soccer. Heck, they've even got the lock on the U.S. Open and Indy 500 swag.
Fanatical Fans
With a product line a mile long, the company has seen exponential growth over the last year alone—nearly doubling their headcount at their Lenexa facility. It's not surprising though, given how much buzzworthy, digital love has been given to the company as of late. "People take pictures of their Winning Streak Sports products and send them to us because they're fans. That's not something you can write in a business plan," says Lencheski. "They just have that much passion for their team and, of course, our product."
Meanwhile, the company is running with all the social media fanfare for its one-of-a-kind pennants and banners. Their social media pages have seen a robust blitzkrieg of new followers. Lencheski says it doesn't come as a big surprise. "If you're a sports fan, you generally have a few hats, jerseys, or sweatshirts and art on the wall. We're the largest player in that space," he says. The company's marketing strategy and unofficial motto? Own the wall. (Naturally.)
Known Across The Globe
The #1 Winning Streak Sports product, you ask? Without a doubt, it's the company's prestigious heritage banner. In fact, it's the number-one-selling product in collectible premium space in the world. "Anything called 'heritage banner' has been our bestselling product probably for the last decade. But—at least for the last four years—for sure, it's been the lion's share of our business," Lencheski says. And like the word "air" is synonymous with Nike, Winning Streak has staked its claim on anything banner-esque. From "championship banner" to "dynasty banner" to "tradition banner", they've got the trademark on it. Winning Streak Sports even has a beloved photograph of former President Jimmy Carter with one of their heritage banners in a frame, a gift from his CIA handler.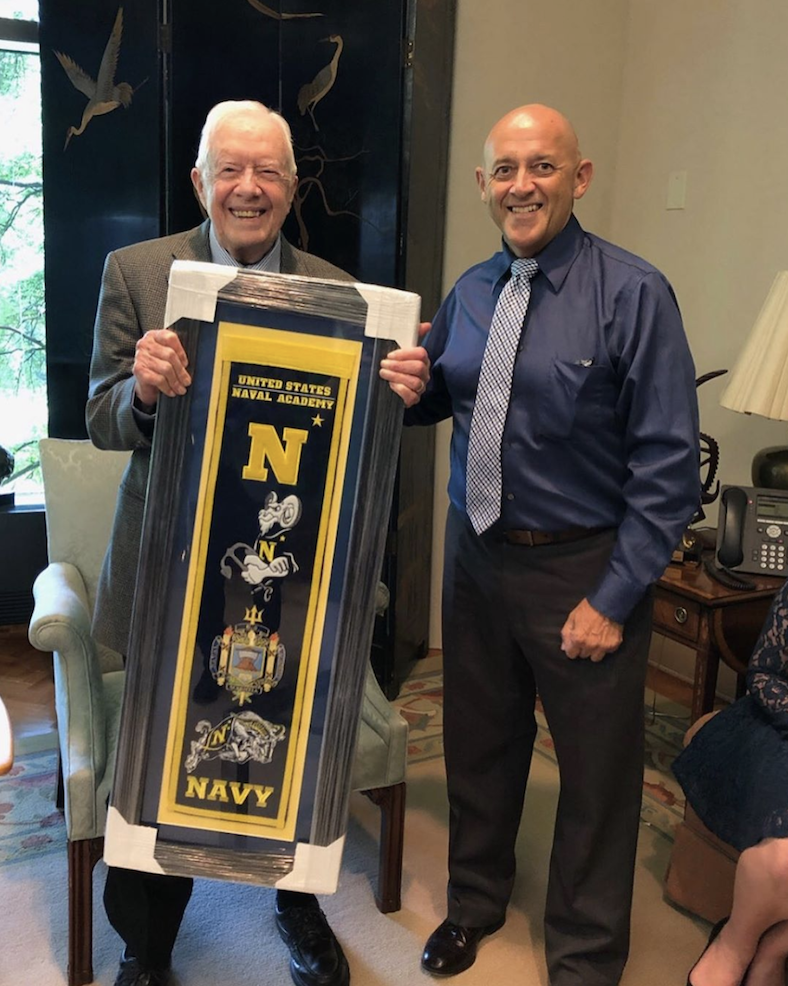 Naturally, when the Kansas City Chiefs won Super Bowl LIV in January, "everybody in the company lost their minds," says Lencheski. Many employees celebrated in Miami. "We were very happy the Chiefs won—what with our hometown feel, right? Many of the men and women who work at the company are season ticket holders," he says. (Needless to say, production of Chiefs Super Bowl LIV heritage banners have been in overdrive ever since the win.)
Big 12 Bonanza!
Slowly but surely, Winning Streak Sports will be shifting gears in the next week or so to focus on another Kansas City tradition, the Big 12 Tourneys. "Kansas City is a great sports town, that's self-evident," Lencheski says. "KC has the best basketball fans coming in—it's a great connection. I'm sure other cities could host it, but I'm not sure other cities could bring the level of fan-dom. There's a rabid fan base that loves basketball."

And rest assured, heritage banners from Big 12 schools will be out in full force once the tourney gets underway. The company prides itself on the sheer quality and craftsmanship of their thousand-stitch-count banners. Even better? The banners have all the schools' logos featured through the years. "It's what the customer wants and what the customer asks for," says Lencheski, a former NASCAR team owner. (Want an up-close-and-personal look at their products? You'll find them en masse at any local Rally House along with countless other sports stores.)
Next up for Winning Streak Sports? A substantial social media push for 2020 to ensure savvy customers know exactly who's behind their impressive product line. That's, of course, after the company gets through the Big 12 bonanza; then perhaps they'll have a chance to breathe. Maybe. "People love Winning Streak Sports products and often buy more than one at a time, which is a good problem to have," says Lencheski.
Follow them on Facebook, Twitter and Instagram to stay up-to-date.