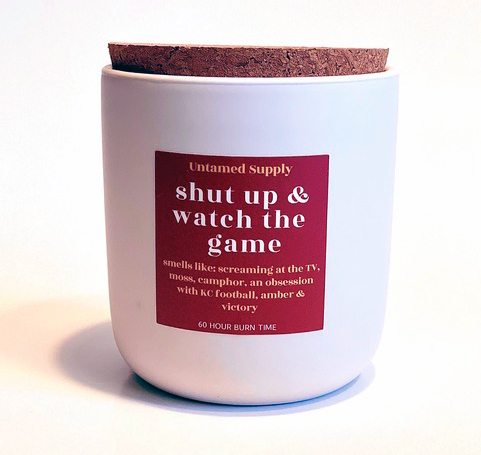 We've all been there—the score is tied, the room is getting tense. What do you need? Time to light a candle and take a deep breath. Reach for the Shut Up And Watch The Game soy candle from local candlemakers Untamed Supply. 
Untamed Supply specializes in 100-percent soy wax candles in hand-blended scents. Not only do they make fantastic, clean-burning candles, but they donate three percent of their profits to the National Park Service. You can visit their storefront on the Liberty Square to experience their entire range or find them at Ulah and Luna in Westwood. But really, you should grab this football candle (yes, that's a thing now), and light it up, just like Patrick and the boys will be doing this Sunday. 
Shut Up and Watch The Game has notes of moss, amber, camphor, cedar, and musk—think good cologne. While it could be traditionally thought of as a masculine scent, we think it's also evocative of fall and works perfectly as a bridge from spicy pumpkin scents to the evergreen aromas of the holidays. And with 60 hours of burn time, you'll be able to enjoy until the holiday mood takes over. 
Find Shut Up And Watch The Game, $36, at Untamed Supply at 131 S. Water Street or online at untamedsupply.com.